Kylie Minogue tell her fiance' to take a locomotion out of here!
February 3rd, 2017 under Break-ups, Galavant. [ Comments: none ]

There will be no tomorrows for Kylie Minogue and her fiance' of over a year after The Sun reported that Joshua Sasse got close to his co-star on what is now his most likely cancelled show. Which is kind of ironic because the two exes met in 2015 when she filmed her guest star role on Galavant. I am sure she is wishing off with something other than his shirt these days.
The singer confirmed the split on Instagram by saying, "#lovers … Thank you for all your love and support throughout this recent chapter of my life. Thank you now for your love and understanding with the news that Josh and I have decided to go our separate ways. We wish only the best for each other as we venture towards new horizons. #thesunalwaysrises"
She doesn't seem to be lucky in love, she was also engaged to Halle Berry's latest ex husband Olivier Martinez. Hopefully she should be so lucky, lucky in love next time.

---
Susan Sarandon and Tim Robbins call it quits
December 23rd, 2009 under Break-ups, Susan Sarandon. [ Comments: 1 ]

(photo from WireImage)


Susan Sarandon and Tim Robbins have split after dating for 23 years. Her people told People, "Actress Susan Sarandon and her partner of 23 years, actor Tim Robbins have announced that they separated over the summer. No further comments will be made." Boy it goes to show you how much their A-List status has dropped because they broke up over the summer and we are first learning about it now. I wonder what caused them to split? Wouldn't it be funny if it had something to do with politics since that is what this couple was most know for…their political statements.
Theyhave two sons, Jack, 20, and Miles, 17.
BTW I never realized until today, she is 12 years older than him. I always thought they were the same age. I wonder if that is saying he is ageing badly or she is ageing beautifully?

---
Rachel Hunter's cub dumps her weeks before their wedding
June 24th, 2009 under Break-ups, Nick Lachey/Jessica/Ashlee Simpson. [ Comments: 1 ]

Rachel Hunter, 39 was suppose to get married to hockey player Jarret Stoll, 27 on August 14, but he sent an e-mail to all their guests telling them wedding is off. No reason was given, in fact according to the Daily Mail even Rachel doesn't know why. Could it be the huge age difference between the two? The two were dating for 3 year before the split or since before he was old enough to rent a car.

In other couple dunzo news, Nick Lachey and Vanessa Minnillo have ended their relationship after 3 years of dating according to Us Weekly. Their split isn't even worth its own post because they were such yawners.

(photo from WireImage)

---
Christina Ricci and her giant call off their engagement
June 3rd, 2009 under Break-ups. [ Comments: none ]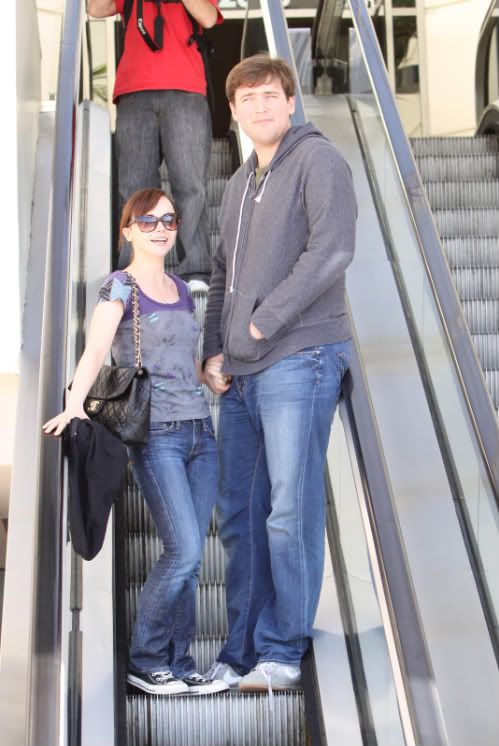 (photo from Splash News Online)


Christina Ricci and her giant, Owen Benjamin have called off their engagement according to People.
"Owen had a birthday party this past Sunday, and everything seemed fine. Sometime after, they got into a fight and decided to reevaluate things. [Then] the engagement was off," says a source close to the couple.
Another source close to the actress says the pair called off the engagement before last week. "They really are still close," adds the source. "They talk almost every day. It was a very mature decision and they both felt good about it. They're definitely still friends."
So sad, I thought they were going to make it. And I wanted to see just how tall their kids were going to get because their is such a height difference between the two.

---
Jeffrey Dean Morgan and Mary-Louise Parker split again
April 8th, 2008 under Break-ups, Jeffrey Dean Morgan. [ Comments: 6 ]
Jeffrey Dean Morgan and actress Mary-Louise Parker are going their different ways again according to what a source told the
AP
. The Weeds' actors started dating in 2006, but they split for a while last June and then they got back together and announced their engagement earlier this year.
The person, who requested anonymity because of the sensitive nature of the relationship, said the couple had differing lifestyles, but that Parker holds Morgan in the highest regard and hopes they remain friends.
Every since he played Denny Duquette on Grey's Anatomy lots of women have wanted to climb in that hospital bed with him…now they will get their chance!

---