Alexa PenaVega doesn't have time to shave her legs
November 2nd, 2021 under Alexa PenaVega. [ Comments: none ]
Alexa PenaVega has three children under five, so she doesn't have a lot of time to do much. She doesn't even have time to shave her legs. The actress didn't realize it until she looked down and saw long hairs growing out of her leg. How do we know? She showed us.
Hopefully, she gave the kids to her husband and enjoyed a long bath so she could finally use that razor that feels neglected.

---
Carlos and Alexa PenaVega welcomed their a daughter a month early
May 10th, 2021 under Alexa PenaVega. [ Comments: none ]
Carlos and Alexa PenaVega welcomed their third child together on May 7th, but she wasn't due until mid-June.
"SO.. we've been MIA these last few days. Let's just say we learned once again that God is always in control. You may have a PLAN for your life, but all that really matters is HIS plan," the new dad wrote. "Little Rio could not wait to come out and play with her brothers! Momma is feeling good and baby girl is kicking some serious booty in the NICU. Praying we can all be home together very soon! What a wave of emotions. Much love and thanks to all the Nurses, Doctors from Maui to Oahu – who brought little Rio safely into this world. 🙏🏽"
The actors, who appeared on the same season of Dancing with the Stars, have been married since 2014 and have two older boys, Ocean King, 4, and Kingston James, 1 ½. Hopefully, the newest member of the family will be home with them soon.

---
Carlos and Alexa PenaVega welcome their second Spy Kid!
July 2nd, 2019 under Alexa PenaVega. [ Comments: none ]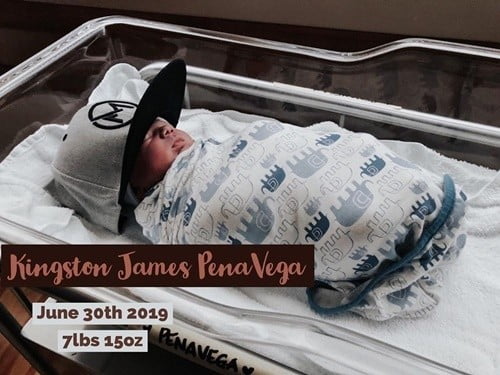 On June 2nd, Carlos and Alexa PenaVega welcomed their second son, Kingston James, in Hawaii. The little boy came into the world weighing just short of 8lbs. However, it looks like his parents, who competed on Dancing with the Stars the same season, thought he would be a little bigger. I say that because that hat does not seem to be the right size for him. Thankfully, he will grow into it. Just like his 2-year-old brother, Ocean King, is growing into his.

---
Alexa Vega and Carlos Pena are having a…
March 27th, 2019 under Alexa PenaVega. [ Comments: none ]

Carlos and Alexa PenaVega are expecting their second baby and they are having a boy. They found out from a gender reveal cake that they will be welcoming their second son soon and his name will be Kingston James.
The couple, who have been married for 5 years, also have a 2-year-old son named Ocean King.
I wonder if they were having a girl if they would have named her Queen since they seem to like to name their kids King.

---
Alexa PenaVega is having another Spy Kid!
January 17th, 2019 under Alexa PenaVega. [ Comments: none ]

Alexa and Carlos PenaVega took the test and she is pregnant with baby #2. The happy couple broke the news today that 2-year-old Ocean is going to be a big brother this year.

The actress wrote, "Holy Moly!!! Guys!!! We are having another baby!!!! Do we wake Ocean up and tell him??!! Beyond blessed and excited to continue growing this family!!! Get ready for a whole new set of adventures!!!" While her husband said, "It's HAPPENING… AGAIN! WE'RE HAVING ANOTHER BABY!!! 2019 another PenaVega is joining the family! This year we will officially be able to say we have 'kids'! Our minds are blown and we are beyond blessed and excited for our growing family!!! Let the journey begin!!!"

I wonder if they can go back on Dancing with the Stars to lose the baby weight. Although, with 2 kids under 3, they will have very little time for sleep let alone to dance.

---