Prince Harry and Meghan Markle step down from the wax Royal family
January 9th, 2020 under The Princes of England, Wax Figure. [ Comments:

none

]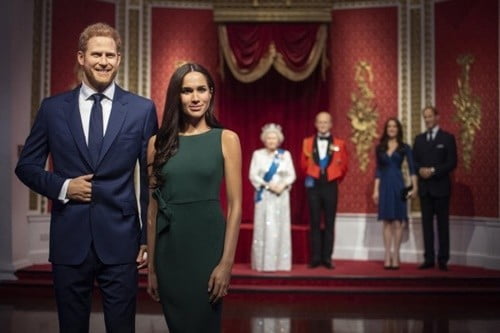 Yesterday, the Duke and Duchess of Sussex announced that they were stepping back from the Royal family, and today Madame Tussauds in London did the same with their wax figures. Meghan Markle and Prince Harry used to stand next to Prince Phillip and Queen Elizabeth, but not anymore. Instead, there is an empty space where they used to be.
Don't fear, their life-size candles will still be part of the museum. Steve Davies, General Manager of the branch told Metro, he does not know where their new home will be. However, he did reiterate that "they will, of course, remain an important feature at Madame Tussauds London."
Kind of like their real life. They said on their website that, "The Duke and Duchess of Sussex will continue to use Frogmore Cottage – with the permission of Her Majesty The Queen – as their official residence as they continue to support the monarchy, and so that their family will always have a place to call home in the United Kingdom."
Considering the rumor is that her grandson did not tell her that they were going to make the announcement before they did, the Queen can easily take it away from them. However, will she do that to grandson? Would anyone blame her if she did?
---
Just the sight of Jimmy Kimmel scares his co-workers
December 10th, 2019 under Jimmy Kimmel, Wax Figure. [ Comments:

none

]

Even though the Jimmy Kimmel Live Studios are a block away from Madame Tussauds Hollywood, he did not get a wax statue until today.
Before it made its debut in the museum, Kimmel tested it out in his office. Did his co-workers believe it was him, or did they know it was a fake? Considering how they were all scared by it, I think we have our answer. Which makes you wonder what does he do to them that makes them so afraid of the ABC host?
At least, his cousin Micky has an excuse, he has been playing pranks on her and her mother, Aunt Chippy, all of his life. Hopefully, Aunt Chippy will scold her nephew for the way he keeps terrifying her daughter. He is so mean to her. Poor Cousin Micky!
---
The cast of Stranger Things scare people
June 27th, 2019 under Jimmy Fallon, Netflix, Wax Figure. [ Comments:

none

]

Jimmy Fallon invited the cast of Stranger Things to go to Madame Tussauds in NYC. Not to look at the wax figures of other famous people. Instead, he wanted them to pretend to be wax versions of their characters and scare unsuspecting fans. Oh, and since The Tonight Show host cannot be left out, he filled in for Barb. Poor Barb.
Also, poor tourists who got the shock of their lives when the Netflix kids came to life. None of them suspected that the actors were actually living and not the life-size candle versions of themselves. Funny how scared they got.
You know I just realized I never watched the second season of this show. I better watch it now because season three is coming up on July 4th
---
Priyanka Chopra's wax statue is pretty spot on
June 18th, 2019 under Priyanka Chopra, Uncategorized, Wax Figure. [ Comments:

none

]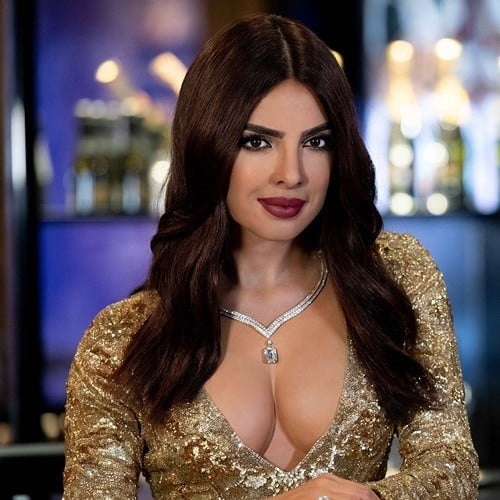 How many times have you seen a wax statue of a celebrity at Madame Tussauds and been like that does not look like the person at all? Well, Priyanka Chopra's life-size candle just arrived in London and I do not think that her husband Nick Jonas would be able to tell his real wife from the fake one.
Actually, no offense to the actress, but it might even look a little bit better than her. I mean if you think about it, her figure is why they call them wax figures. Or at least this one justifies the title.
---
The one time the wax figure looks more real than the person
May 9th, 2019 under The Kardashians, Wax Figure. [ Comments:

none

]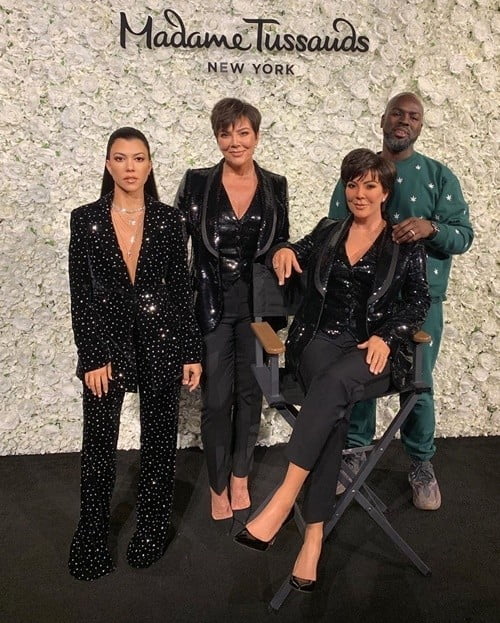 Madame Tussauds in NYC introduced two new wax figures. They are Kris Jenner and her oldest daughter Kourtney Kardashian. While the Momager was in the city, she decided to stop by and see herself. Not only that she posed with her lifesize candle and I do not know which one is the human and which one is not. I wonder why? I write knowing the answer!
---