Hershey's is making 2021 sweet with new candy!
December 31st, 2020 under Sweets. [ Comments:

none

]

2021 is already going to be sweeter because Hershey's is adding some new candies to their collection.

For Valentine's Day, we can look forward to sinking our teeth into Hershey's Kisses milk chocolate Meltaway Roses, Hershey's milk chocolate Bear, Hershey's Hugs & Kisses Heart Box, Reese's Peanut Butter Rose, and Reese's Big Box O' Love. Then for Easter, we can hop to the store to pick up Reese's Mallow-Top Peanut Butter Cups, Hershey's milk chocolate Pip Bunny, Hershey's milk chocolate Build-A-Bunny and Ice Breakers Strawberry Lemonade Duckling.

I don't want to wait three months to try that marshmallow-topped Reese's Peanut Butter Cup. That just sounds so yummy in my tummy!

---
Would you put M&M's in your coffee?
December 23rd, 2020 under Sweets. [ Comments:

none

]

Coffee Mate has come up with some interesting flavors throughout the years, like Cinnamon Toast Crunch, Peeps, and Almond Joy, to name a few.

Next month, they will be adding M&M's milk chocolate creamer to the mix. Part of me wants to try, and then the other part is like no way. I mean, the candy that doesn't melt in your hands really doesn't have any taste to it. Therefore, how will we taste if it is mixed in with coffee? I guess we will find out in January.

What flavor do you wish they would add to their creamer list?

---
Oreo responds to McDonald's Spam hamburger topped with Oreo cookies
December 23rd, 2020 under Sweets. [ Comments:

none

]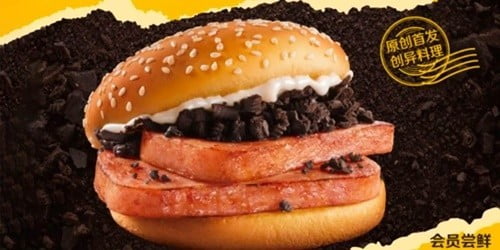 McDonald's in China announced that they have a new item on their menu, and it is a Spam burger topped with Oreo cookies.
As soon as I saw it, I lost my appetite. While that is me, how did Oreo react to it? "This is pure chaos and we're here for it 👏👏," the cookie company tweeted.
Hopefully, not so much so that they release a Spam-flavored Oreo. It cannot be any worse than the Sweedish Fish or Peeps filled Oreo, or can it be? I hope we never find out.

---
Did Oreo just create their most orgasmic cookie?
December 11th, 2020 under Sweets. [ Comments:

none

]

I never thought that Oreo could top their Most Stuff cookie, but it turns out they can. Next month, they are releasing a triple layer one.

That's right; the chocolate cookie sandwich will be stuffed with a layer of the OG creme, brownie, and cookie dough. Am I the only one who is wet thinking about getting my mouth on a Brookie-O?

Is it 2021 yet? Because I must have this now! Not weeks from now, now!

---
Lady Gaga gets her own Oreo
December 2nd, 2020 under Lady Gaga, Sweets. [ Comments:

none

]

Celebrities get a lot of accolades throughout their careers. I think Lady Gaga just got one of the coolest.
Oreo is dedicating a cookie to Mama Monster in honor of her sixth studio album Chromatica. The vanilla outside will be pink and feature images from the album, while the creme will be green.
The Chromatica Oreo will be available sometime next month for a limited time.

---