Looks like Beverly Hills Cop 4 is going to Netflix
November 15th, 2019 under Eddie Murphy, Netflix. [ Comments:

none

]

Eddie Murphy's career is having a resurgence thanks to the success of Dolemite Is My Name on Netflix. Well, the streaming service is not stupid, so they spoke to Paramount and asked them if they can do Beverly Hills Cop 4 with Murphy. The studio agreed to not only give them the license for the fourth film, but also a 5th one.
Before you get too excited, unlike Coming to America 2 that is filming now, BHC does not have a script, a director or a release date according to JoBlo. All the movie has is a home, which is a start.
---
A-Rod said J-Lo was a dream date in 1998
November 15th, 2019 under J-Lo, Jimmy Fallon. [ Comments:

none

]

In case you have been living under a rock, Alex Rodriguez and Jennifer Lopez are engaged. However, in 1998 he told a reporter that she was his dream date. As he says, "That means dreams actually do come true in American." Thus, you can say he is living the American dream.
Now 21 years later, the two of them are planning a dream wedding. Last night on The Tonight Show, Jimmy Fallon suggested that they do it at the Super Bowl Half Time Show. Which is something I think they should do. Do you think they should do it right then and there?
---
Jean Smart was offered a lap dance from a 50-year-old female stripper
November 15th, 2019 under Designing Women, Seth Meyers. [ Comments:

none

]

On Designing Women, Jean Smart's character did a lot of interesting things in Atlanta. However, the most interesting thing she did in that city, the actress did in her real life.
She told Seth Meyers on Late Night that her Watchmen co-star Tim Blake Nelson invited her to the Clermont Lounge in Atlanta. A strip club where the dancers are more mature as in their 60's and 70's.
All of a sudden one of the younger strippers, in her 50's, asked her she wanted "a dance." She did not reveal if she said yes, but it is a night she will never forget. Especially when a drunk man knocked her off of her barstool.
Out of all of the things I did not do when I lived in Atlanta, this is the only thing I regret not experiencing.
One last note, how amazing would it be if they did a Golden Girls like sitcom and based it on the Clermont Lounge?
---
Bryan Adams' daughters sing Must Be Santa with him
November 15th, 2019 under Bryan Adams. [ Comments:

none

]

Bryan Adams released a holiday EP today called Christmas. The album includes 5 songs to get you into the mood for the season and one of them includes his daughters. Bunny, 8, and Lula, 6, joined him on the track for Must be Santa. Together the three of them turned a really cute song into a really awwwdorable one. So sweet I am craving sugar plums already!
---
Hot Links!
November 15th, 2019 under Hot Links!. [ Comments:

none

]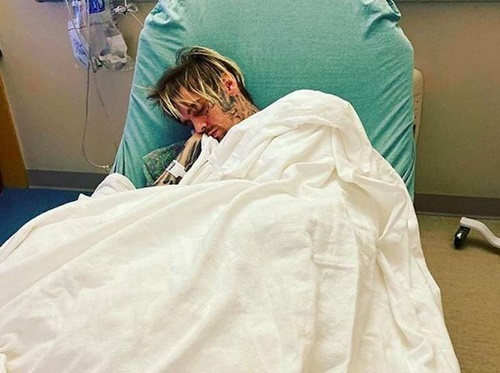 Why is Aaron Carter in the hospital? – Dlisted
CMA dresses – Go Fug Yourself
CMA cleavage – Drunken Stepfather
Did Donald Trump Jr bulk by his book? – Pajiba
The weirdest celeb story you'll read this year – Celebitchy
---