The CW picked up all of its renewable shows
April 24th, 2019 under The CW. [ Comments:

none

]

Back in January, The CW picked up ten of its show and today they picked up the rest. All American, In The Dark, The 100 and Roswell, New Mexico join Arrow, Black Lightning, Charmed, DC's Legends of Tomorrow, Dynasty, The Flash, Legacies, Riverdale, Supergirl and Supernatural for the 2019-2020 season. Although it has already been announced that Arrow and Supernatural will be ending next season, I would not be surprised if more shows join them in TV hell.
To be honest, I cannot make sense of this decision, but I am just a viewer. I also wonder if this is the first time in television history that a network picked up all of their shows that could be picked up. Crazy Ex Girlfriend, Jane the Virgin and iZombie announced last year this would be their final seasons.
---
Andi Mack's final episodes begin airing on June 21st
April 24th, 2019 under Disney Kids. [ Comments:

none

]

Andi Mack broke so many grounds on Disney Channel, and today they announced the show is coming to an end. The series was the network's first serialized show, first one to feature an Asian family and have a character say, "I'm gay!"
It was not only about these milestones, but it was also about so much more. Andi (Peyton Elizabeth Lee) is a 13-year-old girl who finds out her older sister (Lilan Bowden) is her mother and the people she thought were her parents are really her grandparents. If that is not enough, she also has her first crush (Asher Angel), he becomes her boyfriend and they break up. While she can't make love work, her mom and the dad (Trent Garrett), who she never knew before now, can. They are getting married and I bet you that will be the final episode.
Andi's friends have had their own struggles with being a teenager. Cyrus (Joshua Rush) came out as gay and Buffy deals with being an overachiever. They have good times together and bad ones too. It reminded me of what it was like to be in junior high school all over again.
That is why I feel that three seasons is not enough. I am surprised by Disney Channel's decision to end the show. Especially since it is their biggest series. If you have never seen, you can watch it on their app. That is how I discovered it, it came on after I watched Z-O-M-B-I-E-S for the first time and I fell in love with both instantly.
---
Cloris Leachman is still acting!
April 24th, 2019 under Cloris Leachman, Tom Arnold. [ Comments:

none

]

I don't know about you, but I was getting worried about Cloris Leachman because I could not remember the last time we saw her. Well, the worrying is over because the beloved actress, who is going to turn 93 on April 30th, is starring in a new movie with Tom Arnold and Jennifer Tilly that is filming now. I don't know what High Holiday is about, but I am so excited to see this film with a cast as awesome as this.
Now, can we get back to Leachman being 92? She looks fantastic, just like she did when she was on The Mary Tyler Moore Show in the '70s.
In case you were wondering why she seems a little stoned, Tilly says that she was just getting into character because that is what she is in this scene. Then Tilly added that she is still sharp as a tack. Nothing can ever stop Leachman from being the funny lady that she is naturally.
I wish that someone would do a show with Sue Ann and Phyllis reuniting at Lars' funeral and deciding to move in together. Could you imagine the hijinx that she and Betty White could get into if they worked together again? Comedic diamonds.
---
Degrassi's Stefan Brogren got married and not to Spike!
April 24th, 2019 under Degrassi. [ Comments:

none

]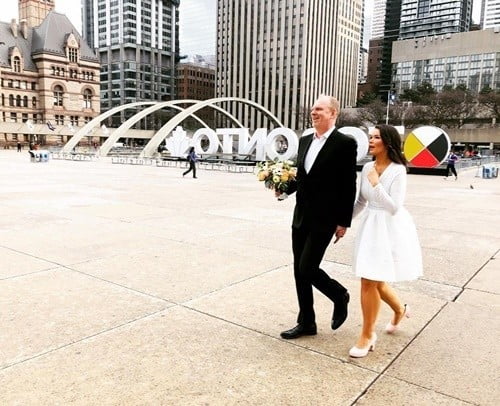 We watched Stefan Brogren grow up on all of the Degrassi shows and now we are getting a look at him being married. Snake and Michelle Shaughnessy tied the knot yesterday in a secret ceremony.
The actor and comedian explained their decision for a very small wedding, "JUST MARRIED! Surprise! In a small ceremony with our parents present we made it official and got hitched! We love our friends and family so much, but decided on a super simple day!" Then he added, "Stay tuned peeps! We will have a big 'ol shindig at a later date!"
❤️❤️❤️ xoxo"
It has been a big week for him, he turned 47 on the 21st and got married 2 days later. He better not confuse those date up next year and the year after that and so on. Good thing they got engaged in January, so he won't confuse that date with these dates.
BTW Am I the only one who is sad that Snake did not marry Spike with Joey Jeremiah officiating the wedding?
---
Britney Spears says, "All is well."
April 24th, 2019 under Britney Spears. [ Comments:

none

]

There have been a lot of crazy rumors that Britney Spears is being held against her will at a treatment facility, but she posted a video saying that is not the case. The singer says that she and her family under a lot of stress because of her father's illness and needed some time to deal with it. Then she promised she will be back soon.
Along with the video message, she explained why she recorded the message. Spears wrote, "I wanted to say hi, because things that are being said have just gotten out of control!!! Wow!!! There's rumors, death threats to my family and my team, and just so many things crazy things being said. I am trying to take a moment for myself, but everything that's happening is just making it harder for me. Don't believe everything you read and hear."
Translation, she wants the toxic rumors to stop and hopefully they will. Can't believe I am quoting Chris Crocker, but as he said, "Leave Britney alone!"
---