BTWF appearances: Jennifer Lopez on Yo! MTV Raps
December 30th, 2009 under Before They Were Famous, J-Lo. [ Comments:

1

]




Before Jennifer Lopez even dreamed of having a music video on MTV, she was shaking her huge money maker on Yo! MTV Raps. Dang even at 20 she really knew how to make love to, I mean work the camera back in 1989. BTW is it just me or did she totally look like Gloria Estefan with that whole get up?
---
Bennifer 1.0 voted the worst couple of the '00s!
December 30th, 2009 under Ben Affleck/Jennifer Garner, J-Lo. [ Comments:

2

]

(photo from WireImage)


via OK! Magazine
Ben Affleck knew 6 years before thousands of people who were polled on Date.com, Matchmaker.com and Amor.com that Jennifer Lopez and him are the worst couple of the decade according to UPI. Bennifer 1.0 got over half the votes from the people polled by getting a whopping 50.1% of their disapproval. Good thing he left her at the altar, could you imagine how many more votes they would've had had they gotten married?
So what couples bottomed out the list?
Jon and Kate Gosselin with 11.5 percent of the vote and pop star Britney Spears and backup dancer Kevin Federline with 10 percent. Also mentioned on the worst list with smaller percentages of the vote were Tom Cruise and Katie Holmes, Angelina Jolie and Billy Bob Thornton, Charlie Sheen and Denise Richards, Guy Ritchie and Madonna, Lindsay Lohan and Samantha Ronson, Paris Hilton and Rick Salomon, and Flavor Flav and Brigitte Nielsen.
How did TomKat only get a small percentage? Granted looking at the 3 couples ahead of them, they aren't as bad as I thought they were before this poll.
I think that this is a pretty good list, do you think they are missing anyone?
---
Guess who is doing the plumber pose?
December 30th, 2009 under Guess who?. [ Comments:

none

]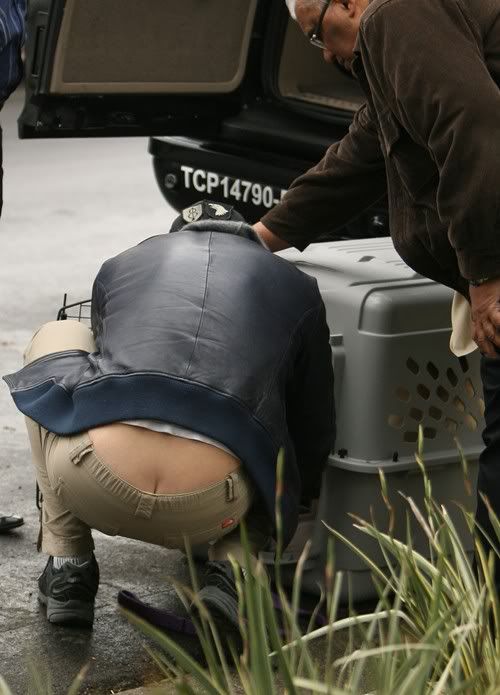 Want to see who that crack belongs to then click here!
---
Half of the Brangelina Clan
December 30th, 2009 under Brangelina. [ Comments:

none

]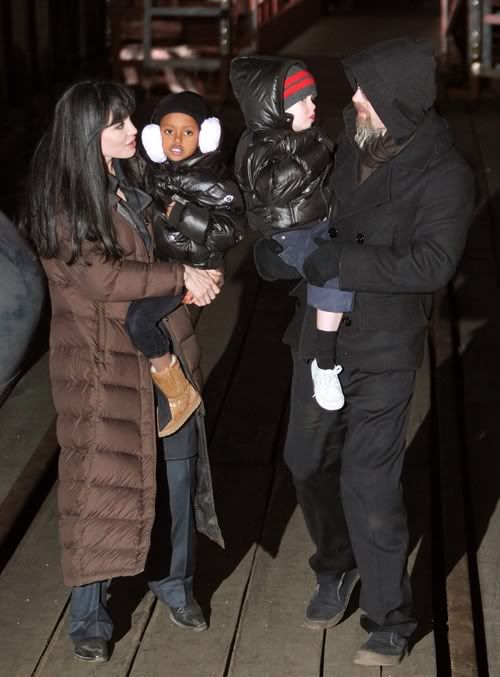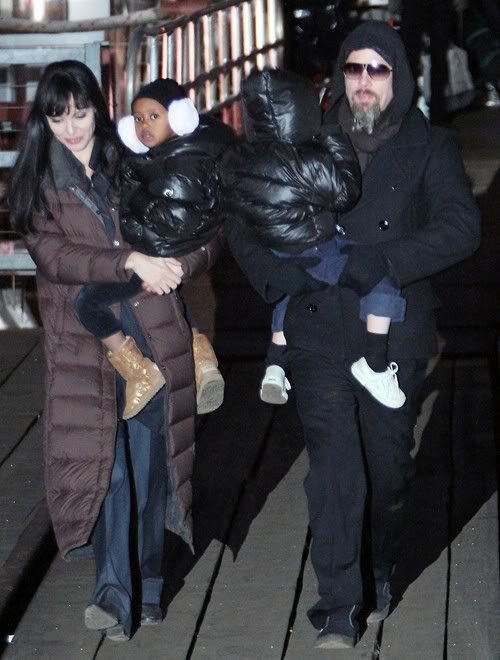 Fame Pictures
Angelina Jolie is in NYC filming additional scenes for Salt and Brad Pitt brought their oldest daughter, Zahara and Shiloh to see them mom work. Seriously how awwwwdorable and loving does their family look even when they are all bundled up like that. Angelina Jolie just glows when she is with her kids, look at that smile!
BTW I can't tell if it is just Brad Pitt's beard is all scraggly and unkempt or if icicles have actually formed on it. I really hope and pray he shaves that thing off for awards season, but since he wasn't nominated and only Inglourious Basterds (except for a SAG ensemble nom) was I wonder if Brangelina will be doing the red carpets at all???
---
Caption David Spade!
December 30th, 2009 under Caption the Celeb, David Spade. [ Comments:

2

]

via MTV Movie Blog
David Spade Tweeted this picture of him holding a bottle Jack Daniels and it has Caption Me written all over it, so go ahead and do it!

Winner of the last Caption The Celeb:

chantalle wrote for Caption Tyra Banks and Sesame Street Muppets!…"Me see, cookie monster! You're right! Tyra has more stuffing in her head then Elmo does! Hehehehe!"
---