Sarah Jessica Parker and Matthew Broderick show off their twins
June 29th, 2009 under Sex and the City. [ Comments:

2

]
Sarah Jessica Parker and Matthew Broderick are celebrating the one week birthday of their twin girls, Marion Loretta Elwell and Tabitha Hodge, by releasing a picture of them to
AP
. How awwwdorable is James Wilkie looking over at his baby sister! What a great family picture! Good for them for not selling their baby pictures like other celebrities!
---
Housewives is Desperate for Drea de Matteo
June 29th, 2009 under Desperate Housewives. [ Comments:

1

]

(photo from WireImage)


Desperate Housewives has cast its new vixen according to EW's Michael Ausiello, and I don't think many people are going to be happy with the casting of Drea de Matteo as the Edie Britt replacement.
De Matteo, who will be a series regular, will play the matriarch of a new Italian family. Casting is underway for her landscape designer husband and their tightly wound son.
Maybe because I never watched her on The Sopranos and I only saw her on Joey, I think her casting is something we are all going to want to forgetaboutit faster than we did when they added Alfre Woodard.
---
BTWF roles: Alex O'Loughlin in Oyster Farmer
June 29th, 2009 under Before They Were Famous, Moonlight. [ Comments:

none

]

Before Alex O'Loughin was the sexy vampire on Moonlight who couldn't get injured or the transplant doctor extraordinaire on Three Rivers, he was just a man who needed some medical attention in Oyster Farmer. How hot does the 28 year old look standing there in his underwear in that 2004 movie. That and to hear him talk his native Australian accent!!!
BTW I just saw Alex's new CBS show Three Rivers and I loved it. It made me cry a few times. Three Rivers is totally not predictable and really well done! Plus for us women, his scrubs leave very little to the imagination!!!
---
Diane Keaton injured on the set of Morning Glory
June 29th, 2009 under Diane Keaton. [ Comments:

1

]
Diane Keaton was injured on the set of Morning Glory today, but she is doing OK! according to
E!
. She was filming a scene with a sumo wrestler when she suffered a hit to the head during a fight scene.
Here is the statement from Paramount.
"Diane Keaton is in good health and spirits following a fall on set of Morning Glory where she bumped her head. The actress was taken to a hospital for precautionary tests and has been cleared by doctors to return to work tomorrow."
It seems like after what happened to Natasha Richardson the studios are not taking any risks, like they did with Angelina Jolie when she bumped her head while she was filming Salt, and that is a smart move on their parts.
Thankfully she is OK, because I couldn't take losing her too. Baby Boom is one of the two movies that convinced to major in Advertising, the other one was Crazy People. Both movies convinced me to major in it, but I never went into it after college! That was a waste of my parents' money. If you never seen Baby Boom or Crazy People, you should totally rent them because both are great movies!
---
What is Solange Knowles packing?
June 29th, 2009 under Beyonce. [ Comments:

1

]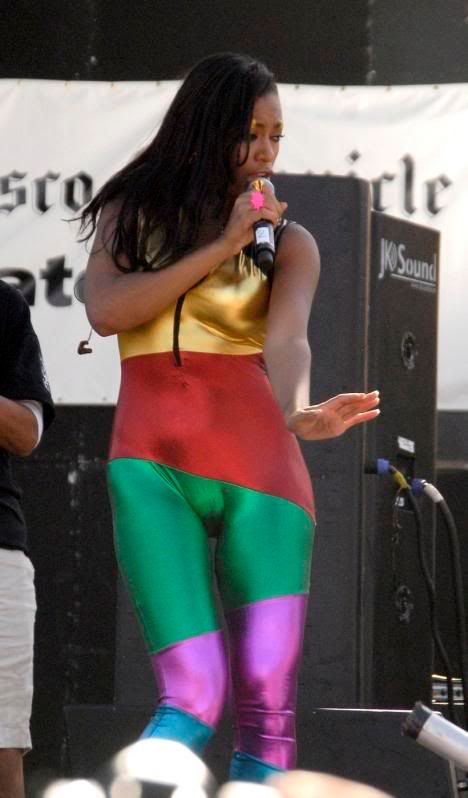 WTF is Solange Knowles wearing? Seriously she should not be wearing a figure-hugging body suit like that because doesn't it make her look like she is packing down there? That and those colors together with the metallic shine are hurting my eyes.
Who dresses her? And why do they still have a job? She is one of the worst dressed celebs out there if not the worse.
---