Is black slimming on Jessica Simpson?
January 30th, 2009 under Jessica Simpson. [ Comments:

4

]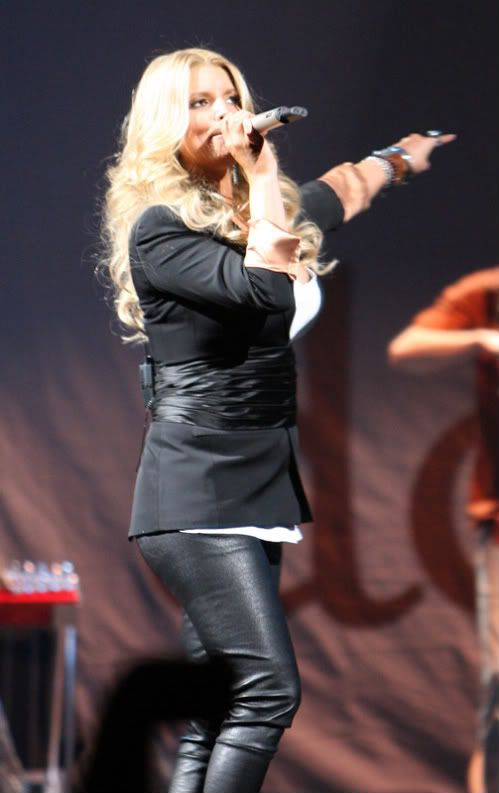 Jessica Simpson had her first concert last night since she made the mistake of wearing high-waisted jeans with a double belt and people started calling her fat. While yes she has put on weight, she is not fat. Her biggest fault is whoever is styling her. Those belts make her look even bigger than she is. Seriously who wears belts as thick as the ones she has been wearing? I betcha if she went without those thick belts she would look she lost at least size in pictures.
OK, I can't resist how did she get in to those pants and how the heck is she going to get out of them.
---
Hot Links!
January 29th, 2009 under Hot Links!. [ Comments:

none

]
---
MSNBC's Norah O'Donnell loses it over Jimmy Kimmel!!!
January 29th, 2009 under Jimmy Kimmel. [ Comments:

none

]

via TV Newser
I don't know what is funnier Joy Behar asking the about-to-be-impeached Illinois Governor Rod Blagojevich to do his best Richard Nixon impression or what Jimmy Kimmel Live! did with it or MSNBC's Norah Donnell's laugh!
Hands down Norah Donnell's laugh!!! I might have to watch her show just to watch her crack up like that, it just puts you in a good mood!!!
---
Vanilla Ice has a cover CD of classic Rap songs
January 29th, 2009 under Music. [ Comments:

1

]

OK! I am way late on this, but it is still to good not to post!!!
Vanilla Ice has released a cover album of his favorite classic rap songs like Baby Got Back! The Ice Ice Baby singer called his album Vanilla Ice Is Back and you can buy it for $16.98 on his site!!! Wait does his career even warrant a title like he "is back"?

Here is the tracklisting:
1. Ice Ice Baby
2. You Dropped A Bomb On Me
3. Fight The Power
4. Jump Around
5. Baby Got Back
6. You Gots To Chill
7. I Got It Made
8. Buffalo Soldier
9. Treat 'Em Right
10. Insane In The Brain

All I can say is wow!
And here is my double wow…How did I find out about his CD? Well I read somewhere he is actually doing a double-bill with MC Hammer in Orem, Utah (home of Marie Osmond) and I had to check his site to see if it was true. And it is…
I wonder if Joaquin Phoenix is trying to be added to that show…

---
Henry Winkler aka The Fonz is available for children's parties!!!
January 29th, 2009 under Craig Ferguson, Henry Winkler. [ Comments:

none

]

Last night the nicest guy in Hollywood, Henry Winkler, was on The Late Late Show with Craig Ferguson as a referee for the Super Bowl and he was just way too cute!!! I am not going to spoil you because you seriously have to watch the whole thing. I promise you it will bring Happy Days!!!
Hey Henry, can I hire you for my birthday party?
---