Fox cancels King of the Hill
October 30th, 2008 under Fox. [ Comments:

3

]

Fox has decided not renew King of the Hill after it airs its 13th episode of its 13 season according to The Hollywood Reporter. When it comes to animation Sundays on Fox, I have to admit that I barely watched King of the Hill, but even after saying that I am sad to see it go.
No word yet when Fox will air the series finale, but I am sure they will make a big deal about once they know the date.
---
Now Katie Holmes is dressing Suri like her
October 30th, 2008 under Tom Cruise/Katie Holmes/Suri. [ Comments:

1

]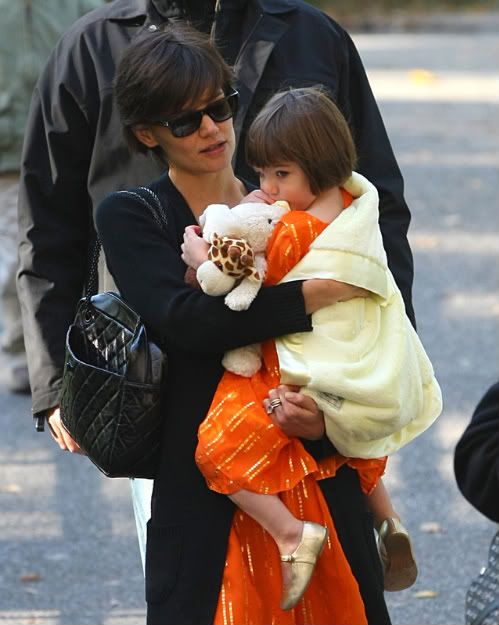 It was bad enough when Katie Holmes and Suri Cruise got matching haircuts, now she is even dressing Suri like her. Katie, Suri is not your twin, stop making her into one. You know those moms that want their daughters to say that they are not their mom, but their sister? You so know Katie is going to be like that with Suri and her big sister Tom Cruise, I mean husband. Poor Suri, poor poor Suri.
---
Eli Roth as The Bear Jew in Inglourious Basterds!
October 30th, 2008 under Eli Roth. [ Comments:

11

]
Finally thanks to
X17 Online
we get to see the first glimpse of
Eli Roth
(he is the one behind Quentin) as Sgt. Donny Donowitz, aka The Bear Jew! Seriously how cute does Eli Roth look with that baseball bat-swinging Nazi hunter military haircut? After seeing that picture, I am even more excited for Quentin Tarantino's Inglourious Basterds!
---
Supernatural gets all spooky the day before Halloween
October 30th, 2008 under Halloween, Supernatural. [ Comments:

none

]
It's a few days before Halloween and Sam (Jared Padalecki) and Dean (Jensen Ackles) investigate two mysterious deaths in a small town. The brothers find hex bags and deduce a witch is sacrificing people to summon a dangerous demon named Samhain.
Castiel (guest star Misha Collins) arrives in town and tells Sam and Dean the freeing of Samhain is one of the Seals that will lead to freeing Lucifer, so Castiel has brought a specialist angel named Uriel (guest star Robert Wisdom) to smite the entire town.
What better way to get ready for Halloween than to watch a scary episode of Supernatural on The CW at 9p! So tune in for a special Halloween episode of Supernatural that is guaranteed to be spooktacular!!!
And before you watch The Winchester Brothers make sure to watch Smallville at 8p on The CW to see who also finds out about Clark's secret….
---
Nicollette Sheridan's London trip
October 30th, 2008 under Desperate Housewives. [ Comments:

1

]
Nicollette Sheridan looked pretty in red, but a trip on the red carpet almost left her red all over. Dang those handlers for catching her, I always love a good fall in autumn!
---