Macaulay Culkin uses Home Alone to get laid when he is not home alone
November 29th, 2018 under Jimmy Fallon, Macaulay Culkin. [ Comments:

none

]

Tis the season for Home Alone to be airing all over the place, so much so even Macaulay Culkin cannot get away from it.
Some nights, around this time of the year, he will be home with his girlfriend of the time switching the channels and they will come upon it. Then he asks her if she wants to watch it with him, which of course she does. Does he mind watching it again with her? He told Jimmy Fallon on The Tonight Show, "Whatever gets her motor running."
He is not that sweet little kid Kevin McCallister anymore, so you can't be upset that he used what he learned from the bad guys to act like one. We all have a naughty side, even him.
---
Macaulay Culkin is not dead?
November 9th, 2014 under Macaulay Culkin, Not Dead. [ Comments:

none

]

On Friday, there were rumors that Macaulay Culkin had died, and yesterday he took to Twitter to dispel the rumors. At least, I think he did because he did so by recreating Weekend at Bernie's and we know that movie was about two guys who pretended that their dead boss was alive. So at this time we will have to assume he is alive until he picks a different movie to prove that he's still breathing like Home Alone.
---
Macaulay Culkin is spending his time Home Alone
January 3rd, 2011 under Macaulay Culkin, That '70s Show. [ Comments:

none

]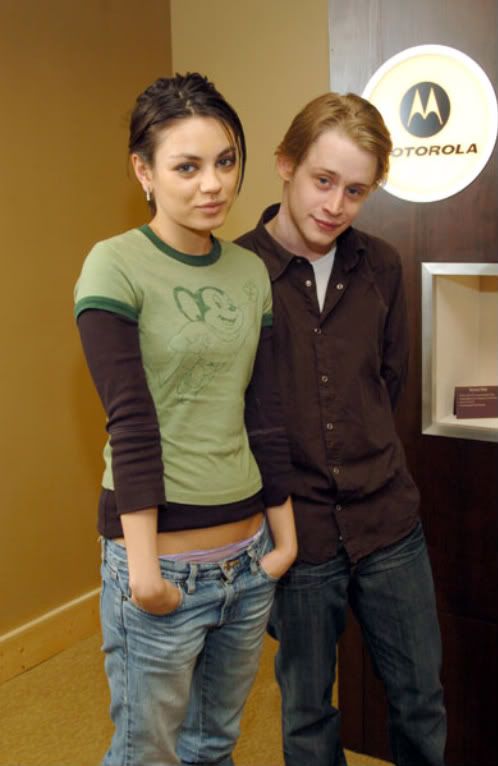 (Photo from WireImage)


Macaulay Culkin and Mila Kunis have ended their relationship after dating for 8 years. Her rep told Page Six, "The split was amicable, and they remain close friends." I was hoping they would work out because they have been together for so long. Much longer than his first marriage to Rachel Minor lasted.
Now let the rumors begin on who she will be taking the all the awards show with her because Black Swan and her part in it have been or are expected to be nominated at all the big shows. And the best accessory every nominee has is their date for the night.
Now back to Culkin, this is how I am picturing how he handled the split…
---