Ugly Betty bloopers!
May 11th, 2010 under Ugly Betty. [ Comments:

none

]

via ONTD
Here are some secret bloopers that were only shown at the Ugly Betty wrap party. Michael Urie shared them with BroadwayWorld and someone from that gathering shared it with the whole word. So now you get to sit back and enjoy moments from the show where the cast got, well, Ugly!
BTW Vanessa Williams was not only the best one on the show, she was the best one in that gag reel!!! Hopefully she is back on TV in the fall!!!
---
Say goodbye to Ugly Betty tonight!
April 14th, 2010 under Ugly Betty. [ Comments:

none

]





Say goodbye to Ugly Betty tonight on ABC at 10p. After four years of working for Mode, Betty says goodbye to everything and everyone she show knows and hello London. In tonight's episode a lot of the show's big questions are answered and everyone pretty much has a happy ending. You will have to tune in for the surprise ending of the series finale because it is not something you will see coming until it happens.
Tonight's series finale is an appropriate end and for the first time since season 1 I am actually sad to see this show go. So tune in to ABC tonight at 10p for one last Ugly Betty.
---
Ugly Betty no longer fashionable for ABC!
January 27th, 2010 under Ugly Betty. [ Comments:

1

]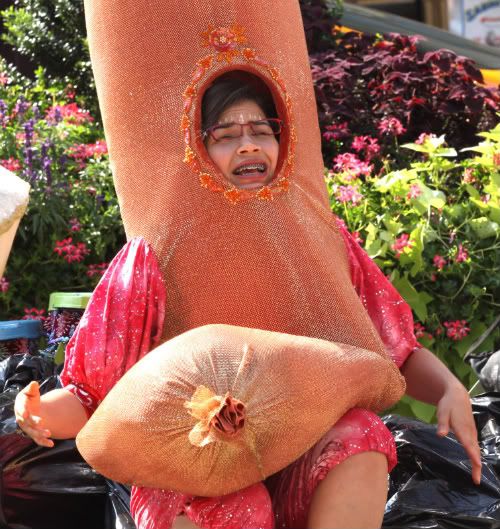 (photo from Splash News Online)


ABC announced today that Ugly Betty will not be back next season on the network according to Variety. The show's last episode for the season will be the series finale. ABC let them know in advance so they can wrap up the series in a ways that fans will be somewhat satisfied.
The news really isn't a surprise because even though ABC has done everything to keep it on the air, it was getting beat by The Jay Leno Show in the ratings and not many shows on ABC can say that.
Personally I am happy the show has been cancelled because I have been watching the show since day one, but I haven't liked since season two and I am loyal viewer. Which means even though I don't like the show, I still keep watching it.
So how do you think they will the end the show in April? And do you think we will ever see American Ferrera in anything else or are her 15 minutes up?
---
Does Ugly Betty have incriminating pictures on ABC?
December 2nd, 2009 under Ugly Betty. [ Comments:

2

]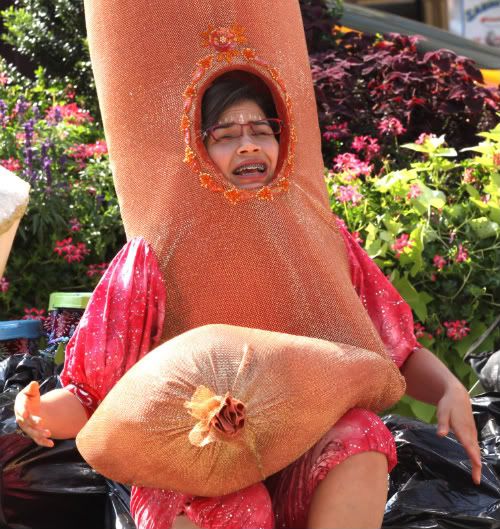 (photo from Splash)


Ugly Betty is down over 40% in the ratings this season and is seen by less people than The Jay Leno Show on Friday nights, yet ABC is giving the dwindling show a reprieve and moving it to Wednesdays at 10p on January 6th. Seriously if the show can't even get more viewers to watch it when it airs an hour earlier than Jay on Fridays, how do they expect it to better than him when they are going head to head on Wednesdays? Plus the show is too sugary sweet for a 10p timeslot.
I don't get why ABC has so much faith in this show? It is not like America Ferrera is getting them Emmy noms anymore, not like she deserved any after the first season. Actually I haven't liked it much since the first season, but yet for some reason I keep watching even though the show gets dumber and dumber with each episode. And it is same the thing week after week, Betty has to save Daniel and everyone at Mode thinks she is such a loser.
I was hoping ABC would let this show die, so I could remove it from my DVR but I guess they have other plans for it. Are you going to watch it on Wednesdays at 10p?
BTW Shark Tank got Betty's old slot which makes me wonder where the forgotten will go when V and Dancing with the Stars the Results come back to Tuesdays in March?
---
Ugly Betty's season premiere tonight is well Ugly
October 16th, 2009 under Ugly Betty. [ Comments:

none

]

Ugly Betty is back for its 4th season tonight on ABC at 8p with a two hour premiere and it is too much. Two hours of Ugly Betty is beyond painful because its the same old episode but drawn out and you will be bored to tears by the time the credits. That is if you are still awake. I watched the show without commercials and anything that could distract me did.
Tonight's episode starts off with Betty starting her new job as an assistant editor and of course her idea doesn't go over well. So her co-workers try to redo it and yes Betty has to wind up saving the day when things come crashing down. Kristen Johnston guests stars as what Amanda's life could be and OMG she is so annoying. Seriously I was so happy that AbFab didn't get picked up because she would have overacted in it. Betty does get a makeover at the end of the episode and you won't be able to really tell it is one.
Although Betty has a new job, it is the same old thing different episode. Everyone hates working with Betty and they make fun of the fact that she is unfashionable and want her to go away. Daniel is the wimpiest man and Betty has to pump it up. Amanda and Mark are bitchy as ever and are the same characters as always. Justin is still having problems being a teen and Hilda is trying to be his friend and not his mom. Wilhelmina Slater is still the best part of the show, but even she can't save this sinking ship.
Ugly Betty was moved to Fridays and it is starting later than all the shows plus the premiere was a delayed a week, and all of that spells bad news for the show. And with an episode as painful as tonight's this show will be lucky to make it to the end of the season.
---