Brandy should put on some pants!
March 4th, 2013 under Bad Look, Brandy and Ray J. [ Comments:

none

]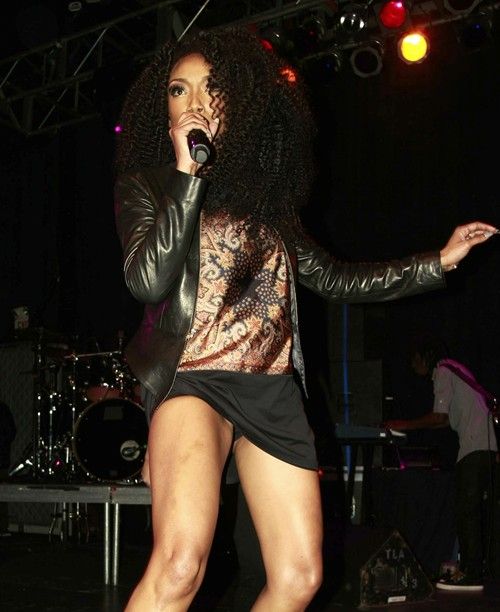 Fame Flynet
Brandy was performing at The Theatre Of The Living Arts in Philadelphia and looks like she forgot to put on some pants before she went on stage. Looking at what the people in the front row got to see close up, would make want to sit in the nose bleeds seats. I rather not be able to see than to see that.
---
Brandy needs to wear a bra
October 20th, 2010 under Brandy and Ray J, Dancing with the Stars. [ Comments:

none

]

WireImage
Brandy went out with two of the girls from Dancing with the Stars for the launch of Just Dance 2 and her two girls were showing. The top of the leader board star wore a see-thru shirt with no bra and it was something I didn't need to see. The 31 year old singer is the mother of an 8 year daughter and she should know better than to not go out without a bra.
BTW I am still calling Bullsh!t that she did not dance to the theme of Moesha like the eliminated Florence Henderson tangoed to The Brady Bunch theme and her Just Dance 2 buddy Audrina Patridge danced to The Hills opening number.
---
Whitney Houston and Ray J still together
April 20th, 2008 under Brandy and Ray J, Whitney Houston. [ Comments:

4

]
Whitney Houston isn't going to let a 17 year age difference and a sex tape stop her from continuing her relationship with Ray J. I know it would have stopped me.
---
Brandy the cause of a fatal car crash?
February 19th, 2007 under Arrested, Brandy and Ray J. [ Comments:

none

]
TMZ has learned R&B sensation Brandy was involved in a fatal accident last month, and it appears to be her fault. It happened at 10:30 AM on December 30, 2006 on the 405 Freeway in Los Angeles. Law enforcement sources tell TMZ Brandy was driving her 2007 Land Rover at 65 mph and did not notice that cars in front of her had slowed considerably. We're told Brandy's vehicle struck a 2005 Toyota. The Toyota then hit a 1989 Toyota. The 2005 Toyota then slid sideways and hit the center divider. As the 2005 Toyota came to a halt, it was struck by a 1988 Acura. We're told the driver of the 2005 Toyota was taken to Holy Cross Hospital in critical condition and she died. We're told Brandy was not injured. The driver of the Acura suffered moderate injuries. Brandy was not arrested and there is no evidence drugs or alcohol were involved. Calls to Brandy's reps have not yet been returned.
I feel for the family of the woman who died. I wonder if this will affect her job on America's Got Talent?
---
Could Brandy do jail time because of that fatal accident?
February 19th, 2007 under Arrested, Brandy and Ray J. [ Comments:

none

]
The California Highway Patrol recommended Monday that actress-singer Brandy be charged with misdemeanor vehicular manslaughter in a freeway crash that killed a woman motorist last month, a city attorney's spokesman told The Associated Press. The CHP referred the matter to the city attorney's office for review, said spokesman Nick Velasquez. "The office is currently reviewing the case and determining whether the evidence warrants the filing of a misdemeanor charge of vehicular manslaughter," Velasquez said. A message seeking comment from Brandy's publicist, Courtney Barnes, was not immediately returned. The charge carries a maximum sentence of one year in county jail and a $1,000 fine, Velasquez said. Prosecutors couldn't say when they would make a decision about whether to bring a case. If charged, Brandy wouldn't necessarily have to appear in court and could have her lawyer enter a plea, Velasquez said. Brandy, whose real name is Brandy Norwood, has publicly expressed condolences to the victim's family, Barnes said last week. Barnes also has said Brandy wasn't under the influence of drugs or alcohol at the time of the crash. Brandy, 27, was driving a Land Rover on Interstate 405 on Dec. 30 when traffic slowed and her vehicle struck the back of Honda driven by Awatef Aboudihaj, 38, according to a CHP report. Aboudihaj's car hit another vehicle, slid sideways into the center divider and was then hit by another car, the report said. Aboudihaj, a Los Angeles waitress, died at a hospital from blunt-force injuries, according to the coroner's office. Bill Sayed, an attorney for Aboudihaj's husband, said he supported the CHP's recommendation.
It will be interesting to see if the family will file a civil lawsuit instead of charges against her?
---