Ray J on hosting the Bad Girls All-Star Battle
May 21st, 2013 under Brandy and Ray J, Oxygen. [ Comments:

none

]

Tonight at 9p Oxygen got the baddest girls from the past 11 seasons Bad Girls Club to fight it out in Bad Girls All-Star Battle and only one them can be the baddest girl of them all and $100,000 richer. Ray J is the only man in house with these ladies and he is more than the host of the show.
I was recently on a conference call with Ray J and he talked about how good this show is, what's a "Bad Girl" and did he hook up with any of them?

How good is tonight's episode?:
It's going to be intense. Make sure you watch the first one because it's a 90-minute. We had to make it 90 minutes instead of 60 because it just – it got that intense.
What is a "Bad Girl" to him?:
My description of a real bad girl is a girl that never gives up, a girl that is confident in herself, a girl that has been through things and maybe has been knocked down and got right back up and kept fighting and kept going. And you know a real true bad girl is a girl that has maybe been through some things, but still is a winner and continues to go on with her life as a champion.
Is it bad to be a "Bad Girl"?:
I don't think there's anything wrong with being a bad girl. I think whatever you go through in life, as long as you learn from it and grow from it, I think that that's the special thing about life, and second chances, and tomorrow.
Why the viewers will connect with the show:
I think besides the challenges, you know besides the drama that comes along you know with the Bad Girls Club and the Bad Girls All Star Battle is there is substance behind this show. I mean some of these girls are coming on this show to win this money for real positive reasons and reasons that I think is really going to connect with the viewers. Like there is one girl, Flo. She is trying to win the money to help her daughter you know have a better life you know as a single mom. Another bad girl is trying to help her brother get out of foster care, and I think her winning the money will help her do that. So besides it being a great show with challenges, there is also substance to this show and certain reasons why these girls are here is real touching and that's one of the things that really connected me to the show as well.
Was he able to keep it together during the emotional eliminations?:
It was tough sometimes, but I made it through. I made it through and it was one of the best experiences I've had in hosting and even just you know being on TV. I mean it was unforgettable.
Did he hook up with any of the girls?:
Oh, no. No. I'm – you know, I'm totally – this is professional, man. Like I plan on doing this for however long, you know, the ride goes. So you know the saying. I don't where, I, you know. But all of the girls are hot. I'm not going to even front. They're beautiful girls. But for me, I got to stay professional. I got to lay out the blueprint, and then they got to execute.
Before Bad Girls All-Star Battle, I have to admit I only thought of him as the guy in Kim Kardashian's sex tape. But after meeting him and speaking with him on the conference call, I have learned he is a really nice, charming, good guy. Nothing like I thought he would be. Because he is not the bad guy we all perceived, it really makes me want to watch this show. I think his big heart is going to make him a really good host and that is reason enough for me to watch. But the drama and competitiveness between these Bad Girls might even be more of a reason. So tune in Tuesdays at 8p to see the baddest show on television this summer!
---
Brandy should put on some pants!
March 4th, 2013 under Bad Look, Brandy and Ray J. [ Comments:

none

]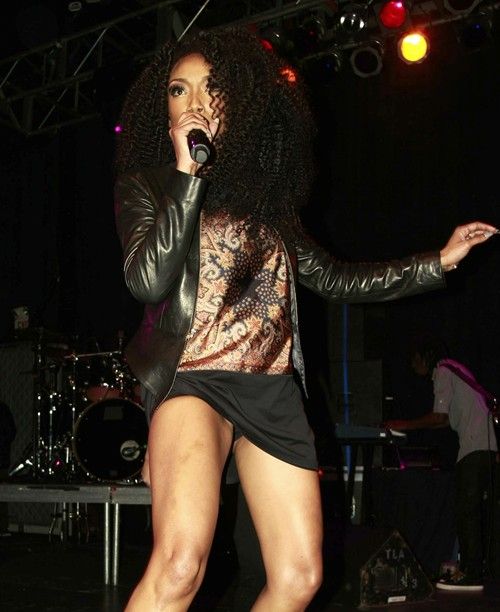 Fame Flynet
Brandy was performing at The Theatre Of The Living Arts in Philadelphia and looks like she forgot to put on some pants before she went on stage. Looking at what the people in the front row got to see close up, would make want to sit in the nose bleeds seats. I rather not be able to see than to see that.
---
Brandy needs to wear a bra
October 20th, 2010 under Brandy and Ray J, Dancing with the Stars. [ Comments:

none

]

WireImage
Brandy went out with two of the girls from Dancing with the Stars for the launch of Just Dance 2 and her two girls were showing. The top of the leader board star wore a see-thru shirt with no bra and it was something I didn't need to see. The 31 year old singer is the mother of an 8 year daughter and she should know better than to not go out without a bra.
BTW I am still calling Bullsh!t that she did not dance to the theme of Moesha like the eliminated Florence Henderson tangoed to The Brady Bunch theme and her Just Dance 2 buddy Audrina Patridge danced to The Hills opening number.
---
Whitney Houston and Ray J still together
April 20th, 2008 under Brandy and Ray J, Whitney Houston. [ Comments:

4

]
Whitney Houston isn't going to let a 17 year age difference and a sex tape stop her from continuing her relationship with Ray J. I know it would have stopped me.
---
Brandy the cause of a fatal car crash?
February 19th, 2007 under Arrested, Brandy and Ray J. [ Comments:

none

]
TMZ has learned R&B sensation Brandy was involved in a fatal accident last month, and it appears to be her fault. It happened at 10:30 AM on December 30, 2006 on the 405 Freeway in Los Angeles. Law enforcement sources tell TMZ Brandy was driving her 2007 Land Rover at 65 mph and did not notice that cars in front of her had slowed considerably. We're told Brandy's vehicle struck a 2005 Toyota. The Toyota then hit a 1989 Toyota. The 2005 Toyota then slid sideways and hit the center divider. As the 2005 Toyota came to a halt, it was struck by a 1988 Acura. We're told the driver of the 2005 Toyota was taken to Holy Cross Hospital in critical condition and she died. We're told Brandy was not injured. The driver of the Acura suffered moderate injuries. Brandy was not arrested and there is no evidence drugs or alcohol were involved. Calls to Brandy's reps have not yet been returned.
I feel for the family of the woman who died. I wonder if this will affect her job on America's Got Talent?
---