Nina Dobrev kicks Conan O'Brien's a$$ for hitting on her!
March 13th, 2013 under Conan O'Brien, Nina Dobrev. [ Comments:

none

]

The last time Nina Dobrev was on Conan O'Brien's show she got the TBS host all hot and bothered when she showed him a Yoga move by using him as her wall. Well yesterday when she was on the show he hit on her and she hit him over and over again. The Vampire Diaries star demonstrated her stunts moves and he paid the price. So much so I enjoyed every second of her kick a$$ fighting.
BTW when her CW show finally ends, I hope that TBS gives Conan and Nina a sitcom where she physically tortures him every week. Kind of like a non-animated version of Tom and Jerry.
---
Nina Dobrev uses Conan O'Brien to show just how flexible she is
May 10th, 2012 under Conan O'Brien, Nina Dobrev, The CW. [ Comments:

none

]

Nina Dobrev was guest on Conan O'Brien yesterday and she did something that made her his favorite guest ever. The Vampire Diaries beauty used the TBS late night host as wall while she demonstrated a Yoga move called the Scorpion. Basically he stood there as she did a headstand and ran her feet down to his crotch area. By the looks of it actually touching him down there and that left his face as red as his hair. When she came up, he let everyone know just how excited he was that she used him as her wall and would be willing to be the substitute any time she wants.
And I have a feeling she wouldn't mind either because here is what the Degrassi grad Tweeted before appearing on the show, "Quick 12 hour trip to LA to tape CONAN tonight! So excited to hang out with my favorite ginger in the world!!!"
Hopefully her favorite Ginger will be watching her in the heart stumping season finale of The Vampire Diaries on The CW at 8p.
And on that note good thing Nina's boyfriend Ian Somerhalder was taping another talk show when she was Conan because I am afraid he would've showed his fangs to Coco had he been there and no one wants to mess with a pissed off Damon.
---
Nina Dobrev is definitely Team Damon!!!
April 16th, 2012 under Nina Dobrev, The CW. [ Comments:

none

]

WENN.com
Nina Dobrev and Ian Somerhalder have quietly been dating for a while and now that The Vampire Diaries is done filming for the season it appears they are taking their love public. Elena and Damon were caught kissing this weekend at Coachella and they look like they are as hot off screen as they are on camera.
Although I can't help but think that Ian Somerhalder might be lost is in the kissing department.
---
Nina Dobrev travels in style
January 12th, 2012 under Nina Dobrev, The CW. [ Comments:

none

]

Nina Dobrev films The Vampires Diaries in Atlanta, so since she was up for a People's Choice Award she was flown to LA to attend the event. Luckily the network got it's money's worth because the people like, they really really like so much so that she won the award she was nominated for. But instead of celebrating with the other winners, she had to make a mad dash to the airport and almost didn't make it. As she Tweeted with the above picture, "Close call, Was so rushed to the airport… Didn't have time to change out of my dress!" I am sure no on the plane had an issue with her make the friendly skies, even friendlier in that gorgeous green dress.
The actress who plays two roles on one show is not only beautiful on the outside, she is just as beautiful on the inside. Here is what she Tweeted once she was settled in on her flight home, "Okay, so I was so flustered and nervous when I won the award, that I missed a few major things I wanted to say. First off, I didn't get to Thank my mom. So, Thank you mama! AND – to everyone who voted for me, you got me to the PCA's. Your votes got me this award. Your voices are So unbelievably powerful. You can make things happen. You made this happen. Can you imagine what else you could do? Go go out and do it! Again thank you, so so so so much. I've always wanted a Peoples Choice Award, thank you for making my dream come true." I love how humble how she is and the honor was so well deserved.
BTW she isn't the only one from VD that has had to travel back to Atlanta in their Awards clothes, her boyfriend Ian Somerhalder did the same after the Emmys.
---
Nina Dobrev suffers a concussion on The Vampire Diaries set
September 26th, 2011 under Nina Dobrev, The CW. [ Comments:

none

]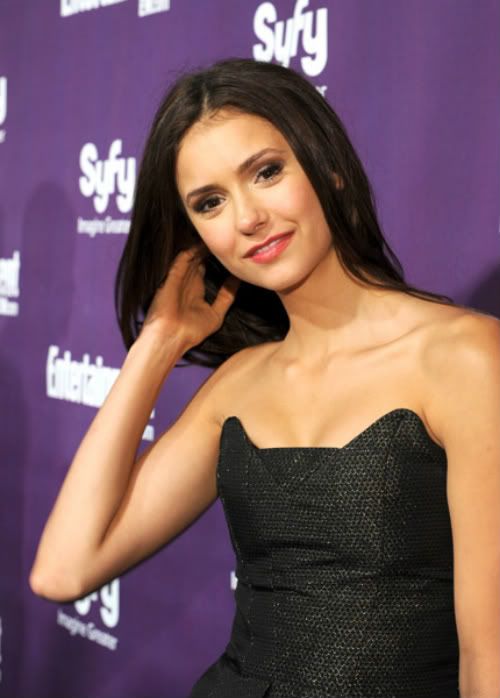 (photo from WireImage)


Nina Dobrev Tweeted that she was injured while filming The Vampire Diaries, the actress said "Still feelin side effects from the Concussion I got on set… Ouchie. Good thing purple is a good color on me otherwise…" She didn't post a picture of the purple bump nor did she say how she got it, but hopefully she will be better soon.
BTW is it wrong for me to wonder if the injury happened while she playing Elena or Katherine and also to be curious if we will see that scene in the final product?
---