Mariska Hargitay gets a huge hug from the little man in her life!
April 2nd, 2010 under Mariska Hargitay, NBC. [ Comments:

1

]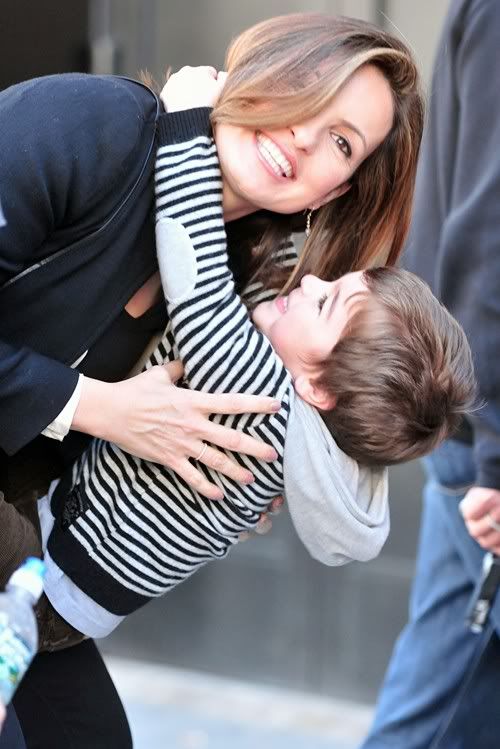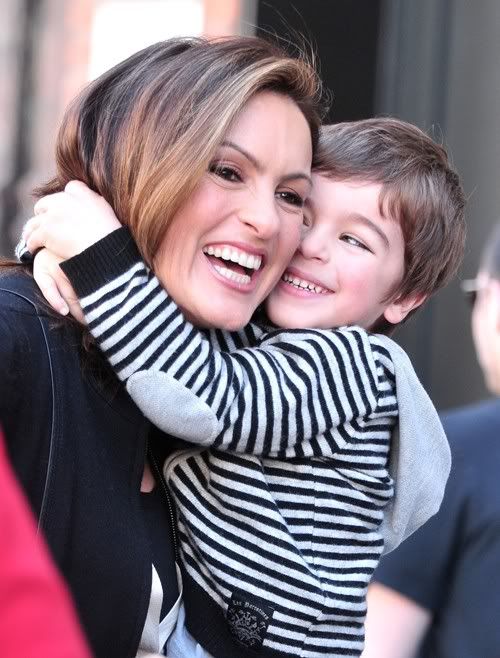 Fame Pictures
Mariska Hargitay was filming an episode of her show Law & Order: SVU when she got a visit from the little man in her life. I don't know who was happier, the glowing mom or her cute three year old son August Hermann. Seriously how precious are those pictures of the them together? She might play tough Olivia Benson on the show, but in person she is just a softie especially when it comes to her awwwdorable son!!!
---
Mariska Hargitay's awkward kiss with Kathy Griffin
February 25th, 2010 under Kathy Griffin, Mariska Hargitay, NBC. [ Comments:

1

]

On Wednesday's Law & Order: SVU on NBC at 9p Kathy Griffin will be playing Babs, a lesbian activist whose group members are being murdered. While Detective Benson (Mariska Hargitay) is protecting her, Babs misreads the signals and kisses her. That kiss has to be the most awkward same-sex kiss on TV so far, but I think it was suppose to play out that way. Even as uneasy as it felt, I am sure there will be a lot people who will be using the :10 second rewind feature on their remotes to watch it over and over again.
BTW there are two new episodes of Law & Order: SVU this Wednesday, one at 9p and one at 10p. This will be first time SVU will air in its old timeslot since the failed Jay Leno experiment.
---
BTWF roles: Mariska Hargitay in Freddy's Nightmares
February 15th, 2010 under Before They Were Famous, Mariska Hargitay. [ Comments:

none

]

Before Mariska Hargitay was a detective on Law & Order: SVU, she was pre-med student on Freddy's Nightmatres. Thankfully the 24 year old actress lost those huge glasses she wore in that 1988 episode.
BTW a bonus BTWF at 11:11 in: Before Shiri Appleby was a mother of a teenager on Life UneXpected, she was an awwwdorable 9 year old actress in that episode!
---
Mariska Hargitay has a BIG baby boy
June 29th, 2006 under Babies, Mariska Hargitay. [ Comments:

none

]
Law & Order: Special Victims Unit star Mariska Hargitay, 42, gave birth to a baby boy Wednesday at Cedars-Sinai Medical Center in Los Angeles, California. It is her first child with her husband of almost two years, actor Peter Hermann. The baby boy weighed in at 10 pounds 9 ounces and was born a week after his expected due date via C-Section, a hospital source tells Us. Hargitay's father, actor Mickey Hargitay, and brother were at the hospital as well.

The couple met on the set of Law & Order: SVU. Hermann, 38, appeared most recently in the film United 93. Hargitay won a Golden Globe Award for Best Performance by an Actress in a Television Series in 2005 and as well as the 2004 and 2005 Emmy Nominee, and 2004 Screen Actors Guild Nominee for Lead Actress. She is also the daughter of the late screen siren Jayne Mansfield.

Us Weekly
Congrats to the mommy and daddy!
---