Jon Cryer has the best hair people in the business!
April 15th, 2013 under Jon Cryer. [ Comments:

none

]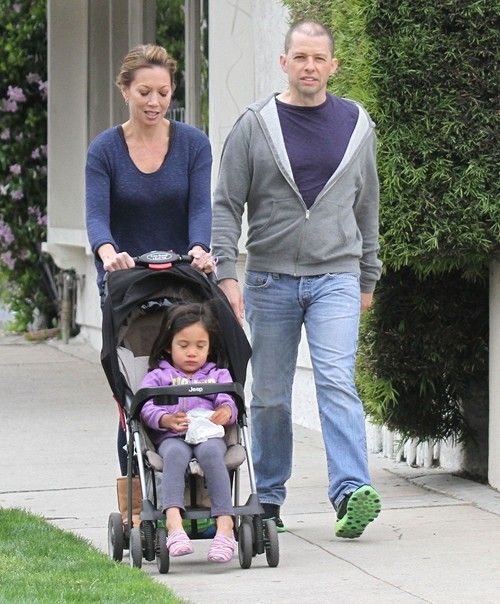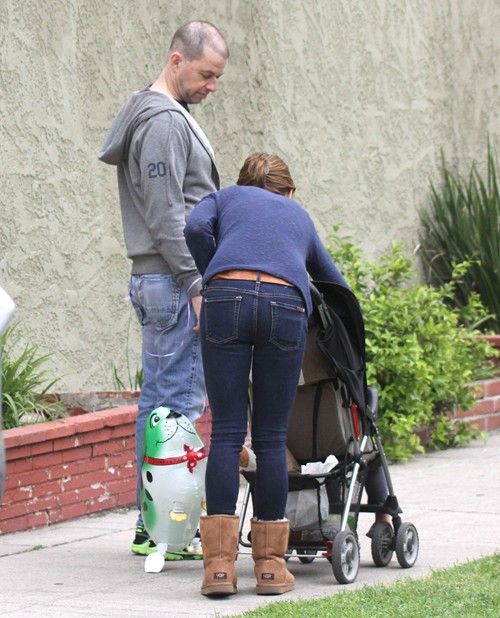 Fame Flynet
When Jon Cryer is filming Two and a Half Men, he has a full head of black hair. But looking at Duckie out and about in LA this weekend with his wife and their daughter, it is a different story. Yet unlike some other men, you would never know from watching him on the CBS sitcom that would be the case. So whoever his doing his hair should work on some of the other celebrities hairlines, so that their hair will look as natural as the Emmy winner's!
---
Jon Cryer and Ashton Kutcher got old looking!
February 22nd, 2013 under Chuck Lorre, Jon Cryer. [ Comments:

none

]




Yesterday on Two and a Half Men we got to see what Ashton Kutcher would look like as a nerdy pimply faced teenager and at the end of the episode we even got a glimpse of Jon Cryer and him in Their 70's Show. So do you like Ashton better as teen or a senior citizen? I will take him at any age I can get him.
---
Ashton Kutcher squeezes Jon Cryer's a$$ like it's a rubber Duckie!
September 19th, 2012 under Chuck Lorre, Jon Cryer. [ Comments:

none

]

Two and a Half Men will be back on CBS next Thursday at 8:30p on its new day and time and looks like their might be a new relationship brewing between the two men! In a clip released to promote the show, Walden is seen getting very intimate with Alan. So much so that Kutcher squeezes Cryer's a$$ and thrusts into him. After it is all done, I think Berta (Conchata Ferrell) summed it up perfectly when she said, "Damn, I should've hugged him." Almost every woman and a lot of men agree with her.
Now back to the show, I am really hoping that this scene means the end of Zoey because I think she brought the show down.
---
Jon Cryer talks Hooters and gestures to his crotch!
August 3rd, 2012 under Conan O'Brien, Jon Cryer. [ Comments:

none

]




Jon Cryer was on Conan O'Brien's TBS talk show the other night and I saw a side of him I have never seen before. It started out with Conan asking why they never see other on the Warner Bros lot even though their stages are so close. The red head said he would expect to see him at the burrito truck and Ducky said, "I'm not into the burritos…And sadly, I don't like you." Of course he was joking, right?
Then as the interview went on they talked about Cryer getting his star and how he had a choice of where it could be placed. He picked a location that has him by some greats like The Harlem Globe Trotters, Sammy Davis, Jr. and also right outside a Hooters. He said he chose it because he wants "people barfing up their hot wings on my star. Thank you very much!"
And it didn't stop there, Conan then asked him about how his character gets tortured a lot on Two and a Half Men. Cryer said that this year they even set his crotch on fire and Conan had to know why. Alan Harper said, "Besides the obvious" and then gave himself two thumbs up Fonzie style. At point Conan told him to stand up and he did. Then as he stood in pride like a Gold Medalist at the Olympics, he boxed his crotch area with his hands to highlight the 'obvious'.
My sum up of this interview is it was on fire like his crotch on that episode and the color of Conan's hair!!!
---
Jon Cryer hasn't spoke to Charlie Sheen
September 14th, 2011 under Ellen DeGeneres, Jon Cryer. [ Comments:

none

]

Jon Cryer was talking to Ellen DeGeneres on her show that airs today and he told her there is someone he hasn't spoken to in a while.
Jon: Mostly I was worried that Charlie was going to die. That was the big fear for me.
Ellen: Yeah,
Jon: And that, that did not occur and I'm thrilled about that.
Ellen: Yes, I think we wish him well in health and that he goes on because he is atalented guy.
Jon: Absolutely.
Ellen: Hopefully he is taking care of himself. Now when he said bad things about you. You were so gracious. You were great. You didn't say anything back. Since then, he has apologized. Have you spoken to him since?
Jon: We have not spoken. And, I will accept an apology both public and private. But again, it was in the heat of the moment I imagine when he said… So I did not put a whole lot of credence in it at the time.
Even though it sounds like Duckie will be cordial to his late TV brother, I would love to be a fly in the room when the Two and a Half Men actors meet up again. I am sure it will be as awkward as awkward gets.
---