Katherine Heigl makes it so easy!
October 31st, 2011 under Katherine Heigl. [ Comments:

1

]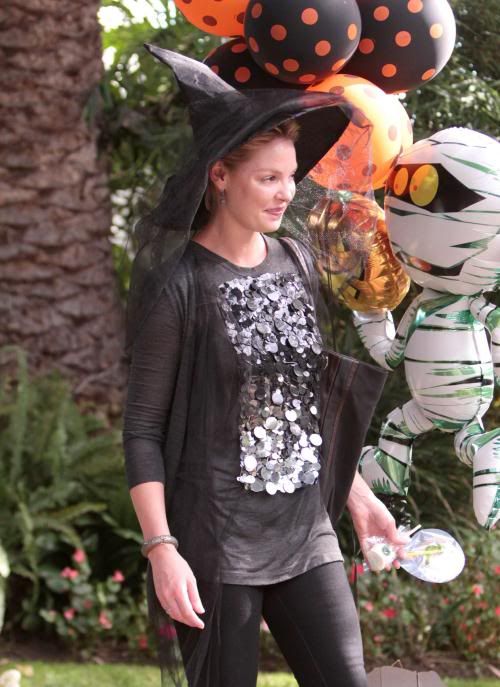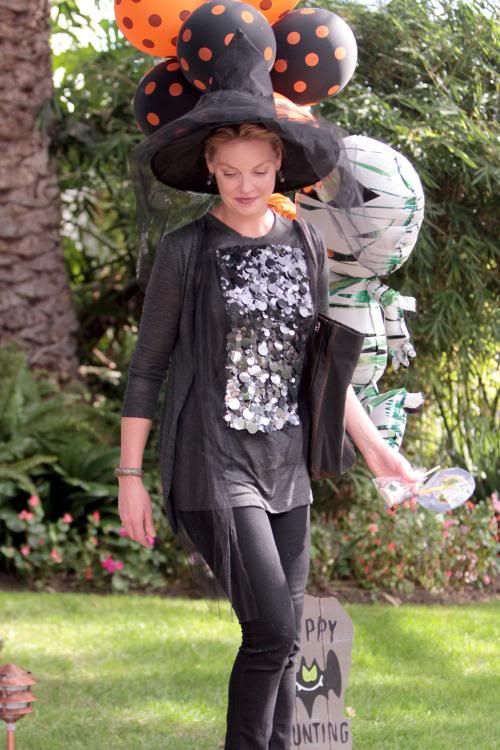 Fame Pictures
Katherine Heigl took her daughter Naleigh to a Halloween Party and the Knocked Up actress dressed up as a Witch. The actress made it so easy for us because she dressed as most of us truly see her.
Actually now that she has been off of Grey's Anatomy, she doesn't bother me anymore but I still had to go there.
---
Katherine Heigl actually thinks she is Emmy worthy again
June 4th, 2010 under Katherine Heigl. [ Comments:

4

]

(photo from WireImage)


So two years ago Katherine Heigl dissed the Grey's Anatomy writers by saying what they wrote for her wasn't Emmy worthy. Then last year they gave her cancer on the show and she submitted herself for a nomination, but the Emmy voters looked her over. This year Katherine Heigl dissed the producers of the show because she had to work long hours reportedly to accommodate her movie promotion schedule, took a hiatus to film a movie (that looks like crap) and then another one for maternity leave when she adopter her daughter before eventually quitting the show. Having said all of that, she still thinks she is still Emmy worthy because she has submitted herself for a Best Supporting Actress nomination according to Hollywood Insider. I am assuming she did so because the writers gave her a cancer storyline, even though she really didn't get to play it out this season because she left to do other things. Plus she didn't even shave head like her character who lost her hair due to the chemo. If she shaved her head, I might consider it but she didn't even do that. To be honest I barely even remember her on the show this season, and what I do remember is she screwed up every seen she was in. While everyone else was great in the episode where they killed off George, every time she was on the screen I stopped crying because her performance was so much of a dud. Once she started laughing hysterically during his funeral scene, the whole episode went 6 feet under to me. I really hope she doesn't get the nom because there are so many reasons why I think she doesn't deserve it. I hope the Emmy voters give it to someone who appreciates acting and is grateful for the roles they are cast in!!!
---
Katherine Heigl copies Shirley Temple's look
June 2nd, 2010 under Katherine Heigl. [ Comments:

1

]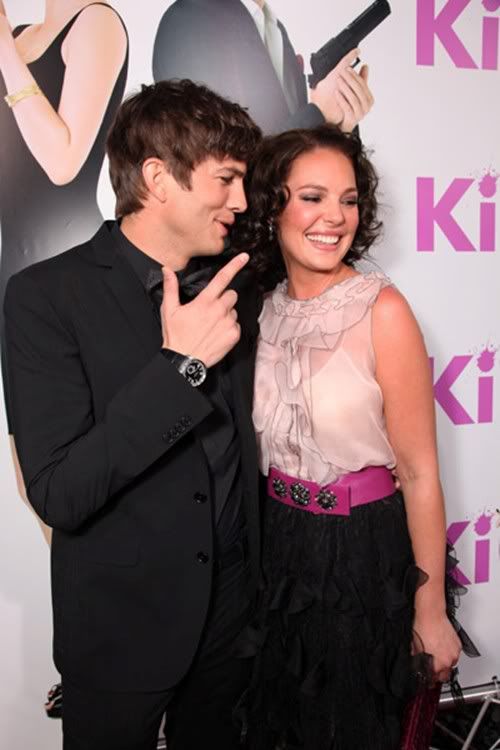 WireImage
Yesterday Katherine Heigl attended the premiere of her latest crappy movie (thus why reviewers are not screening the movie before it comes out) The Killers and she looked more like Shirley Temple than the actress we grew to dislike on Grey's Anatomy. Seriously doesn't she remind you of when Shirley Temple sang On the Good Ship Lollipop in the 1934 movie Bright Eyes with those curls? Actually I shouldn't diss the Oscar winning former-US Ambassador by comparing her cuteness to Heigl's latest look. I will say that Katherine really needs to change up that look because between the hair, the tan and that outfit I can't think of anything positive to say about it.
So instead I will leave you with the awwwdorable Shirley Temple singing the song that melted all of our hearts! (Insert Heigl heart joke here!)
---
Katherine Heigl left Grey's Anatomy for this
May 26th, 2010 under Katherine Heigl. [ Comments:

1

]

The first time Katherine Heigl took a break from Grey's Anatomy this season, it was to film Greg Berlanti's Life As We Know It with Josh Duhamel. After seeing the trailer, she would have been better off staying on the ABC show. But for me personally it worked out for us because now there are two things we don't have to see her in!
I love Everwood and will respect Greg Berlanti forever for it, but what is up with Baby Boom 2? It's like he changed up the career for a man? The baby even looks the same as on the one in the 1987 movie. I think when Life As We Know It comes out on October 8th instead of wasting money on that predictable chick flick, I will just watch Baby Boom again.
Finally if I were Jennifer Aniston, I would be sh!tting a bring because it looks like Katherine Heigl is getting cast n all the roles that used to go to her.
---
Katherine Heigl shows more at ShoWest
March 19th, 2010 under Celeb Oops, Katherine Heigl. [ Comments:

3

]

WireImage
Katherine Heigl wore a red dress at ShoWest yesterday and after the strap on one side it broke, her face matched the color of her dress. The former-Grey's Anatomy star was accepting the ShoWest award for Female Star of the Year when her dress decided it was ready for its big break and the strap broke. Lucky for her she caught the strap before it revealed too much. Access Hollywood's Billy Bush being the man that he is, came in to hold her dress up while she finished her speech. Also being the man that he is Billy Bush Tweeted about it:
Oh my. Hosting showest awards in LV. Heigl comes up to get award, dress strap breaks…I hold her top on while she accepts!
I fought some adolescent instincts. HahaRT @thebikinichef: @billybush: at least she had you to help her. Can you imagine?!
What a moment. Heigl's dress pops a strap. I end up holding it tight from behind. never held such power.
You know this will be the lead story on Access Hollywood tonight, hopefully they will have video of the wardrobe malfunction. I can't believe no one has posted it yet on YouTube, I am so dying to see it happen and hear her reaction to it.
BTW I actually loved her dress. I can't believe I am actually saying something nice about Katherine Heigl…what's wrong with me?
---