Dame Helen Mirren knows how to make an entrance!
March 9th, 2016 under Helen Mirren, Stephen Colbert. [ Comments:

none

]

Dame Helen Mirren was on The Late Show yesterday. As soon as she walked out, she gave Stephen Colbert such a kiss on the lips that rendered him weak in the knees.
After they sat back down, she told him that she has been dreaming of doing that for 15 years and that his lips are soft. The CBS late night host happily responded with, "You know what you are doing. You really know what you are doing. Thank you so much for being here."
He then declared that so many people will be jealous of him when they see this and she said, "Including me when I watch it." Then she explained why when she said, "Oh, why didn't I do more?" He had no choice to tell her the night was still young. And it was because at the end of the interview, they shared a kiss so tender that many of us will dream about getting one just like it tonight.
---
Dame Helen Mirren Twerking is everything!
August 5th, 2014 under Helen Mirren, Jimmy Fallon, Kelly Ripa. [ Comments:

none

]

Dame Helen Mirren was on Live with Kelly and Michael (minus Kelly) today and Michael Strahan told that since he's a "Twerking expert" he can compliment her on her booty shaking skills. So the Oscar winner and the daytime host had a Twerk-Off and it is the best thing you will see all day.
It's even better than the extraordinary actress reprising Mirren, Mirren on The Tonight Show yesterday. Barely, but it is better!
---
Helen Mirren is tickled pink!
February 11th, 2013 under Helen Mirren. [ Comments:

none

]

WENN.com
Helen Mirren is kissing the grey away and now she is tickled pink! The actress debuted her pink tresses at the BAFTAs and she looks as giddy as a toddler girl trying on her first Disney Princess dress for the first time.
Seriously isn't she so pretty in pink? But then again she is pretty in whatever hair color she currently has!
---
Helen Mirren cops a feel of Jessica Biel
November 21st, 2012 under Helen Mirren, Jessica Biel. [ Comments:

none

]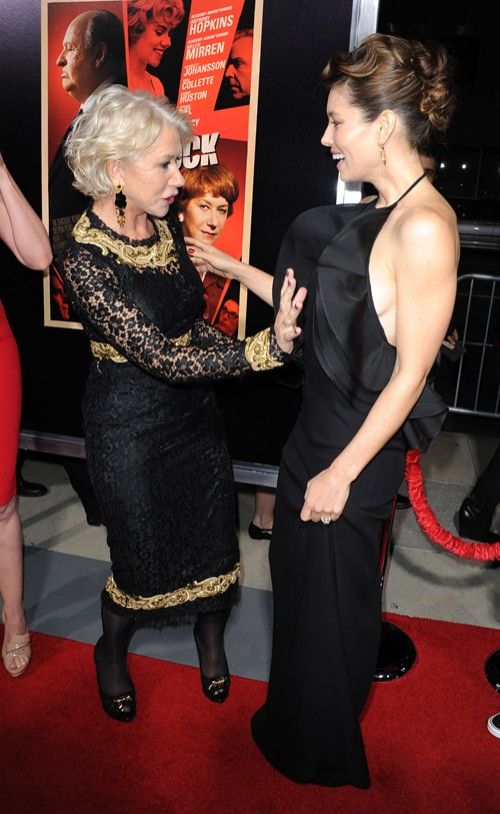 Fame Pictures
Helen Mirren and Jessica Biel came out for the premiere of their movie Hitchcock and the Oscar winner looks like she was in 7th Heaven as she grabbed Mary Camden's boob! Although Mrs Timberlake appears to be in shock over the grab. I don't know about you, but I would let Mirren feel me up any day because she is the Queen, Biel not so much.
---
Mirror, Mirror on the wall, Helen Mirren is the fairest one of them all!
November 19th, 2012 under Helen Mirren, Jimmy Fallon. [ Comments:

none

]

Helen Mirren was a guest on Late Night on Friday and Jimmy Fallon had her do Mirren, Mirren (on the wall) with him. Let me tell you she is the fairest one of them all because the way she answered all of his questions with a straight face, is what made the joke so much better! Especially the last one, which might or might not be true…judge for yourself from this picture of him.
Seriously isn't Helen Mirren just the coolest? Not many people could/would pull off what she what she just pulled off.
---