BTWF roles: Samuel L Jackson in Coming to America
December 20th, 2012 under Before They Were Famous, Samuel L Jackson. [ Comments:

none

]

Before everyone was afraid of Samuel L Jackson in movies, he was afraid of Eddie Murphy and Arsenio Hall in Coming to America. He curses the same now as he did when he was 39 in that 1988 movie.
---
Quentin Tarantino didn't impress Samuel L Jackson the first time they met
December 19th, 2012 under Jimmy Kimmel, Samuel L Jackson. [ Comments:

none

]




Before Samuel L Jackson made some movie called Pulp Fiction with Quentin Tarantino, he auditioned for the director for another movie he did called Reservoir Dogs and didn't get the part. Jules Winnfield told Jimmy Kimmel that when he walked into the audition he was told he would be reading with Harvey Keitel and Tim Roth, but only QT and his producing partner Lawrence Bender were in the room. At the time he didn't know who they were thus his audition with them did not go that well. When he was done he walked out thinking those dudes suck. Then a little while later he saw the movie being screened at Sundance and he told QT that he liked the movie. Then QT asked him how he liked the guy who got his part and Jackson said, "Well I'm sure it would've been a better movie with me in it." And QT said, "Don't worry, I'm writing something for you," and that something was Pulp Fiction. So even though their first meeting did not go over so well, as we all know the rest is cinematic history with Pulp Fiction, Jackie Brown, Kill Bill Vol 1 and 2, Inglourious Basterds and Django Unchained.
Jackson also talked about his f*cking, bullsh!t appearance on Saturday Night Love, how his daughter had issues with cursing because of him being her father and that she directed his actual funny Funny or Die skit The Sad-Off! So watch the full interview from the ABC late night show because everything that comes out of his mouth is always interesting to hear.
---
Samuel L Jackson is sick as f*ck of the bullsh!t jokes on SNL!!!
December 16th, 2012 under Samuel L Jackson, Saturday Night Live. [ Comments:

none

]

Samuel L Jackson has done something that no one else has ever done on Saturday Night Live, he cursed not once but twice in 7 seconds. When Kenan Thompson was thanking the Snakes on a Plane star for being on his fake show, Nick Fury said "Man, F*ck!" Then when Kenan said, "C'mon man," Shaft responded with "That's some bullsh!t." Keenan ended that confrontation with, "C'mon now, that costs money."
So what happened? Well here is what Samuel L Jackson Tweeted about the incident, "I only said FUH not FUCK! K was sposed to cut off da BULLSHIT, blew it!!" Whether he did drop the F-bomb or not, who cares because he is Mother F*cking Samuel L Jackson and he can say whatever the f*ck he wants, when he wants!!!
---
Do Samuel L Jackson and Jamie Foxx have something to tell us?
December 12th, 2012 under Do they have something to tell us?, Samuel L Jackson. [ Comments:

1

]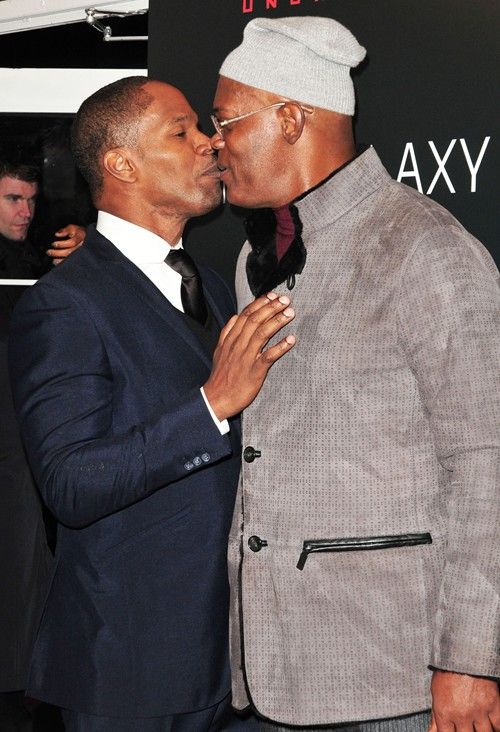 Fame Flynet
Samuel L Jackson and Jamie Foxx were photographed lip to lip at the Django Unchained premiere and I have to wonder if they have something to tell us? Probably not it's just two co-stars saying hello, but for second it was interesting to imagine what it would be like if they were chained together.
---
How many Samuel L Jackson movies can you name by his hairstlyes in them?
November 16th, 2011 under Samuel L Jackson. [ Comments:

none

]

Samuel L Jackson the man who was named "World's Highest Grossing Actor of All Time" issued a challenge on Twitter asking us "How many movies can U name?" in the above poster. Since he has done over 100 films and there are 20 different looks it is actually much harder than you think. I will start you off with Soul Men and tell me how many and which ones you can get! Good luck, I know I failed as I am sick of those mother f*cking heads on the mother f*cking poster!
---