BTWF ads: Morgan Freeman for McDonald's
October 4th, 2010 under Before They Were Famous, Fast Food, Morgan Freeman. [ Comments:

none

]

(starts at 2:00 in)


Before Morgan Freeman was known for his voice, he was known for saying ahhhh for McDonalds. Can't say I blame him for being embarrassed about that 1974 commercial he did when he was 36.
---
Do Matthew McConaughey & Morgan Freeman have something to tell us?
June 21st, 2010 under Do they have something to tell us?, Matthew McConaughey, Morgan Freeman. [ Comments:

none

]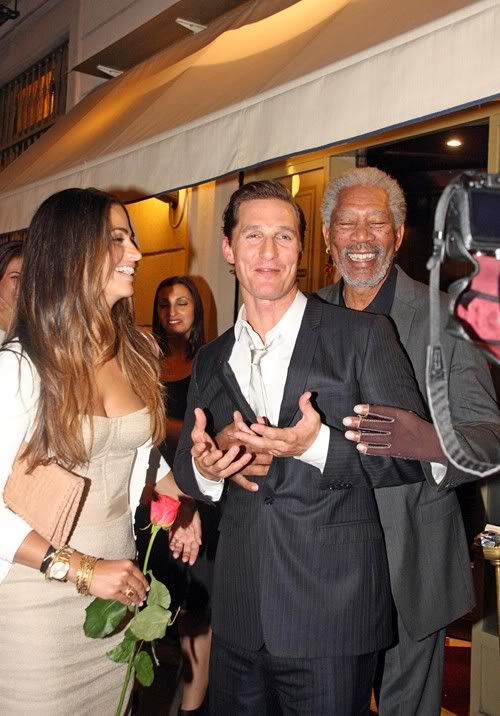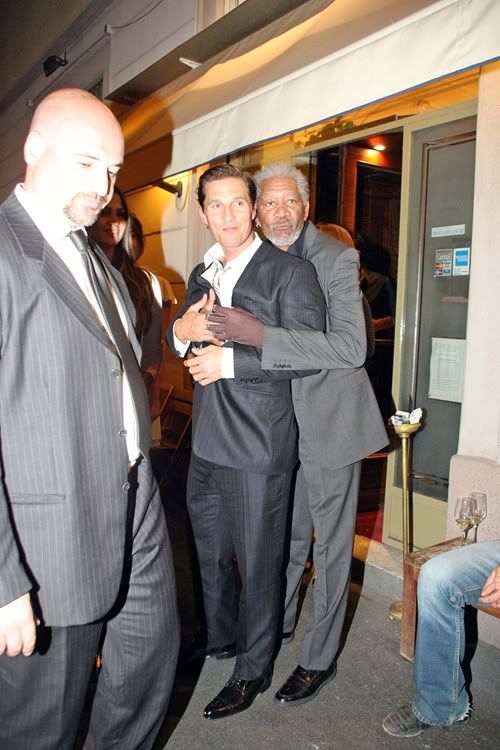 Bauer-Griffin Online
Matthew McConaughey and Morgan Freeman are in Milan and it looks like the Oscar winner is really happy to see his Amistad co-star. So much so, I have to wonder if they have something to tell us? I would be rooting for them to work out if it wasn't for the fact that McConaughey and Camila Alves make such beautiful children together and really need to make some more soon. That I thought that Morgan was already having some Electric Company with the Hot in Cleveland and everywhere Betty White.
---
Do Betty White and Morgan Freeman have something to tell us?
May 1st, 2010 under Betty White, Do they have something to tell us?, Morgan Freeman. [ Comments:

6

]

Chelsea Handler Tweeted this picture of Betty White and Morgan Freeman sharing a smooch and I wonder if they have something to tell us? The 88 year old TV legend and the 72 year old Oscar winner really look like they are enjoying that kiss. Plus she is so much closer to his age than his rumored affair with his step-granddaughter so how awesome would it be if they hooked up? The tabloids and blogs would go crazy if they had a hot steamy love affair, so much so they would bump Brangelina from all of the covers! They can be known as Began!
---
BTWF roles: Morgan Freeman on Electric Comapny
December 10th, 2009 under Before They Were Famous, Morgan Freeman. [ Comments:

none

]

Before Morgan Freeman had a hard time being the principal in Lean On Me, he was Easy that's how he moved on Electric Company. The 33 year old Oscar winner had some pretty good moves in that 1971 episode.
BTW there is a bonus Before They Were Famous in that video, that was an 11 year old Irene Cara and she looked the same but taller when she did the movie that brought her a lot of Fame 9 years later.
---
Craig Ferguson's interview with Morgan Freeman left me crying
December 10th, 2009 under Craig Ferguson, Morgan Freeman. [ Comments:

1

]

(starts at 2:55)


Morgan Freeman was on The Late Late Show with Craig Ferguson and he was telling him about flying and being caught in a storm that is called bomb. So Craig asked if him he cried and what ensued how me laughing so hard it had me crying. Craig likes to end his interviews with an awkward pause and there were so many awesome ones in the last two minutes of that interview it was pure gold!!! Seriously spend two minutes and just watch how genius great improv can be during an interview when it is done right and Craig is a master at that!!!
What was also pure gold was the a cappella band that Morgan Freeman brought along to perform on the show. Overtune was discovered by Clint Eastwood's wife Dina when they were in South Africa filming Invictus and they now have 7 songs on the soundtrack and are performing on American TV. How ohlala is their sound!!!

Tonight on CBS's The Late Late Show with Craig Fergus at 12:37a, he will be interviewing Howie Mandel and Gary Unmarried's Paula Marshall!

UPDATE: Next Tuesday it will be Craig Ferguson's 1,000th time that he has hosted The Late Late Show and CBS announced that Wavy the puppet will be hosting. And Wavy won't be the only puppet on the special episode Dracula will be bringing his puppet How I Met You Mother's Jason Segel with him!!! Besides the puppets there will be some humans on the show, also booked are Kristen Bell, Maria Bello and Jason Schwartzman! I was kind of hoping that Mary McCormack would be on the show after all she bought him the rattlesnake mug that he has been drinking out of for over 100 of that 1,000 episodes that so many guests ask him about.
Please don't forget to make #CraigFerguson the hottest trending topic on Twitter and Tweet #CraigFeguson as many times as you can on Tuesday!
---