This parrot does a better than alright Matthew McConaughey!
November 13th, 2014 under Animals, Matthew McConaughey. [ Comments:

none

]

Einstein the Parrot was watching the Oscars and she became so infatuated with Matthew McConaughey that she started to echo his catchphrase. The pretty bird says, "Alright! Alright! Alright!" so perfectly that I almost thought she was the man himself. Can you tell the difference?
---
Matthew McConaughey's prom photo!
March 4th, 2014 under Matthew McConaughey. [ Comments:

1

]

On Sunday, Matthew McConaughey won his first Oscar. Then shortly afterwards, Leah Pickett, the niece of the woman, who went to the prom with him, shared a picture of her aunt and him at the prom. After she shared the picture, Leah said that her Aunt Lori would love to be on The Ellen DeGeneres Show and I hope the Oscar host reunites the two prom dates. How cool would that be?
Now when it comes to how McConaughey looks at his prom, I think we can all agree he looks alright, alright, alright!
---
Own Dallas Buyers Club to watch the Oscarworthy acting whenever you want!
February 12th, 2014 under Matthew McConaughey. [ Comments:

none

]

Jared Leto and Matthew McConaughey have rightfully been praised and winning awards for their work in Dallas Buyers Club and now you can own the DVD/Blu-ray combo pack to watch their award winning performances whenever you want to see them at their best.
McConaughey plays Ron Woodroof, a man who was diagnosed with HIV before they knew what meds would help to fight it. So he had to look for whatever cures he could find to make him better and extend his life past the 6 months doctors initially gave him. That meant crossing the border to Mexico, and getting drugs that were not yet approved by the FDA. The FDA approved drugs at that time had such bad side effects that they were not helping people with HIV/AIDS. Woodruff took it upon himself to bring back the medicines that were helping him feel better and give it to other people who were suffering from the virus. People like Woodroof started these clubs all over the country where people paid a monthly fee to get the medicines they need. The FDA didn't like the competition and tried their hardest to shut him down, but he kept fighting to give people the meds they need to survive.
Since Woodroof suffered from HIV/AIDS in a time where doctors didn't know much about it, he found himself in the hospital a lot. During one of his visits, he meets and befriends, Rayon (Jared Leto), a transvestite who also has the virus. The two become friends, even though Woodroof is homophobic, and work together to help people like themselves.
Together they will create a profitable business, while helping people with the deadly virus live longer and trying to fight the people who want to shut them down.
Both McConaughey and Leto give performances that have rightfully earned them all the awards they have won. It is one thing to transform like they did for the role, but their performances make this powerful movie even more powerful.
Dallas Buyers Club reminds us of the time when HIV/AIDS was misunderstood, deadly and people didn't want anything to do with anyone who suffered from it. The movie shows what great lengths two people went to save others and give them a better and longer life. This is a movie everyone should see because of the story and because the greatest performances of given by any male actor last year.
The DVD/Blu-ray combo pack includes deleted scenes and featurette behind the making of this movie and the real story behind the movie. You will want to own the Dallas Buyers Club not only for the movie itself but also because of the special features that come with it.
---
Looks like Dallas Buyers Club will give Matthew McConaughey his first Oscar!
August 27th, 2013 under Jared Leto, Matthew McConaughey. [ Comments:

1

]

via The Hollywood Reporter
The first trailer is out for Dallas Buyers Club and it looks like it will be an Oscar darling. The true life story of Ron Woodruff, who helped HIV+ people in the late '80s live past their expected end date by getting himself and them unapproved drugs from Mexico to help fight the disease, is coming to the big screen on November 1st.
After watching that trailer, I would honestly be surprised if Matthew McConaughey and Jared Leto didn't bring home the Oscars for their portrayals in it. Not only because of all of the weight they lost for their film, but because of their excellent acting in it.
---
Matthew McConaughey's son is as big as Texas!
December 30th, 2012 under Matthew McConaughey. [ Comments:

none

]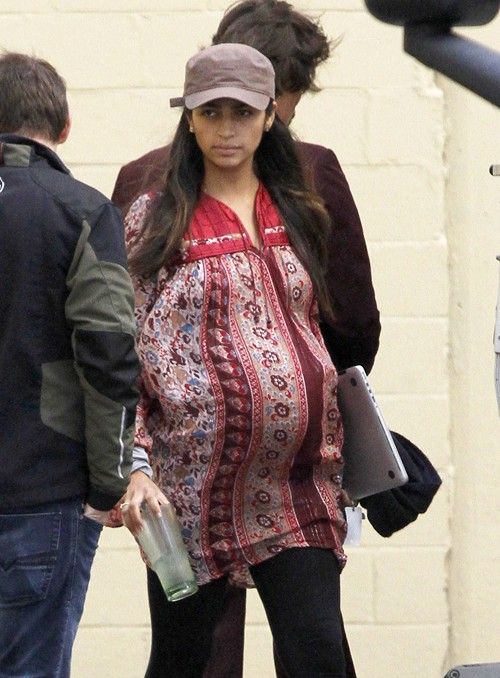 (photo from Fame Flynet)


Camila Alves gave birth to her third child with Matthew McConaughey on Friday and the little guy was a big one. McConaughey Tweeted, "Camila (@iamcamilaalves) gave birth to our third child yesterday morning. Our son, Livingston Alves McConaughey was born at 7:43am on 12.28.12. He greeted the world at 9lbs. and 21 inches. Bless up and thank you for your well wishes. Happy New year, and just keep livin, Camila and Matthew McConaughey." That is one big baby boy!
Livingston has a 4 year old brother Levi and almost 3 year old sister Vida and I am sure he will be as beautiful as them.
---