Shemar Moore is singing and crying in the rain!
January 24th, 2013 under Shemar Moore. [ Comments:

none

]

It is raining here in LA today and that is both a good thing and a bad thing. The good part is that we desperately need it, the bad part is we just don't know what to do when water falls from the sky.
So when I saw these two pictures that Shemar Moore Tweeted of him in the rain, I thought it perfectly caught the good and the bad of our wet situation. The Criminal Minds star brought a smile to my face on this gloomy day when he Tweeted this "I can't sing so I'm jumping in the rain… For no reason… Getting my DORK ON!!!" with the first photo. I think no matter how hard he tries, he will never be one!
BTW you know I would've had a bigger smile on my face if he didn't have an umbrella with him because then his shirt would've gotten really wet and been really tight against his perfect ab muscles. Seriously it should be illegal for him to wear a shirt. Don't you agree?
---
CBS now stands for Catch Beefcakes Shirtless!
November 8th, 2012 under Michael Weatherly, Shemar Moore. [ Comments:

none

]

Every now again a network will post a video that will leave me speechless. Today CBS posted the Shirt-Off Off and I just really don't know what to say. They took scenes from some of their hottest actors and showed them shirtless. As though they were football teams trying to make it to the Super Bowl with one ultimate winner!
Now believe me, I like seeing those men without anything covering their chest, but you know it's CBS. They are the more conservative network. At least I thought they were. Maybe that Janet Jackson incident changed how they look at people with their tops coming off? I am not sure.
Now when it comes to the Beefcakes, poor Jonny Lee Miller he would never be disqualified in my book. But when it comes to another Jon on the network, I am happy that Jon Cryer's Two and a Half-pack got the recognition it deserved. Yes I loved seeing Alex O'Loughlin moonlighting without a shirt, but where was Michael Weatherly in this video. Someone get NCIS on that. And what Criminal Mind didn't include more of Shemar Moore? Seriously he should always be naked from the hips up! Am I right?
So even though I said this video left me without words, I guess I was able to find some. Va Va Voom!
Hey other networks, now its tour turn and I know there a bunch of guys I would like to see bare chested too!!!
---
Shemar Moore wearing less
May 7th, 2012 under Shemar Moore. [ Comments:

none

]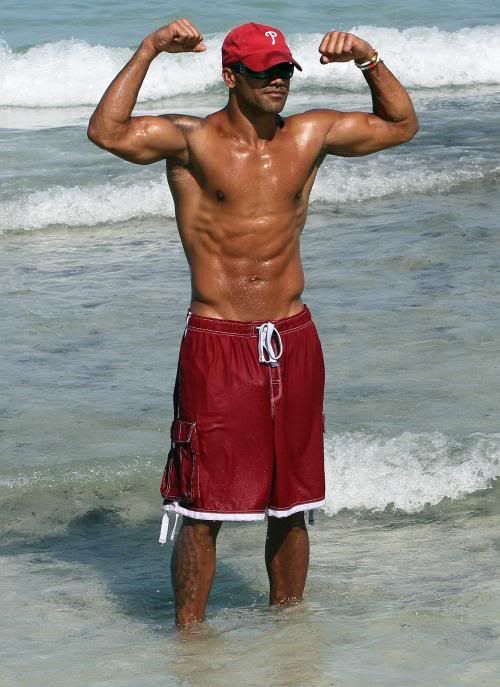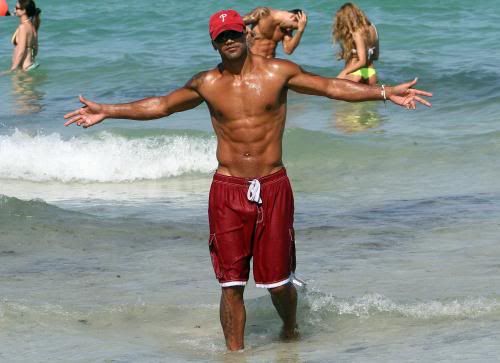 Fame Flynet Pictures
Shemar Moore is one of the sexiest men on television and looking at these picture of him on vacation I think we can all see why. Seriously with that bulge, those abs and that bulge, is there any question why women find the Criminal Minds star so dang hot? Thankfully he was in the ocean when those photos were snapped because I think we all need to be cooled down. I know I do.
---