Courteney Cox split from all of that?
November 15th, 2010 under David Arquette, Friends (cast). [ Comments:

none

]

WireImage
David Arquette who reportedly loves the LA Lakers almost as much as he loves his wife Courteney Cox, came out dressed like that to celebrate Ron Artest's birthday. Looking at those pictures can anyone blame the Cougar Town star on her decision. Crap I admire her for making it to 11 years with him.
---
Courteney Cox and David Arquette have split
October 11th, 2010 under David Arquette, Friends (cast). [ Comments:

none

]

(photo from WireImage)


Scream stars Courteney Cox and her husband David Arquette of 11 years have reportedly separated. Although InTouch just posted that they split with no details, TMZ is saying that it was over pictures of him with another woman. TMZ then said that the two are not talking about a divorce just yet and that they might get back together. I am really hoping they get back together because they seemed like such a loving fun couple.
The two Cougar Town executive producers have a 6 year old daughter named Coco.

UPDATE: The two have released a statement to Entertainment Weekly.
"We have agreed to a trial separation that dates back for some time. The reason for this separation is to better understand ourselves and the qualities we need in a partner and for our marriage. We remain best friends and responsible parents to our daughter and we still love each other deeply. As we go though this process we are determined to use kindness and understanding to get through this together. We are comfortable with the boundaries that we have established for each other during this separation and we hope that our friends, family, fans and the media also show us respect, dignity, understanding and love at this time as well."
---
Courteney Cox and David Arquette are Furries?
October 5th, 2010 under David Arquette, Friends (cast). [ Comments:

none

]

via ONTD
Are Courteney Cox and David Arquette Furries? Nope the married couple filmed a PSA for OPCC and although their part was funny, I think that it is way off target for this the nonprofit's message. I mean how many people are going to watch it all the way through to see when Arquette explains what OPCC is about? I know I stopped watching when the screen went to black.
Now back to joke part of the PSA, who else was bummed that the Cougar Town's star's Friend Jennifer Aniston wasn't in that bunny suit? Now that would've been funny.
---
Coco Arquette a future director-in-training?
September 9th, 2009 under ABC, David Arquette. [ Comments:

none

]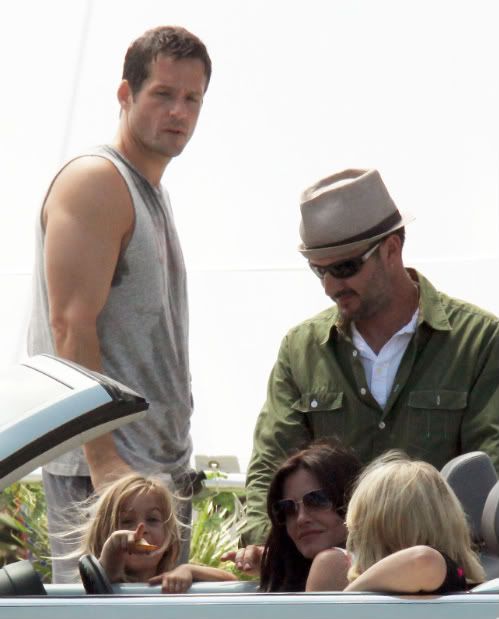 Fame Pictures
David Arquette brought his awwwdorable daughter Coco to set of her mom, Courteney Cox's new show Cougar Town and she has her own director's chair there. Looking at her sitting the chair, it almost seems like a natural career move for her in the future. Plus look at the way she is telling her 'rents where the cameras are. She is so a director-in-training, don't you think?
I just love how cute the Arquette family is! They just seem so lovey dovey even after 10 years of marriage!!!
BTW Cougar Town premieres on ABC on September 23rd at 9:30p!
---
A cute Arquette family moment!!!
June 9th, 2009 under David Arquette, Friends (cast). [ Comments:

1

]

Daily Mail
Courteney Cox might be playing a Cougar on TV, but at home she is just a happily married mom! Seriously how precious are those pictures of her with her husband of almost 10 years David Arquette and their 4 year old daughter Coco. I love the way Coco is giving her mom a big hug like that! And how sweet is it the way that David is lovingly touching her face like that even after almost a decade of marriage! I want that!!!
---