Is End of Watch a movie or a videogame?
August 13th, 2012 under Jake Gyllenhaal. [ Comments:

none

]

The red band trailer is out for End of Watch and it looks more like one of those first-person shooter videogames than a movie. I am sure it will find an audience when it comes out on September 22nd, but I definitely won't be one of them.
---
Jake Gyllenhaal shows off his bubble boys
May 30th, 2011 under Jake Gyllenhaal. [ Comments:

none

]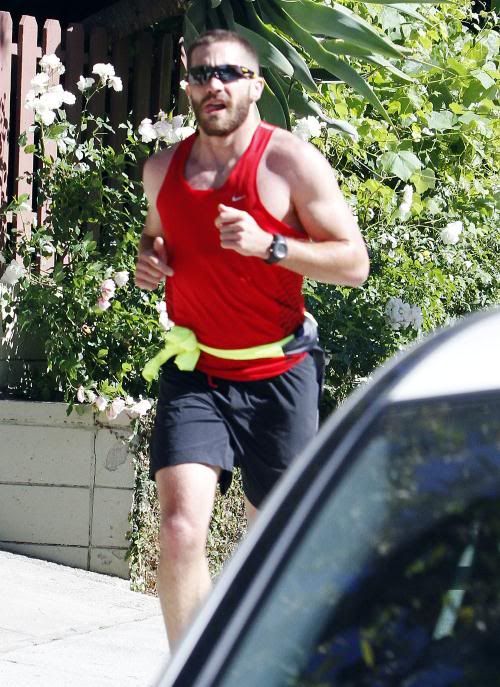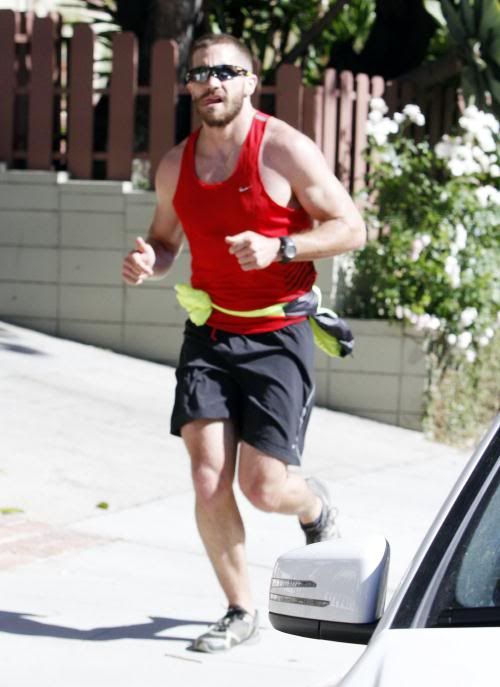 Fame Pictures
Jake Gyllenhaal is single and looks like he is getting in shape for the next girl. Either that or his next movie role.
It is a slow day and he looks good jogging, so I said why not post it.
---
Jake Gyllenhaal's red band problem in the trailer!
November 13th, 2010 under Jake Gyllenhaal. [ Comments:

none

]

When I first saw the trailer for Love and Other Drugs, I had not interest in seeing the movie. Now after seeing the red band trailer for the film, I can't wait to see when it comes out on November 24th! BTW I wonder if that is all Jake or if they used a prosthesis for that scene?
---
Sure it was scripted, Jeremy Piven?
June 24th, 2010 under Jake Gyllenhaal. [ Comments:

none

]

So Jeremy Piven was on The Tonight Show yesterday and Leno and him pranked a poor page. Jay's staff came up with a joke along with Piven that some person would meet and greet him and take him to the back stage area all while being recorded by the cameras. The page was told that this was part of the show. All that seems normal enough, but when they get back to the green room there is a plate of sushi there and the Entourage star goes ballistic because of his infamous case of mercury poisoning. After several minutes of cursing, it ends with Piven throwing the water from water bottle on the guy's face. While I am sure most of it was scripted, I wonder how much of it really was.
BTW that actually is a great joke to play on Piven, you know having plates of sushi waiting for him.
---
The many faces of Jake Gyllenhaal!
May 26th, 2010 under Jake Gyllenhaal, The Many Faces of. [ Comments:

none

]

WireImage
Jake Gyllenhaal was on Live At ETalk in Toronto promoting his upcoming movie Prince of Persia and by the looks of his face he a whole bunch of emotions about it. I never realized how beautiful his blue eyes were until these pictures, imagine how much they must stand out with his tan skin in that Disney movie that comes out on Friday?
---