For those of you, besides me, who didn't like Gravity!
February 19th, 2014 under Sandra Bullock. [ Comments:

none

]

Screen Junkies has given us another Honest Trailer, and this time the victim is the Oscar nominated Gravity. While almost everyone who has seen this film in 3D Imax has been praising the crap out of this movie, the rest of us (me) think all the praise is completely overrated. So when I saw this Honest Trailer, I completely agreed with everything they said. Do you feel the same way?
---
BTWF home videos: Sandra Bullock cheerleading
January 28th, 2014 under Before They Were Famous, Sandra Bullock. [ Comments:

none

]

Before Sandra Bullock was cheering her adopted son from the stands in The Blind Side, she was cheering on the field for her high school, Washington-Lee in Arlington, Virginia. She looks the same now as she did when she was 17 in that 1981 home video.
---
Sandra Bullock thanks George Clooney 'for floating away and not coming back!'
January 17th, 2014 under Sandra Bullock. [ Comments:

1

]

Sandra Bullock won another award for Gravity yesterday, this time at the Critics Choice Awards. During her speech, she thanked her only physical co-star George Clooney "for floating away and not coming back." I felt the same way when I saw the movie. In fact, I was hoping she would do the same, but sadly she didn't until the very end. I know, I am the only person who hated it and was wishing for one of those meteorites to take them out already.
Anyways the other highlight in her speech is when there was an audio mess up that interrupted it; America's sweetheart looked right into the camera and said, "What the f*ck?" Too bad the censors caught it.
---
Tom Hanks plays the perfect note in this Big recreation!
October 14th, 2013 under Sandra Bullock, Tom Hanks. [ Comments:

1

]

Tom Hanks was on The Jonathon Ross Show and the talk show host showed off a piano keyboard like the one that was used in that memorable scene from the classic movie Big. The two started out with Chopsticks and then they went for a song with a much faster tune. Once that was done, Sandra Bullock came out and Forrest Gump and her did Chopsticks together. Yet there was note they couldn't hit.
If this video doesn't brighten your Monday morning, I don't know what will. No matter how old Hanks get, he still makes us feel like he did when he that kid trapped in a man's body in Big. In ways the Oscar winner never grew up and that is a good thing.
---
It was all about the little white dress at the Gravity premiere!
October 2nd, 2013 under Harry Potter, Sandra Bullock. [ Comments:

1

]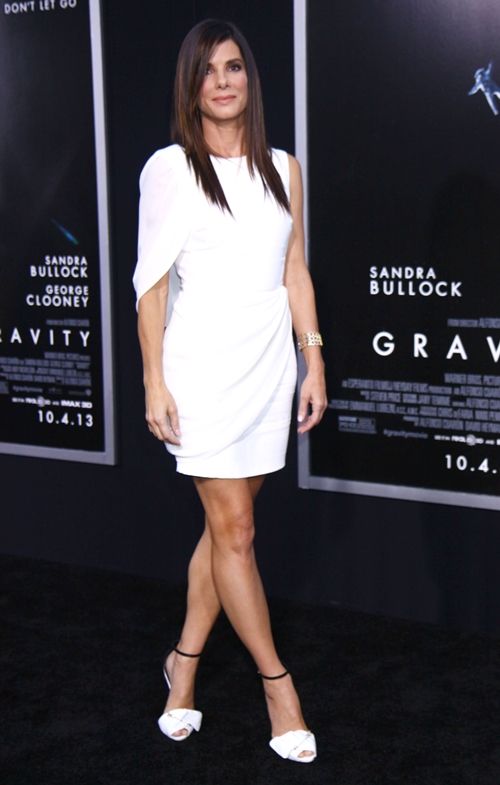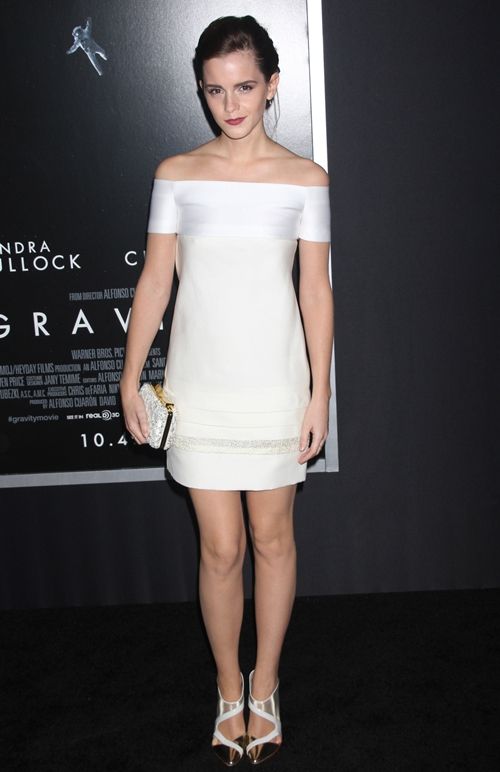 Fame Flynet
Whoever said you can't white after Labor Day, might be changing their tune after yesterday premiere for the much-buzzed movie Gravity. The movie's star Sandra Bullock and Harry Potter's Emma Watson wowed on the red carpet in little white dresses. Proving you can wear white all year round. The only time you can't do that is when you are a guest at a wedding.
---