Mark Wahlberg challenges Michael Fassbender to a big d!ck contest!
February 9th, 2013 under Graham Norton, Inglourious Basterds, Marky Mark. [ Comments:

none

]

via Daily Mail
Mark Wahlberg and Michael Fassbender were guests on The Graham Norton Show and the host asked Marky Mark about his ability to do voices. It was then that the Ted star said that the Inglourious Basterd was also good at voices, so Wahlberg had a challenge for him. He challenged him to a big d!ck contest, but then Wahlberg said he would lose because he left his at home. So I guess he kept that prop from Boogie Nights which I am sure his wife is very happy about.
And on that note Mark Wahlberg also talked about how his youngest son like to punch as hard as he can in the balls. In fact when Brendan met Dwayne Johnson that is exactly how the 4 year greeted him. I like his kid!
---
Does Django Unchained look off the chain to you?
June 7th, 2012 under Inglourious Basterds. [ Comments:

1

]

Quentin Tarantino is back with Django Unchained this Christmas and I don't think I will be in line to see it. It looks like it will be another one of his Spaghetti Western/Grondhouse movies, so it is the same thing another film. Plus except for Christoph Waltz, I don't like anyone in the cast. Are you going to run out and see this dick flick when it comes out?
---
Joshua Jackson still appreciates the Fringe benefits of dating Diane Kruger
May 18th, 2012 under Inglourious Basterds. [ Comments:

none

]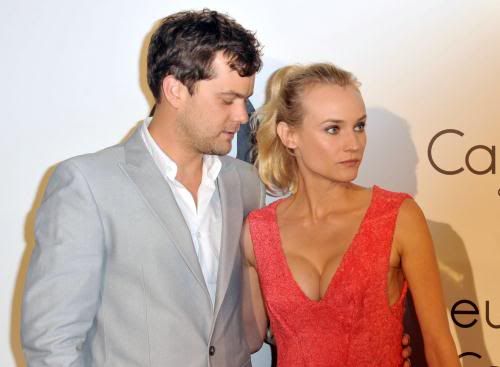 Fame Flynet Online
Joshua Jackson attended the Calvin Klein Celebrate Women In Film event at Cannes with his girlfriend Diane Kruger and he showed us he still appreciates her Inglourious Basterds. Even though he has been dating her for around six years, he couldn't keep his eyes off of her cleavage. How sweet is it that he still loves the Fringe benefits of dating her and doesn't take it for granted.
---
Michael Fassbender has a laugh as big as his Inglorious Basterd
February 1st, 2012 under Inglourious Basterds. [ Comments:

none

]

WENN.com
Michael Fassbender was photographed laughing and I all could think of when I saw that picture is that his laugh is as big as his pen!s. Seriously isn't as huge as the reason why he didn't get the Oscar nom for Shame? Those male voters are just jealous of it and they have every reason to be.
---
Christoph Waltz is killing it as a judge on American Idol!
April 22nd, 2011 under Inglourious Basterds, Jimmy Kimmel. [ Comments:

1

]

Yesterday Christoph Waltz was on Jimmy Kimmel Live and he shared with the host unaired video of his appearance on American Idol when he judge this season. After you see it, you will understand why the Fox show killed the idea of the fourth judge. Sadly I disagree with their decision because I think he murdered it while he was on the show. Don't you agree!
BTW if you are a man and you're going to wear hot pink pants, you better have the package to fill them out like the Oscar winner! He definitely has a gold statue in his pants!!!
Finally who can forget the Inglourious Basterd's other brilliant performance that was revealed on JKL after the Oscars. If you missed it, here is him doing Der Humpink!!!
---