I have a major crush on Ralph Macchio…again!!!
March 24th, 2011 under Ralph Macchio. [ Comments:

none

]

Back when I was a little girl I had such a crush on The Karate Kid and now that he is a man, shaking his hips on Dancing with the Stars I have a whole new type of crush on Ralph Macchio. Who I am kidding, I never stopped liking him because he looks as cute now as he did when Wax On, Wax Off meant something completely to me then it does to me now. But the same body part is just as happy…
Now back to Ralph Macchio, didn't he win you over on Monday with his first routine on the ABC reality show? He was my favorite before I saw him on the dance floor, but once I saw him dancing with Karina Smirnoff I knew just like Daniel Son, he is going to win that trophy. Although this one will be a mirror ball trophy.
OK I know I am late talking about Monday's episode, but the reason why I am posting it now is because I thought that picture his partner Karina Smirnoff posted of him was so awwdorable I had to share it with you. Seriously don't you just want to hug him and let him know that even though he is exhausted it will all be OK come May when he wins the dancing competition?
And in case you missed his beautiful Fox Trot, here it is, And don't forget to vote for The Karate Kid that is now a Dancing Man every Monday night at 8p on ABC!!!
---
Ralph Macchio is doing Dancing with the Stars and I don't care about the rest!!!
March 1st, 2011 under Dancing with the Stars, Ralph Macchio. [ Comments:

none

]

(photo from ABC)


Sitting through my first and last episode of The Bachelor was worth it, just to find out that Ralph Macchio is going to do Dancing with the Stars!!! He has my vote to win and we know he can wax off his other competition.
Here is who he will competing with starting on March 21st"

Kirstie Alley – The Fat Actress who is always trying to lose weight!
"Psycho" Michael Catherwood – Who?
Chris Jericho – A wrestler
Chelsea Kane – No one knows who she is either.
Sugar Ray Leonard – Boxer
Ralph Macchio – Vote for this Karate Kid!!!
Petra Nemcova – A model who is known for surviving the Tsunami in Thailand.
Romeo – His father, Master P had to step in for him during season 2 when he was injured. It took him 10 cycles to have the nerve to compete after his dad.
Hines Ward – Former-Wide Receiver for the Pittsburgh Steelers
Kendra Wilkinson – Playmate and tabloid magazine cover girl
Wendy Williams – talk show host

On May 24th he will be bring home the mirror ball trophy because who else is worth rooting for with that lame list? Team Macchio!!!!
---
Ralph Macchio and his mini-me!
January 12th, 2011 under Ralph Macchio. [ Comments:

4

]

WireImage
Ralph Macchio attended the premiere of No Strings Attached and he brought his first Karate Kid with him. Doesn't his 18 year old daughter, Julia look just like him? Can you believe that he is old enough to have a kid that is old enough to vote? That and he is going to be 50 this year! He has definitely aged well!

UPDATE: The talented and handsome actor Ralph Macchio ReTweeted my post and said, "Ha. Fun night out with my first spawn." How cute and nice is that?
While spending the evening with his beautiful daughter was a fun night for him, his ReTweet made my day if not longer. I have been a huge fan of his ever since I was a young one!!! What girl hasn't had a crush on him?
---
Ralph Macchio has the best Christmas card?
December 25th, 2010 under Ralph Macchio. [ Comments:

1

]

Ralph Macchio Tweeted his holiday card and I love it! I hope the Karate Kid is never on the naughty list because he just too nice!!!
---
How Neil Patrick Harris thinks Eric Braeden is a D-Bag
December 17th, 2010 under How I Met Your Mother, Ralph Macchio. [ Comments:

none

]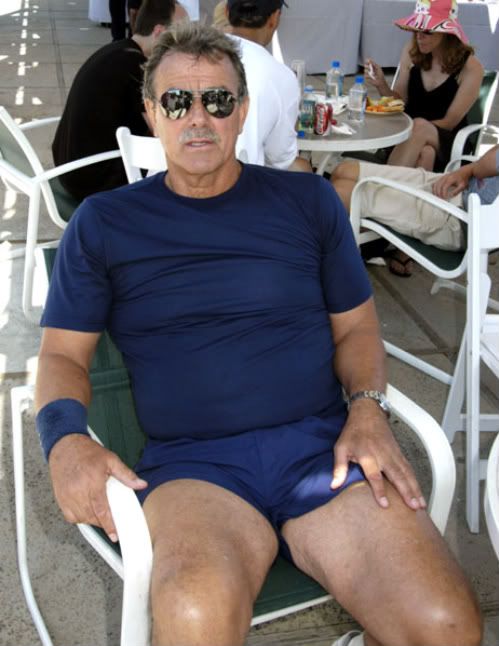 (photo from WireImage)


One of Hollywood's favorite people, Neil Patrick Harris, took to Twitter to bash someone and it quickly became the Tweet heard around the world. he said, "Eric Braeden is a D-Bag. the actor, (Robin's dad) agreed to a cameo, then last night bailed, saying the part wasn't 'substantial' enough. We've recast with Ray Wise, a fantastic actor who makes any part 'substantial'. Super excited to welcome him to the family!" Major ouch. Now he has two television time periods to think he is a douche, daytime and primetime. Last year he reportedly refused to take the same pay cut that the rest of the cast took and his contract was not renewed. After being off of The Young and the Restless for a few months he eventually returned. I guess the role was substantial enough for him then.
Entertainment Weekly spoke with him about NPH's Tweet and he said, "I really don't know who that fellow is. He's a guy who stars in that series," Braeden told EW, laughing. "It's very unfortunate. First of all, I came back from hip surgery. I was off for three weeks. I've doubled my work, 30 to 50 pages a day for me, alone. Everyone knows that I'm exhausted. I was not about appear on a show for two lines, because that's what it amounted to." Two lines is better than no lines and if he can memorize 30-50 pages a day why can't he remember just two lines?
When it comes to how he feels about the How I Met Your Mother star, he had this to say "the choice of words bothered me. He seems to me like a young whippersnapper who's received a few awards and is now suffering from the first sign of hubris. I've been in the business for 50 years. I've seen people come and go and I'm still here." Braeden laughed. "If he is a worthy adversary, he'd better not cross my path. I will let bygones be bygones." I think Neil would win because who doesn't love him, well besides Eric???
After realizing how far his Tweet had gone, the sleep deprived NPH Tweeted "Now I feel bad for the D-bag comment. Don't know the guy personally. I'm just fiercely protective of our show." Can't say I blame him.
After Neil's Tweet, my favorite came Ralph Macchio who said "@TVGuide @ActuallyNPH @HIMYM_CBS Note to self: when they offer me that HIMYM guest spot — show up, substantially!" Maybe he can play the mother? I am sure there is something for the baby faced actor! He needs his own weekly series because we all need him on our TV sets more often!!!
---