Jesse Spencer thought Rick Springfield's Jessie's Girl was about him!
October 10th, 2012 under Lisa Edelstein/Hugh Laurie/House, Rick Springfield. [ Comments:

none

]

Jesse Spencer and Rick Springfield were both guests on The Today Show this morning and both Tweeted about meeting each other back stage. The singer posted a photo, but the House star went all fan like on him. Spencer Tweeted, "Just met Rick Springfield at the today show. I told him 'Jessie's Girl' was my first LP and I thought the song was written about me. Hehe 🎸"
Spencer is 33 years old and he was just about 2 when the song came out, so I have to wonder was he a Lothario back when he was just single digits or was he so into himself Carly Simon would've written a song about him. Chances are he paid no attention to lyrics and just heard there was a song about a guy named Jesse and just assumed he was that Jesse. Just like how I thought Meredith Brooks' song B!tch was about me! It is, isn't it?
You can see Jesse Spencer back on the small screen in Chicago Fire starting on NBC tonight at 10p.
---
BTWF roles: Rick Springfield on Nancy Drew Mysteries
April 25th, 2012 under Before They Were Famous, Rick Springfield. [ Comments:

none

]







Before Rick Springfield was working as a doctor at General Hospital, he worked for the DA's office on Nancy Drew Mysteries. He looks the same now as he did when he was 28 in that 1977 episode.
---
Rick Springfield wants you to videotape yourself saying I Hate Myself!
April 25th, 2012 under Rick Springfield. [ Comments:

none

]

Rick Springfield wants you to be on his next album. All you have to do is videotape yourself singing "I Hate Myself" in the same melody as him and send the video to him on his website Rick Springfield.com/Rockstar by May 11th.
I know he says it is a positive song, but that is the happiest thing to be singing for your musical debut. But hey at least you can tell your grandkids you are a recording artist. Two lines is enough to warrant that, right?
OK off to sing I Hate Myself, and I hate myself for admitting that.
---
Rick Springfield shows your never too old to spend the day with your mom!
November 15th, 2011 under Rick Springfield. [ Comments:

23

]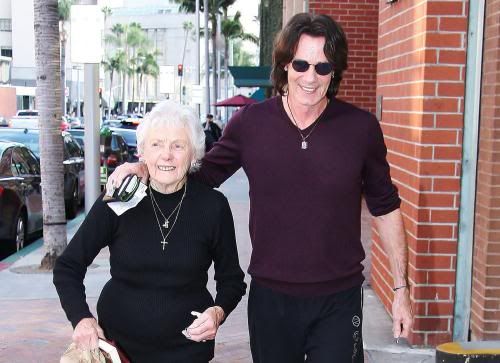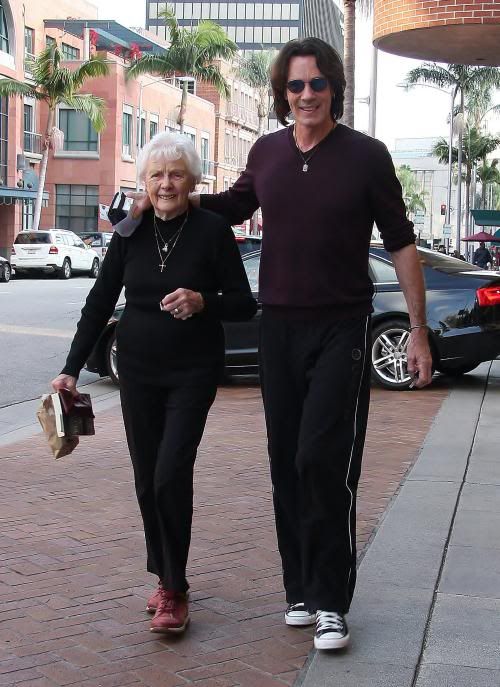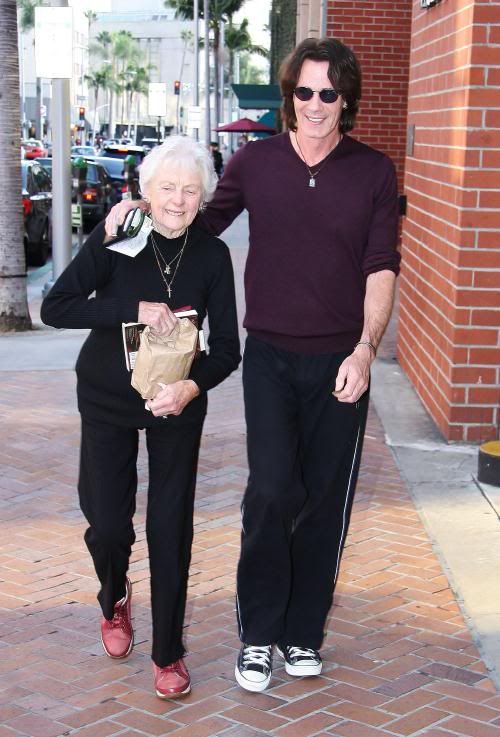 Fame Picture
Rick Springfield is 62 years old and yesterday he spent the day in LA with his spunky 93 year old mom Eileen. I am always a sucker for a man who spend time with his mom and these picture just made me love him a little bit more! Seriously aren't these photo just the sweetest?
BTW isn't it cute how she is rocking those red sneakers? They make her look younger than she already looks and I don't thinks looks anywhere near her actual age. She looks like someone at least 20 years younger than she is!
---
All I Need is the Human Touch!
November 4th, 2011 under Beverly Hills 90210 / Melrose Place, Rick Springfield. [ Comments:

none

]

WireImage
The same year (1983) that Rick Springfield left General Hospital, Jack Wagner joined and the ABC soap had two of the biggest rockers turned actors in the '80s star on the show. Now it is 2011 and the two are rocking the ocean together on Rick Springfield & Friends Cruise this weekend. Before they had love sick women getting sea sick they posed for pictures at Miami International Airport. Man I wish I knew about that cruise because I would so love to see Dr Noah Drake and Frisco Jones performing together!!! All I Need is Michael Damian aka Danny Romalotti to be on the boat and I would be sudsy rocker heaven!!!
---