Sacha Baron Cohen gets a job fitting of his movies?
July 13th, 2011 under Sacha Baron Cohen. [ Comments:

2

]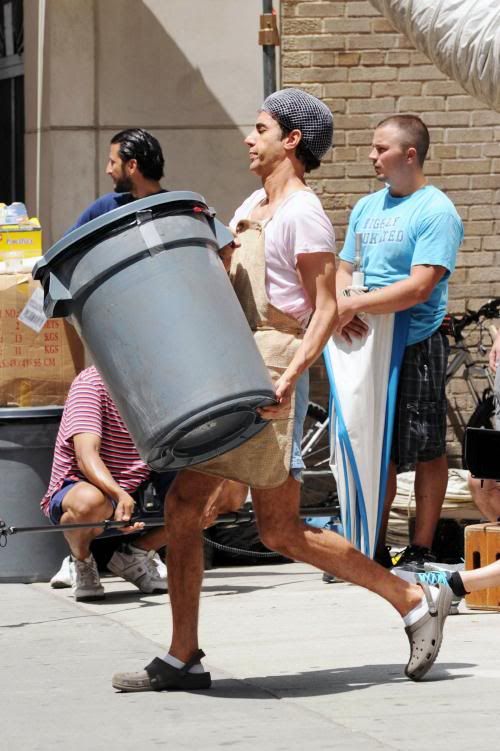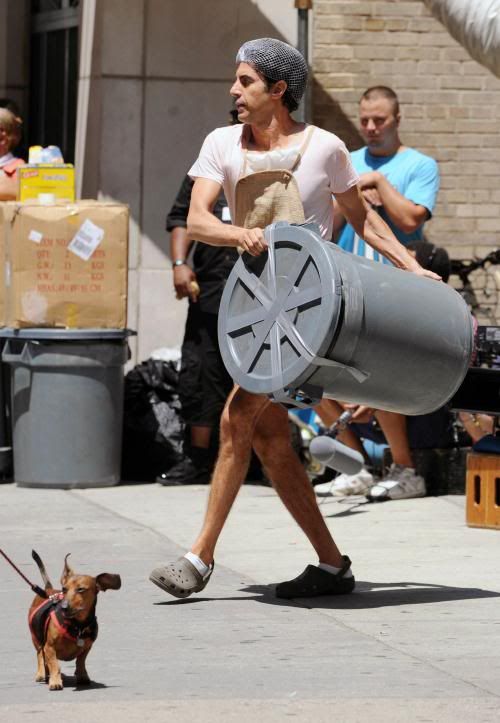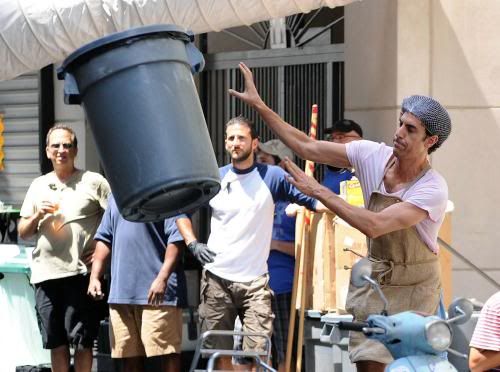 Fame Pictures
Did Sacha Baron Cohen finally get a job fitting of his movies like Bruno and Borat? You know working with trash. Sadly nope it is just him taking out the garbage for his latest trashy film The Dictator or as I like to call it The DicKtator.
Seriously am I the only who is still emotionally scarred from Bruno? I still have terrifying flashbacks from that scene where the d!ck goes around and around.
---
Sacha Baron Cohen is going down!
June 15th, 2011 under Sacha Baron Cohen. [ Comments:

none

]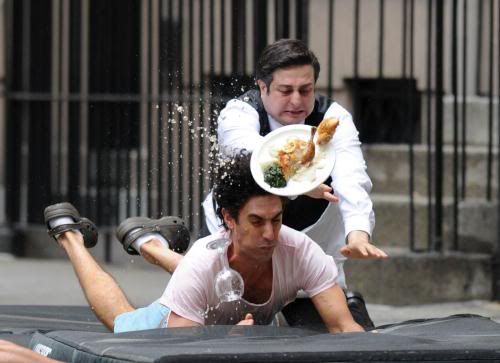 Fame Pictures
Many people have wanted to see Sacha Baron Cohen go down face first and eat some dirt and now thanks to his latest movie The Dictator we will. Sadly they put some padding down, so he didn't really get hurt.
Will I see his new movie? Nope because you know the expression "fool you once shame on you, fool you twice shame on me?" well that is I fell after seeing Borat and Bruno. Now images from Bruno that I thought I finally got out of my head are back. If you saw the movie, you know which one is really going around and around and around in my head.
---
Isla Fisher banished to the kids' VIP section at a Hollywood party!
March 10th, 2011 under Sacha Baron Cohen. [ Comments:

none

]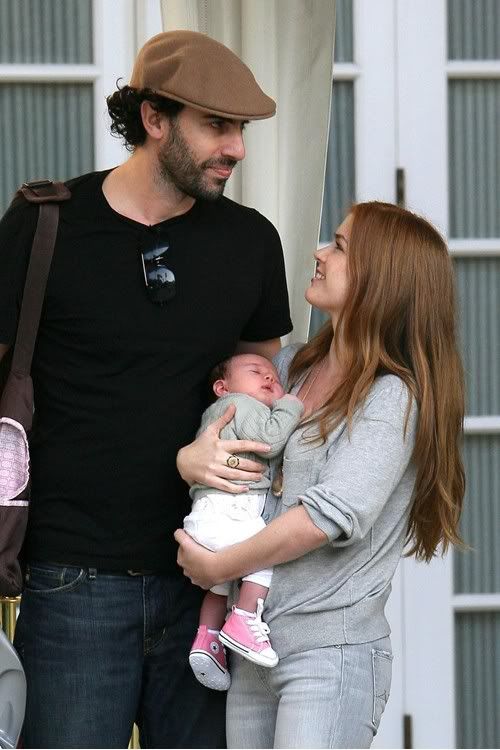 (photo from Pacific Coast News)


Back in 2002 when Isla Fisher first started dating Sasha Baron Cohen, she was mistake for his daughter according to Bang Showbiz.
"My first Hollywood party was awesome. It was for the director Sofia Coppola and was just walk-to-wall with shiny, fabulous people.
"I came to the front door with Sacha, and the hostess goes, 'Sacha, you go through to this room and you come with me.'
"And she grabs my hand and takes me to this room filled with 12 year olds – not even 15 year olds! – and goes, 'Sit here. Would you like a drink?' So I go, 'Can I have a glass of wine?' and she goes, 'No, you cannot.' She thought I was Sacha's daughter, basically."
It is a compliment to get proofed when you are over 21, but I don't know what it is when you get sent to the kids' VIP section.
---
BTWF roles: Isla Fisher in Paradise Beach
April 16th, 2010 under Before They Were Famous, Sacha Baron Cohen. [ Comments:

none

]

Before Isla Fisher was married to Sacha Baron Cohen aka Borat aka Bruno a man I think can be a pig, she thought her brother was a pig on Paradise Beach. She looks exactly the same now as she did when she was 17 on that 1993 episode!
---
A kiss from her mom makes it all better for Olive Cohen
April 16th, 2010 under Sacha Baron Cohen. [ Comments:

none

]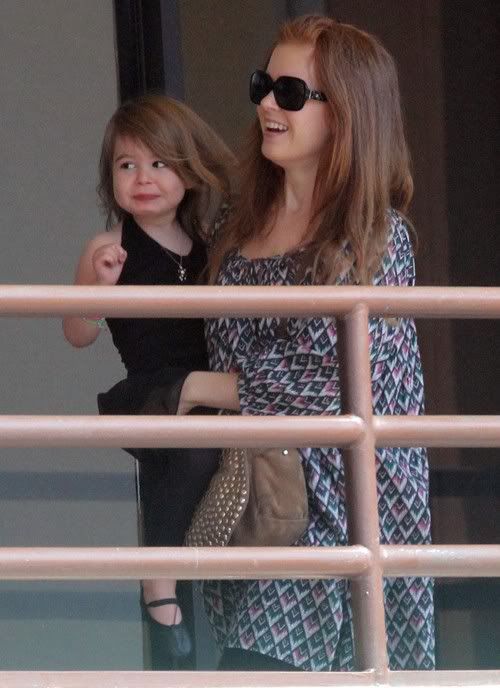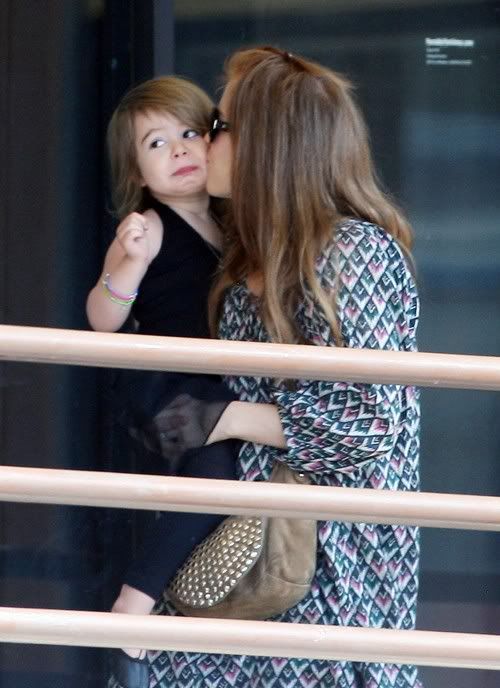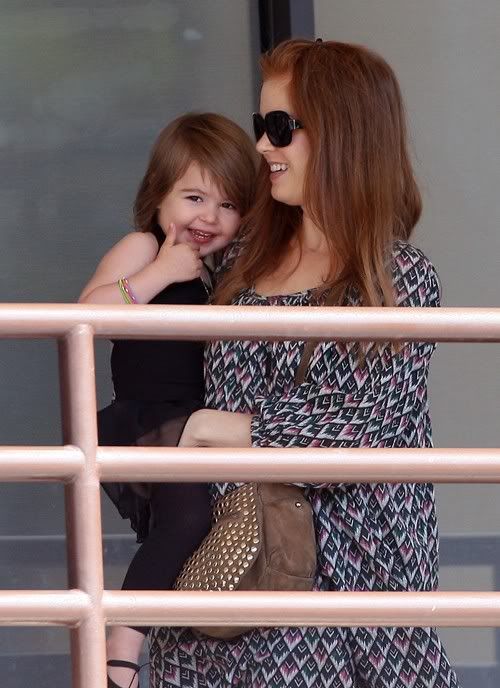 Fame Pictures
Isla Fisher took her awwwdorable daughter to dance lessons, but the 2 and a half year old wasn't too happy about it at first. That was until her mom gave her comforting kiss on her cheek and look how happy she got. Just like Olive gave the paps, I am giving her a thumbs up for absolute cuteness!!!
---