Russell Crowe the bad boy is back!!!
May 14th, 2010 under Russell Crowe. [ Comments:

1

]

Before Russell Crowe got married and had kids, he was known for not having one of the best temperaments and was also known for walking out on an interview or two if he didn't like the questions. Well since he settled down we haven't heard of any such issues. That is until today, because the Robin Hood star walked out an interview with BBC Radio 4 when the host critiqued his accent. I have to admit after listening to the interview, I side with the Oscar winner on this one because Mark Lawson was really egging on him on. What do you think?
BTW that critique on his Robin Hood accent reminded me of that brilliant line that Cary Elwes uttered in Robin Hood: Men in Tights…"Unlike some other Robin Hoods, I can speak with an English accent." If you never heard him speak that famous line in his native accent, here it is!
---
Russell Crowe's Robin Hood cursed with injuries?
July 6th, 2009 under Russell Crowe. [ Comments:

none

]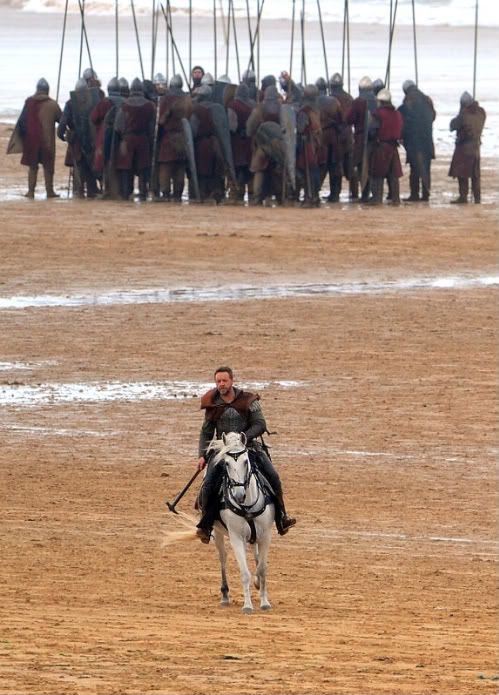 (photo from Splash News Online)


Russell Crowe's new epic Robin Hood seems to be plagued with behind-the-scenes injuries, so far 3 people have injured according to JAM! Showbiz.
1 – Ridley Scott epic was brought to a halt after an unnamed actor was hurt during the filming of a battle scene in Wales.
2 – An unnamed actor has reportedly broken his ankles after missing a crash mat in a high-wire fall at Pinewood studios in Buckinghamshire, England.
3 – In a separate incident a studio worker has suffered neck injuries from falling into a pit at Shepperton Studios in Surrey, England.
Yikes, sounds like a dangerous movie to work on. Who knew Robin Hood would be such a hazardous film to work on? Positive note, at least none of the injuries were to due to Russell Crowe's past temper which he really seems to have under control these days.
---
BTWF ads: Russell Crowe for Avondale College
January 30th, 2009 under Before They Were Famous, Russell Crowe. [ Comments:

3

]

Before he was Hollywood's bad boy, won an Oscar for Gladiator and was nominated for A Beautiful Mind, the only college he was thinking of was Avondale College in his native Australia. How adorable and innocent looking was Russell Crowe back in the early '80s?

SOW note: As you can tell I am trying to start a new post called Before They Were Famous! I think it is a lot of fun to see celebs before we knew them doing commercials, music videos, TV guest appearances, game show contestants, Soap Operas or bit parts in movies! I am trying my best to find as many of these on my own, but I need your help!!! So if you see them or know of any, can you please E-Mail me at SeriouslyOMGWTF@yahoo.com!!! I hope they are as fun for you as they are for me!!!
---
Russell Crowe is growing his hair for Locks of Love
October 20th, 2008 under Russell Crowe. [ Comments:

none

]

(photo from WireImage)


Hollywood's former-bad boy is doing something nice. According to Star Magazine Russell Crowe is growing out his hair to donate to Locks of Love.
"Russell has grown attached to the hair, but he's excited to help," a source tells Star.
Crowe is so serious about donating his hair that he is trying not take any roles where he will have dye his hair. Crowe has almost reached the necessary 10″, wonder who is going to be the barber that dares to cut off his ponytail?
---
Russell Crowes's son giving a warning or was he taught well?
March 13th, 2008 under Russell Crowe. [ Comments:

none

]
I wonder if Russell Crowe's little one is saying stop as in taking pictures or my dad will kick your a$$ or stop or I will kick your a$$ like my dad used to do? Either way that picture is too cute!!!
---