Dolly Parton wants you to lay your hands on her
June 30th, 2014 under Bon Jovi, Dolly Parton. [ Comments:

none

]

Dolly Parton is touring the United Kingdom and she has been bringing Richie Sambora on stage with her. Then she sings one of his biggest hits that he co-wrote for Bon Jovi, Lay Your Hands on Me, with him in her own special way. Out of all of their tunes, that is the one that she picks? Because let's be real how many times have people wished they could lay their hands on her bangin' bod! And that song is inviting them to do so.
BTW how much do you love hearing that song done Country?
---
Dolly Parton raps to Miley Cyrus about her wrecking balls!
October 18th, 2013 under Dolly Parton, Queen Latifah. [ Comments:

none

]

Dolly Parton is on Queen Latifah's show on Monday and the country singer will perform a rap on the daytime talker. I don't want to spoil it for you because it is all types of awesome. Words cannot express the joy you will get from watching it, so hit the play button right now.
I sincerely adored it so much that I so want her to do a rapping special for Christmas. I know it would make my holiday season so much better. I mean, imagine her rapping about her chestnuts that are roasting on an open fire!
---
The many poses of Dolly Parton
January 10th, 2012 under Dolly Parton, Guess who?. [ Comments:

3

]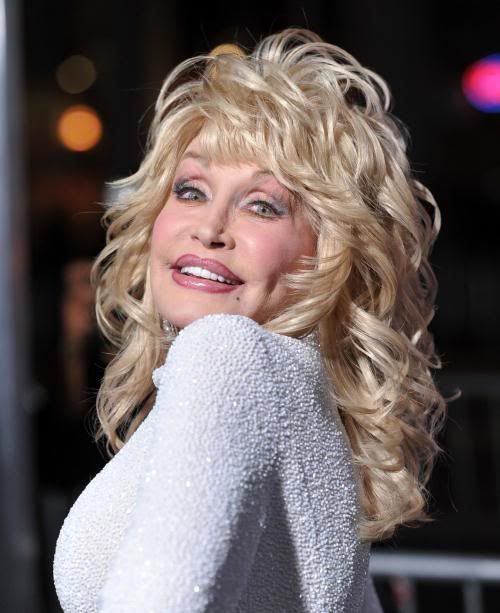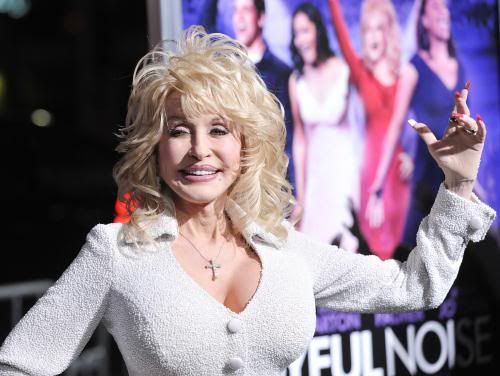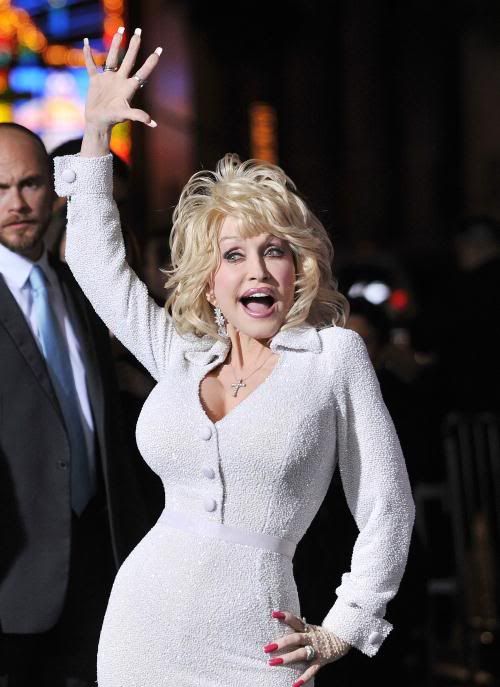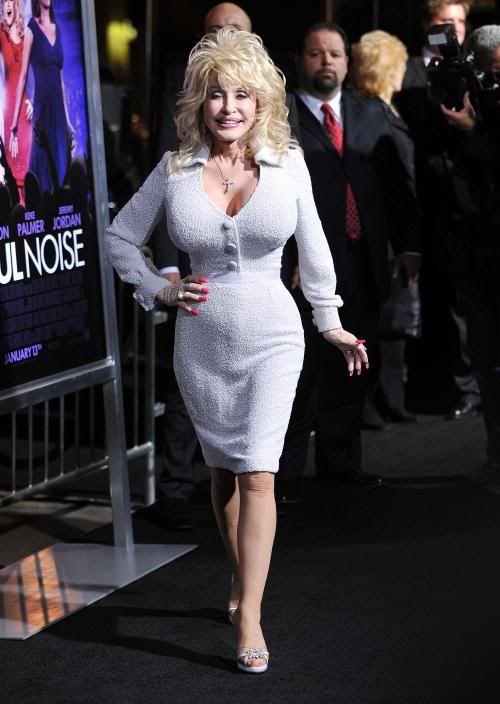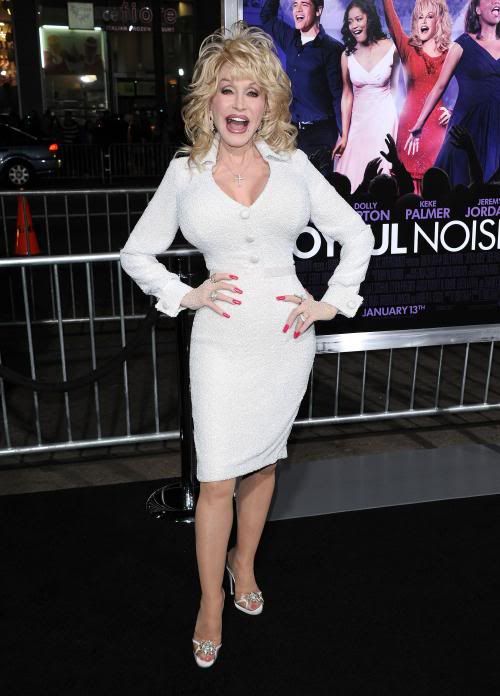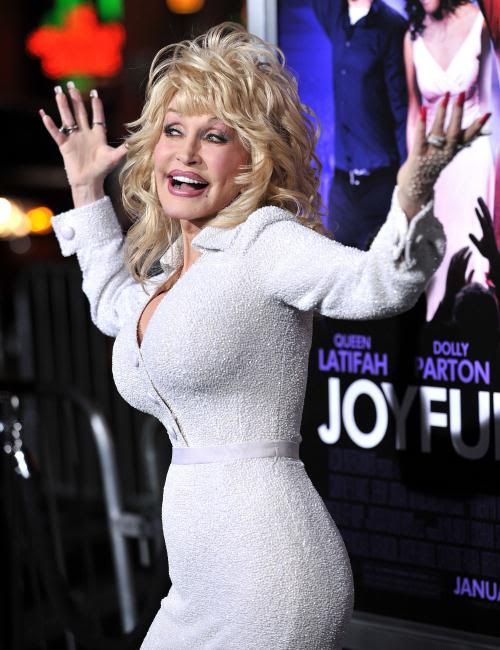 Fame Pictures
Dolly Parton walked the red carpet at the premiere of her new movie Joyful Noise and the singer worked it with her poses like the Best Little whore in the house. No matter which way she turned she made sure those Tennessee Mountains were standing out and begging to be climbed. She might be days away from turning 66, but she looks year younger than her actual age. I love the way she brought Dollywood to Hollywood in a way only she can.
---
Dolly Parton pigs out and wigs out!
January 2nd, 2012 under Dolly Parton. [ Comments:

1

]

(photo from WireImage


Dolly Parton sat down with Parade magazine and did some straight talking with the interviewer about her life when she isn't working 9-5.
So what does the singer like to do on lazy Sunday? She said, "When I'm home, I spend Sunday with my husband. If we're not cooking, we travel around in our camper, stop at fast-food restaurants, and picnic. We love that stuff that will harden your arteries in a hurry." Who would've thought that someone that skinny actually eats greasy food. I guess instead of going to her hips and thighs, it all goes to her breasts.
Now we didn't know she likes to eat bad food, but we did know she has a lot of wigs. So how many does she have? She said, "I put one on every day for some reason or another, so I must have at least 365. I don't wear wigs when I'm home" At least she has a good hair day every day. Now I want to know what her real hair looks like? Does she have curly red hair? Or short stick straight jet black hair? I want to know, don't you want to know too?
---
Dolly Parton's sexy sillohuette
July 18th, 2011 under Dolly Parton. [ Comments:

1

]

Dolly Parton was performing in Knoxville, Tn and WireImage captured those silhouette pictures of her playing the violin. I just love cool pictures from concerts, so I had to share them with you.
Now I know many of you wanted to see her infamous Dollywoods, so here are two pictures showing the two roller coasters that so many men have wanted to ride and have not been able to because she has been married to the same man for 45 years!!!
---