Do you think Mickey Rourke is pretty again?
October 9th, 2017 under Mickey Rourke. [ Comments:

none

]

Mickey Rourke has been a boxer, so his nose has seen some action it might not have wanted to. Therefore the 65-year-old decided to get it done so he can be pretty again. Here he is all pretty again after getting a nose job. What do you think?

All I know is, I am not looking at his nose. I cannot stop staring at his chest and abs and think how can that be the torso of a senior citizen? Damn he is fine!
---
Mickey Rourke is that you?
October 4th, 2012 under Mickey Rourke. [ Comments:

none

]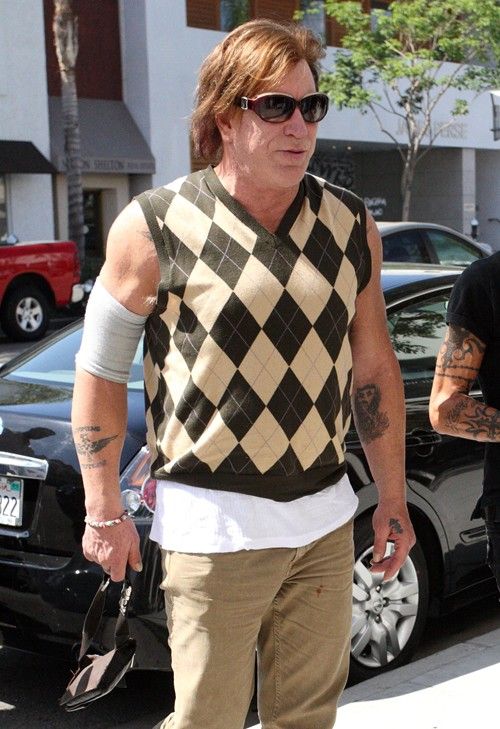 Fame Flynet
Mickey Rourke was seen out and about yesterday in Beverly Hills and he looks different. At first I thought it was the fact that he is dressed like a preppy, but then I realized it wasn't that. It is hair. It looks like he finally washed it. Either that or he had some work done to it, like he got extensions or implants. Either way it looks good. Hopefully he will keep it up because I like the new and improved Mickey Rourke.
---
All Mickey Rourke will want next Christmas is two front teeth back
January 3rd, 2011 under Mickey Rourke. [ Comments:

none

]

(photo from WireImage)


Mickey Rourke is one of those actors who is rumored to really gets into his roles, so I don't know why it surprises me how far he might go for next role. The Wrestler is going to play Britain's first openly gay gap-toothed Rugby player Gareth Thomas and he is reportedly going to do something extreme to get that look. According to WENN Thomas' agent said that, "Mickey intends to get as close to the character as he can. He is going to get rid of his two front teeth – he will be taking them out." I'm all for reality, but teeth are something you should not f*ck with. If he has been able to keep them with all it has been said he has done in his past, he should leave those suckers alone.
---
Mickey Rourke explains his short hair!
August 6th, 2010 under Mickey Rourke. [ Comments:

1

]

So a few weeks ago Mickey Rourke debuted his short hair, but we didn't know if he cut his hair for a movie or just for the heck of it. Well yesterday he was on The Tonight Show with Jay Leno and he explained his cropped do. In short The Wrestler was trimming his own hair and he f*cked it up so he wound up with his new look. Just like young kids, I can't believe he is allowed anywhere near scissors. I am sure with his new look, he is thinking the same thing.
BTW am I the only who thinks he looks better with the shorter hair?
---
Mickey Rourke is that you?
June 25th, 2010 under Mickey Rourke. [ Comments:

none

]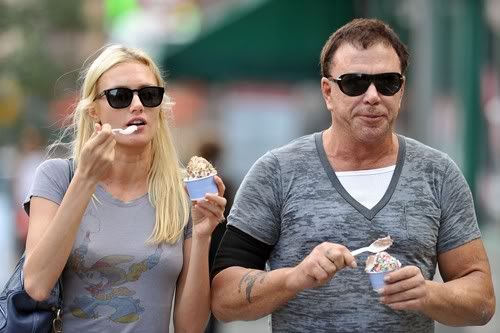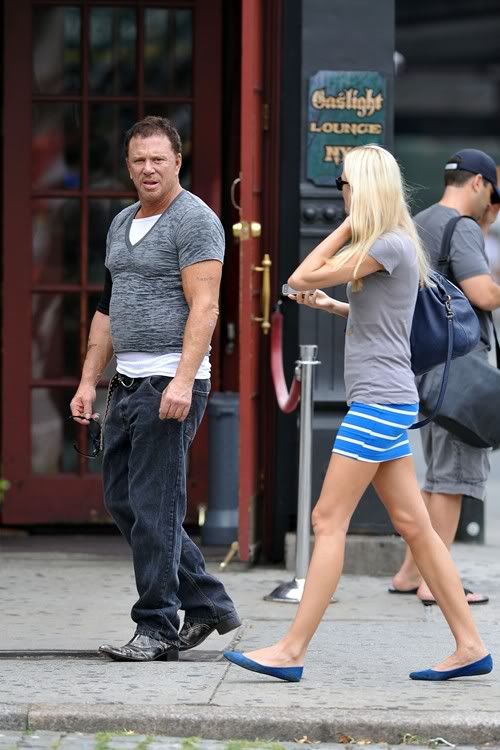 Bauer-Griffin Online
Mickey Rourke is missing something…his hair. The 57 year old Oscar nominee has had long hair as long as I can remember so it is so weird to see to see him with a buzz cut. He actually looks almost normal with the new look. Only problem is that it shows off his bald spot.
Because these are just photographs we don't know why he cut his hair off, like if it was for a role, or his upcoming wedding or he got a big wad of gum stuck in his hair. I am going with the last one because it is the most fun to me!
---