Remember Diana Ross?
January 4th, 2012 under Diana Ross, Remember?. [ Comments:

none

]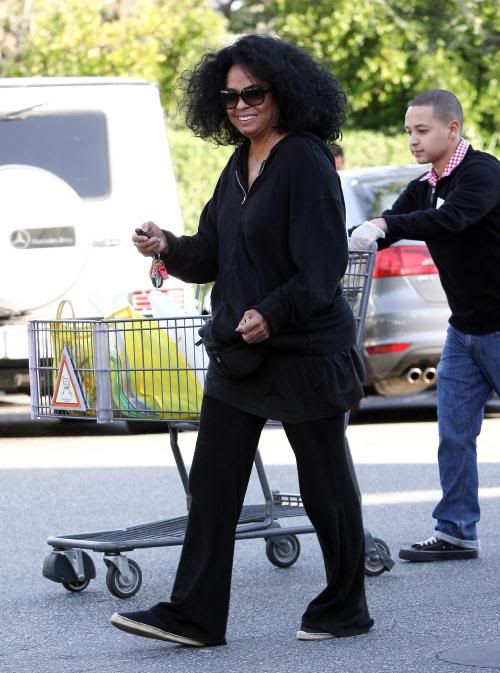 Fame Pictures
It seems like it has been forever since we have seen Diana Ross, and the 67 year old singer still looks amazing. Even trying to be inconspicuous as she goes food shopping, she still stands out in a crowd with her full head of hair. The music world needs more divas like her, who make even the simplest of things seem like an event!
BTW according to Ms Ross' Facebook page, she has been touring in The US. Who else besides me would like to see Tina Turner and her go on a tour together. I would pay big bucks to see them together on the road.
---
Diana Ross' hair gives her away!
March 5th, 2009 under Diana Ross. [ Comments:

none

]
I was going to do this as a Guess Who is hiding from the paps, but it was way too easy because Diana Ross' hair will always give her away!!!
---
Who had a better side profile…Diana Ross or Aretha Franklin?
December 3rd, 2007 under Aretha Franklin, Better than..., Diana Ross. [ Comments:

1

]
As much as Diana Ross' hair scares me, I will have less nightmares from her side profile than I will from Aretha Franklin's.
---
How many bedsheets were sacrificed for Diana Ross' dress?
December 3rd, 2007 under Diana Ross. [ Comments:

2

]
Another fashion paux at the Kennedy Center Honors. Is it just me or does it look like Diana Ross' dress was made completely out of bedsheets that were mashed together?
---
Diana Ross better with or without makeup?
November 14th, 2007 under Diana Ross. [ Comments:

2

]
Seriously I can't decide which picture Diana Ross looks better in or should I say worse, both are pretty scary.
---