There's something fishy about Chistina Ricci!
December 31st, 2013 under Christina Ricci. [ Comments:

none

]

While most celebrities went to exotic places for the holidays, Christina Ricci went fishing. As her friends were buying expensive red shoes, she caught a beautiful red fish and it looks like Wednesday Addams is even more excited than they are in their brand new high heels. It also looks like her Mermaids training came in helpful. That is what that movie was about, right?
Seriously, she is one of the last actresses I ever expected to go fishing and hold her scaly trophy with such pride. Because of that, I just had to share this fishy photo with you.
---
Did the Addams Family inspire Christina Ricci's dress?
May 3rd, 2011 under Christina Ricci. [ Comments:

none

]

WireImage
Christina Ricci wore a dress to the Costume Institute Gala At The Metropolitan Museum Of Art and it looks more like something her character Wednesday Addams would wear as compared to what the Mermaid's star would model. Seriously that webbed look is more of an Addams Family style than her's.
---
Did Mary Ann finally get off of Gilligan's Island?
September 2nd, 2010 under Christina Ricci. [ Comments:

2

]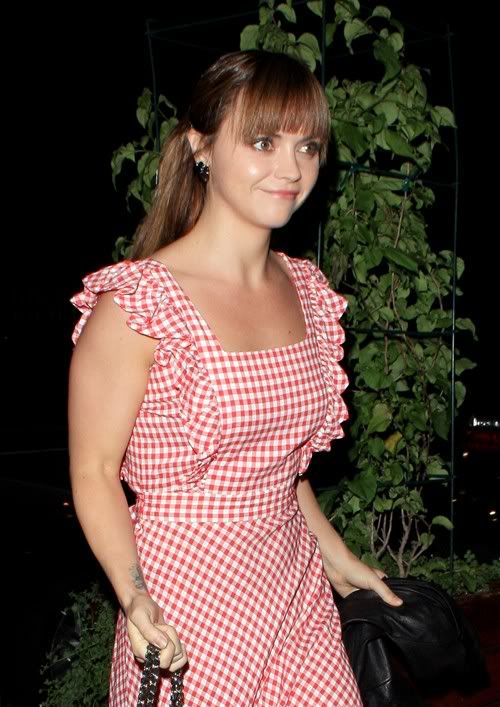 Fame Pictures
Christina Ricci went out in a dress that looks like something Mary Ann would have worn on Gilligan's Island. So I have to wonder if Mary Ann finally got off the Island or is that her lobbying for a role in the rumored big screen adaptation? If that dress is not related to anything Dawn Wells wore in the '60s sitcom then she should hire a new stylist because the tablecloth dress is not working for her. Actually that dress doesn't work for anyone, but Dawn Wells.
---
Christina Ricci lighten up
October 29th, 2007 under Christina Ricci. [ Comments:

none

]
Christina Ricci looks amazing, that color and cut suit her.
---
Christina Ricci got a boob job
September 27th, 2006 under Celeb Oops, Christina Ricci. [ Comments:

1

]
Yeeeah! (Click on the photo for the NSFW photo)
Ouch! Ouch! Ouch! Why would any woman do that to herself on purpose? And where is that bird flying too? But at least she will not have to worry about doing any topless scenes because who is going to want to see that on the big screen?
---