Tyga's defense on the Paul McCartney and Beck Grammy party mishap
February 17th, 2016 under Jimmy Kimmel, The Beatles. [ Comments:

none

]

On Monday night, Tyga had a post Grammy party and several celebrities wanted to go. Three of those celebrities were Sir Paul McCartney, Beck and Foo Fighters drummer Taylor Hawkins, but they ran into a little snag when they got there. The bouncer said their names weren't on the list and they couldn't get in. What do you do? If you are them, then you leave and go to another party.
Yesterday, when Tyga woke up, he was bombarded with messages about the incident. He took to Twitter and said, "Why would I deny @PaulMcCartney stop it. He's a legend 🙏🏾," following it up with, "I don't control the door. I had no knowledge SIR PAUL was there. I just performed and left."
He should know who Sir Paul McCartney is because his girlfriend's sister's husband recorded a song with him. When it comes to Beck, he should also know who he is because his girlfriend's sister's husband dissed him at last year's Grammys. And with that I believe his story that he had no idea what happened until the next day.
If you still don't believe him, then maybe this will help. Here's what he told Jimmy Kimmel yesterday, "I really wish I knew he was outside, I would've went out there with the mic, brought him in to perform Rack City with me."
To make amends about the whole situation, Tyga invited Sir Paul to his show in LA on February 26th. This time he will make sure his name is on the list.
---
I imagine, John Lennon wrote his song for moments like this!
January 13th, 2015 under The Beatles. [ Comments:

none

]

via Lam Hua
On Sunday, almost 4 million people gathered in Paris to attend a rally for unity after the horrible week they had in their city due to those murderous terrorists. During the peaceful gathering, someone played John Lennon's Imagine, and the crowd sang along and applauded to it.
I imagine, this is what he intended his song to be used for when he wrote back in 1971. Not for contestants on singing competition shows, but for getting the word out there about peace. I wonder if he was like Nostradamus as he jotted down these words. "Imagine there's no countries. It isn't hard to do. Nothing to kill or die for. And no religion too. Imagine all the people living life in peace" In that moment we all imagined it as we saw their heads moving to his music and heard his words coming from their mouths. Those lyrics never had more meaning than they did for those few inspirational minutes.
This video gave me chills because when we have thought of Imagine in the past, we thought of it for a time like this. It is the perfect interpretation of the World's most powerful song ever have been recorded.
I conclude this post with another one of his songs, "All we are saying is give peace a chance."
---
Disney no longer lives in a Yellow Submarine!!!
March 15th, 2011 under The Beatles. [ Comments:

none

]

In the era of remakes, I am happy to share with you that Disney has officially sank Robert Zemeckis' plan to redo The Beatles' Yellow Submarine. But sadly The Hollywood Reporter is saying he can shop around the movie to another studio. Although considering how badly his films A Christmas Carol and Mars Needs Moms have done at the Box Office, I doubt another studio would want to take on a Beatles classic done by him in his animated style. It wouldn't be worth the loss financially to them.
---
Imagine Brad Pitt as John Lennon?
January 7th, 2011 under Brangelina, The Beatles. [ Comments:

none

]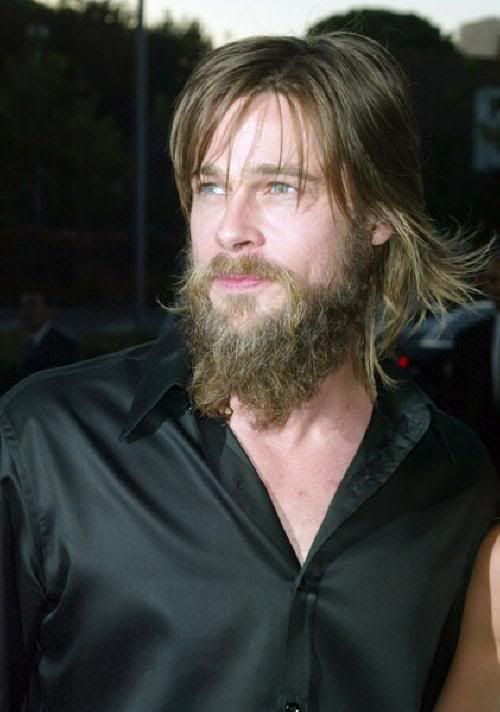 (photo from WireImage)


Imagine Brad Pitt as John Lennon, I wonder if you can…because I can't but that might be what we will have to do. According to Daily Express Angelina Jolie's man is considering starring in a biopic about The Beatle so much so he reportedly talked to Yoko Ono about it. A source told the mag, "Brad already has a writer working on the script. And Yoko has given the project her blessing so long as it's true to John's life. Brad wants to do all the singing himself and plans to take voice lessons. If he can't pull it off they'll use John's own voice. Brad has also been immersing himself in videos and books so he can get Lennon's mannerisms down pat."
I like Brad Pitt, but he is 7 years older than when Lennon was taken away from us and I think he is too old for the role. Plus he looks nothing like the man who wanted us to Give Peace a Chance. So I might not be able to Imagine it, but can you?
---
Paul McCartney and Ringo Starr play Radio City together again!!!
July 8th, 2010 under The Beatles. [ Comments:

none

]




Ringo Starr turned 70, yes the big 7-0, and to celebrate he played Radio City Music Hall with his All Starrs! The biggest All Star came out during the second encore to wish him a very special happy birthday and that was his former bandmate Paul McCartney! The two surviving Beatles jammed to their hit Birthday and what a f*cking performance it was. The 68 year old and the birthday boy were playing like it was 1968 and not 2010. Seriously they were totally moving like they did when they were fab four. I can seriously watch that performance over and over again because it was that f*cking awesome. Just like I wish I was alive to have seen The Beatles play live, I wish I was there yesterday to see just that one song in person. Seriously wow!
BTW Paul McCartney wasn't the only surprise from his Beatles past, John Lennon's widow Yoko Ono joined him to sing Give Peace a Chance and good to see that they are giving peace a chance.
---