Mr and Mrs Will Kopelman kiss like they have Never Been Kissed before
June 3rd, 2012 under Drew Barrymore. [ Comments:

none

]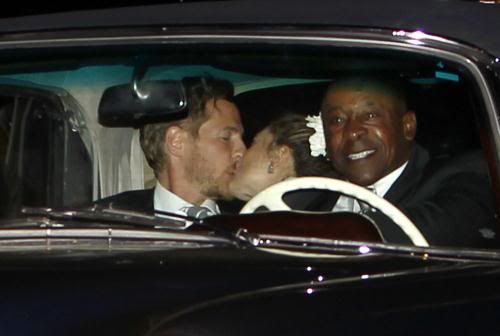 (photo from Fame Flynet Pictures)


Drew Barrymore and her art dealer Will Kopelman tied the knot yesterday after being engaged for five months. According to People the two were married in a Jewish ceremony at her Montecito, Ca home. Hopefully the third time will be the charm for the expecting mother. Looking at their kiss after the nuptials, I think it will be.
---
Don't over ask Drew Barrymore about her youth or she'll go all Firestarter on you!
August 26th, 2010 under Drew Barrymore. [ Comments:

none

]

Drew Barrymore was doing press for her movie Going the Distance, and she reportedly told a reporter from the London Daily Standard she hated the reporter that interviewed her beforehand.
Encouraged by her tone, I gesture at the clippings on the table and say I'm exhausted reading about her "wild child" past. Does she ever lose patience talking about it?
She nods angrily. "You should have heard this bitch I had to do an interview with before you. God, I wanted to punch her, she would just not drop the youth thing. I have no problem talking about it. I am not someone who is ashamed of my past. I'm actually really proud. I know I made a lot of mistakes, but they in turn were my life lessons.
"It's actually good to get it done young and have a great life later. But yeah, man, I wanted to rip this woman's face off. She just would not shut up about it."
As of now we don't know who that reporter was, but when the article comes out I am sure it will be hotter than anything Drew set ablaze in one of her first movies…Firestarter!
---
Drew Barrymore just can't quit Charlie's Angels
November 13th, 2009 under ABC, Drew Barrymore. [ Comments:

none

]

Not only did Drew Barrymore star in the big screen version of Charlie's Angels, she also produced it. Now Variety is reporting that Drew Barrymore is looking to bring it back to the small screen and ABC is interested in helping her do it. The negotiations are still in the early phase and I hope it stays that way because what made the show so good was the cheese factor it had going for it. The show never took itself seriously and I am sure if ABC updated it, they would want to make more real. But if they considered having fun with it, I might be OK with it as long as they don't cast Hilary Duff in Farrah Fawcett's role. Can't you see them doing that?
And BTW my sentiment about remaking TV shows is the same as for movies, when will Hollywood come with original ideas again and stop destroying shows like Kolchak the Nightstalker???
---
Drew Barrymore's pie-in-the-face smashing record!
October 5th, 2009 under Drew Barrymore, Jimmy Fallon. [ Comments:

1

]

Drew Barrymore was on Late Night with Jimmy Fallon on Friday and she attempted to set Universal Record Database for the most pies smashed in a stranger's face in 30 seconds. Sounds like she was the first one to do it, so of course she was successful. But what she wasn't successful at was getting back out on the stage after she set the record because her roller skates were full of cream pie and the floor was to slippery to skate on. Being a gentleman, Jimmy Fallon went to help her out and I bet he regrets his decision as you will see when you watch that hysterical record-breaking challenge!
BTW seriously can Drew Barrymore be any more awwwwdorable?
---
BTWF ads: Drew Barrymore for Pillsbury Cookies
February 20th, 2009 under Before They Were Famous, Drew Barrymore. [ Comments:

1

]

Even before Drew Barrymore was eating Reese's Pieces with ET: The Extra Terrestrial, she was eating cookies in a commercial for Pillsbury! Awww, how adorable was the 4 year budding star in 1979! She was just so freaking adorable! Not that she still doesn't have that cute personality that she had back then!!!

SOW note: Hey guys, I need your help with Before They Were Famous! I think it is a lot of fun to see celebs before we knew them doing commercials, music videos, TV guest appearances, game show contestants, Soap Operas or bit parts in movies! I am trying my best to find as many of them on my own, but I need your help!!! So if you see them or know of any, can you please E-Mail me at SeriouslyOMGWTF@yahoo.com!!! I hope they are as fun for you as they are for me!!!
---