Colin Farrell is a scaredy cat?
October 8th, 2012 under Colin Farrell, Ellen DeGeneres. [ Comments:

none

]

Colin Farrell is a guest on Ellen today and Ellen DeGeneres tried to scare him like she does to a lot of her other guests. But unlike them, the Irish man is no scaredy cat. His reaction to frightful feline was purrfect! But I have to wonder what happened to him when he was younger that something like that doesn't frighten him? I just 10′ up in the air if someone does that to me and yet he didn't even flinch.
---
Colin Farrell is a little obvious here!
August 14th, 2012 under Colin Farrell, Jessica Biel. [ Comments:

none

]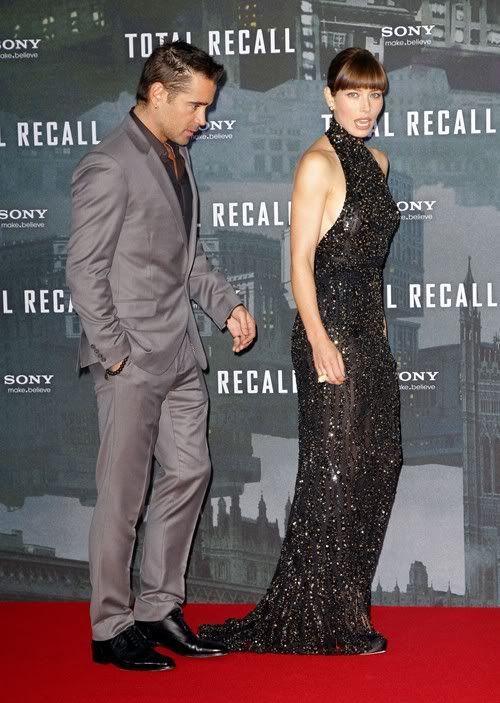 Fame Flynet
Colin Farrell and Jessica Biel are in Berlin to promote their film Total Recall and the actor was caught totally checking out Jessica Biel's sexy back. I wonder how her fiance' Justin Timberlake will feel when he sees this picture. Actually I think if it came down to it, the Horrible Boss would totally be the winner on that Fright Night!
---
BTWF roles: Colin Farrell in Disappearance of Finbar
June 27th, 2012 under Before They Were Famous, Colin Farrell. [ Comments:

none

]

Before Colin Farrell was a leading man, he was an extra in Disappearance of Finbar. How cute was the 19 year old actor in that 1996 movie.
---
Do you have Total Recall about this movie?
June 27th, 2012 under Colin Farrell. [ Comments:

none

]

The new trailer is out for the remake of Total Recall and I actually want to see the movie when it comes out on August 3rd. I don't know what it is about the Colin Farrell action movie, but it looks like a fun thrill ride from beginning to end.
Now I have to debate if I want to see the Arnold Schwarzenegger version beforehand as a point of reference?
---
Horrible Bosses looks so horrible, it might be good
May 11th, 2011 under Colin Farrell. [ Comments:

none

]

After watching the trailer for Horrible Bosses, I just don't know how to react to it. It looks beyond horrible, but yet I found myself laughing several times throughout it. Is it enough for me to go see it on July 8th? Nope, but I will see it when it is on cable because it looks like a lazy Saturday afternoon movie when you just want to watch something meaningless. That and I want to see how Colin Farrell is going to pull off that look.
---