The one where Vince Vaughn almost played Joey on Friends
March 27th, 2017 under Friends (cast), Vince Vaughn. [ Comments:

none

]

Can you imagine anyone but Matt LeBlanc playing Joey on Friends? I can't, but Esquire UK says there was another actor who was up for the role. That actor is Vince Vaughn, but casting director Ellie Janner didn't think he was as right for the part as LeBlanc.

I think we can all agree she has a good knack for talent. Had she gone with Vaughn, I don't think we would have ever gotten the Joey spinoff. Oh wait, that would've been a good thing.
---
Colin Farrell was questioned as a late teen for attempted murder?
June 19th, 2015 under Colin Farrell, Jimmy Fallon, Vince Vaughn. [ Comments:

none

]

Colin Farrell was a guest on The Tonight Show yesterday and Jimmy Fallon challenged him to a game of True Confessions. Basically Farrell, Fallon and Vince Vaughn were all given two envelopes, one was filled with a truth about the person and the other one contained a lie. Then after they read the contents the other two got to question them for :60 seconds. When they were done, the other two players had to guess if the other one was telling the truth or a lie.
Farrell went first, and his envelope said, "When I was a late teen I got brought in for questioning as a suspect in an attempted murder." As they were questioning him, he admitted that when the cops showed a sketch of the suspect he thought the guy looked at him. Then he realized he had a blackout the night of the crime, and he started to wonder if he was the one who did it.
So did he do it? No, as he explained, "Thankfully a friend of mine kept a journal and that particular night and at that particular time we were at a party on the other side of town doing ecstasy." In other words, he had committed a crime, just not the one he was brought in for.
Then it was time for Jimmy Fallon's confession and he got his head stuck in a fence when he was kid. Explains a lot, no?
---
BTWF roles: Vince Vaughn in A Question About Sex
December 26th, 2012 under Before They Were Famous, Vince Vaughn. [ Comments:

none

]

(starts at 1:20 in)


Before Vince Vaughn was playing Dodgeball, he was playing football in A Question About Sex. How sexy was the 19 year old in that 1990 movie.
---
Vince Vaughn is a cute dad!
December 26th, 2012 under Vince Vaughn. [ Comments:

none

]

Fame Flynet
When you think of Vince Vaughn, you don't think of him as being cute at anything. But seeing him doting over his 2 year old daughter Locklyn Kyla, he is exactly that. Who would have ever thought that he would be one of those type of dads, but he is! Nice to see married life has changed him for the better.
---
Vince Vaughn is a daddy
December 20th, 2010 under Vince Vaughn. [ Comments:

none

]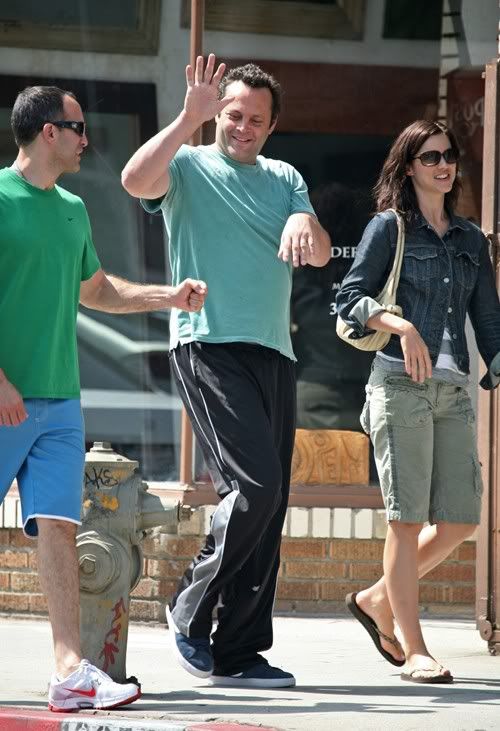 (photo from Bauer-Griffin)


I never thought I would be posting that Vince Vaughn is a happily married new father of a baby girl., but that is just what I am doing. On Saturday his wife Kyla Weber gave birth to their first child together. Locklyn Kyla Vaughn came into the world weighing in at 7 lbs. and measured 20 inches long in a Chicago hospital according to People.
BTW that loud sad roar you heard this morning was Jennifer Aniston when she heard the news.
---