The new Lone Ranger trailer with a lot less Tonto
April 17th, 2013 under Johnny Depp. [ Comments:

none

]

The final trailer is out for The Lone Ranger and this time the title character is featured more than his sidekick Tonto. While it makes the film that comes out on July 3rd seem a lot more watchable, it still doesn't make me want to go see. If I want to see a modern day action flick set in the past, then I will re-watch Abraham Lincoln Vampire Hunter instead. At least that movie was in on the joke.
---
We almost lost Johnny Depp to a horse
February 22nd, 2013 under David Letterman, Johnny Depp. [ Comments:

none

]

Johnny Depp was a guest on The Late Show yesterday and he told David Letterman how he almost met his maker on horse while filming The Lone Ranger.
They were filming a scene where he was riding a horse after a long day of riding the horse decided to do some of the obstacles that were in his path. When he jumped over one of them, Depp fell sideways because the saddle he was using was made so he would look like he was riding bareback. Depp knew he had to make a decision, either fall off of the horse or stay on until someone could stop it. He opted for falling and luckily the horse jumped over him and he only suffered minor injuries.
Thankfully all is OK because the world is not ready to lose that pretty face. At least I know I am not.
---
Put on the blindfold to watch The Lone Ranger
December 11th, 2012 under Johnny Depp. [ Comments:

none

]

The website for the new The Lone Ranger movie is PutOnTheMask.com and I think you should put on a blindfold instead if you are planning on going to see that movie when it comes out on July 24th. Seriously how awful does that movie look? It's like they spit on the legacy of The Lone Ranger and Tonto to make that piece of sh!t.
Plus who is going to want to see Johnny Depp looking like crap? We only go to see his movies to look at his beautiful face not see it covered up with ugly face paint.
---
Lone Ranger looks as bad as Johnny Depp's makeup in it
October 3rd, 2012 under Johnny Depp. [ Comments:

none

]

The first trailer is out for Lone Ranger and it looks so awful I refuse to tell my dad, who is a huge fan of the masked hero, about it. Fans of the series will be devastated by how bad Tonto looks in it, but people who are not familiar with the Lone Ranger will enjoy seeing a modernized Western. Personally I think Westerns need to remain in the past and not be all turned into the Matrix style with a lot of CGI fighting going on. But that is me and not the teenage boy who will run out to see this. I don't think teenage girls will be running to theaters to see Johnny Depp looking like that when the flick comes out on July 3rd. But I could be wrong.
BTW can Hollywood make a law that Depp and Helena Bonham Carter are not allowed to do movies together any more. I mean it is seriously enough already.
---
Johnny Depp is a single man!!!
June 19th, 2012 under Johnny Depp. [ Comments:

none

]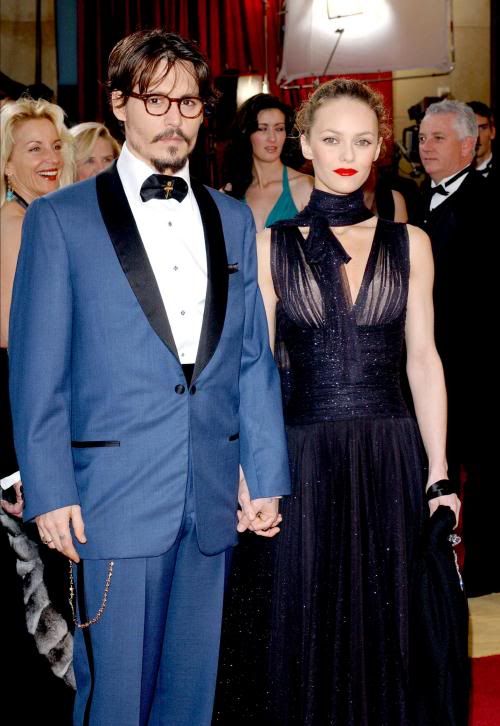 (photo from Fame Flynet Pictures)


The news that women around the world have been waiting 14 years to hear, is finally being heard. According to People, "Johnny Depp and Vanessa Paradis have amicably separated. Please respect their privacy and, more importantly, the privacy of their children." As happy as I am to hear that he is a free man, I am saddened that his relationship didn't work out because he seemed so in love with her. I remember in an interview he said he knew she was the one as soon as he saw her and he only saw her from behind at first. I always that was so romantic.
The former couple who never married have two kids together, Lily-Rose, 13, and Jack, 9.
---