Do you this Piranha 3D video was too bloody for Comic Con?
August 1st, 2010 under Eli Roth, Movies. [ Comments:

1

]

(NSFW or for those with weak stomachs)


The first 9 minutes of Piranha 3D was considered too graphic for Comic Con and had to be shown outside of the convention. After watching the leaked footage, do you think they made the right choice?
I have to admit that yes that was extremely bloody and graphic, but it got me even more excited for the movie when it comes out on August 27th! My favorite death was the girl who died via the wire. And a very close second was the way that Eli Roth bit it. Sorry Eli, but I enjoyed how they offed you!!!
BTW the opening for Piranha 3D is my favorite since Ghost Ship and the Final Destination franchise beginnings!
---
Eli Roth and Peaches Geldof didn't know they were engaged!
July 30th, 2010 under Eli Roth. [ Comments:

1

]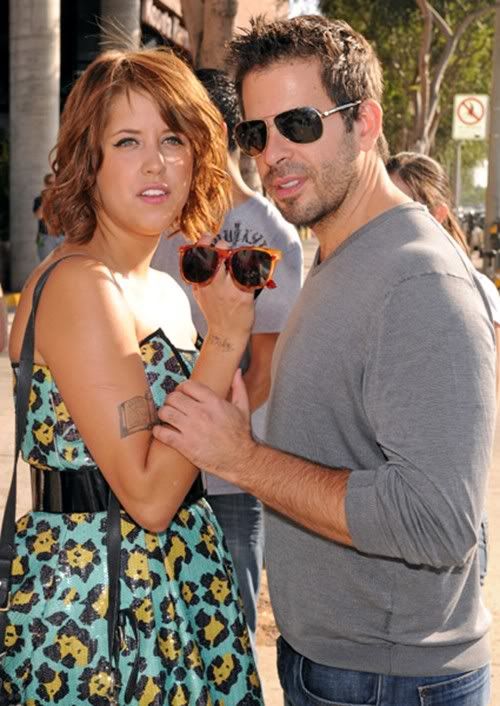 (photo from WireImage)


Eli Roth and Peaches Geldof woke up this morning to find out that they are engaged via The Sun. Both of them took to Twitter to clear up the rumors.
Eli Roth: "It's a good thing I follow myself on Twitter or I'd have never known I was engaged. I had no idea. Congrats? #FunniestFollowFridayEver"
Peaches Geldof: "Just so everyone knows, Eli and I are not engaged or getting married. The tabloid stories stating this are all, as usual, made up lies."
If I were them, I would have a Twedding to f*ck with everyone. You can get married in 140 characters or less, no? And if they do have a Twedding, I better be invited!
---
Eli Roth's pig has the same fetish as his BFF Quentin Tarantino?
July 23rd, 2010 under Eli Roth. [ Comments:

4

]

Eli Roth Tweeted this picture of his new pet and said, "I think my pig has a foot fetish." If anyone in Hollywood should know about foot fetishes it would be him because it is widely rumored his BFF Quentin Tarantino has a huge fetish for the feet. So much so if you watch his movies you will notice that he has at least one scene dedicated to one of the actresses' feet in that film. Check out the video montages of feet close-ups in QT's flicks on Rope of Silicon.
Now back to Eli Roth and his pig, is it Kosher for the Bear Jew to own one?
---
A horror-ific picture!!!
June 10th, 2010 under Eli Roth. [ Comments:

none

]

From L to R: Robert Rodriguez, Rose McGowan, Brian-Trenchard-Smith, Eli Roth, Ryuhei Kitamura, Ryan Schifrin, Guillermo del Toro, Tim Sullivan, Joe Dante, Tobe Hooper, William Malone, Adam Rifkin, Adam Green, Mick Garris, David Slade, Quentin Tarantino, James Gunn, Ernest Dickerson, Tom McLoughlin, Darren Lynn Bousman, Ti West

Talk about a bloody dinner, some of the biggest names in horror today got together to talk the sh!t and compare deaths. Can you imagine the dinner conversation they were having? I know most people wouldn't want to be a fly on that wall, but I would die to be one. So if one of you guys wants to kill me off in your next movie, I am available. Kidding.
But seriously how f*cking awesome is that picture that Adam Rifkin posted from the Master of Horrors Dinner?
---
The Last Exorcism trailer possessed me!
May 25th, 2010 under Eli Roth. [ Comments:

none

]

After months of waiting for the trailer for The Last Exorcism, it was finally released today and it was better than I ever could've imagined. The Eli Roth produced film looks like it will give you nightmares for years to come and even after saying that I can't wait to see it when it comes out August 27th. Hopefully there will be clergy in the theaters it shows in because that movie looks like it can possess the audience and exorcisms might be needed.
BTW if you are in LA it will be premiering at the LA Film Festival on June 24th if you want to see it two months before the release date.
---