Janet Jackson says she does not have cancer
January 6th, 2016 under The Jacksons. [ Comments:

3

]

On Christmas Eve, Janet Jackson announced that she was postponing her tour because she was having surgery. Only thing was she didn't say what type of surgery she was getting. Several sites claimed that she has cancer throat cancer, and today she took to Twitter to deny it with her song The Great Forever. After the song, she had a message for her fans:
Remember…believe it when you hear it from my lips.
The rumors are untrue.
I do not have cancer.
I am recovering.
My doctors have approved my concerts as scheduled in Europe, and as I promised the postponed shows will be rescheduled.
Thank you for your prayers and love.
Hopefully, she will better soon because her voice needs to be heard.
---
Janet Jackson postpones her tour for a mysterious surgery!
December 25th, 2015 under The Jacksons. [ Comments:

none

]

Janet Jackson took to Twitter yesterday to let he fans know that she is postponing her tour for medical reasons.
Hey you guys… Happy Holidays to each and every one of you. I need you to know, I learned today, from my doctors that I must have surgery soon. It breaks my heart to tell you that I am forced to postpone the Unbreakable Tour until the spring. Every date will be rescheduled. Please hold on to your tickets. They will be honored in a special way when the new schedule is announced. Please pray for me, my family and our entire company during this difficult time. There will be no further comment. I love you all so much and am ever grateful for your understanding and your love. Gon' b alright.
At this time, we don't know what the surgery is for, but let's hope that she is better soon.
---
Katie Couric asked La Toya Jackson if she's a virgin
April 16th, 2013 under The Jacksons. [ Comments:

none

]

La Toya Jackson was a guest on Katie Couric's talk show and the host asked her about her love life. Katie didn't stop there, she also asked the singer if she is a virgin.
Couric's logic was that in the past La Toya admitted that she never consummated her marriage and that she has dated since it ended. So the former news lady had to find out the truth. Well La Toya didn't give her what she wanted and avoided the question. I guess Katie isn't as good as getting to the truth as the middle Jackson sister is as finding it out.
---
The many faces of Janet Jackson
November 4th, 2010 under The Jacksons, The Many Faces of. [ Comments:

2

]

WireImage
Janet Jackson was promoting her movie For Colored Girls and her face is giving color commentary how she feels about the reporters' questions. Boy seh definitely has a lot of expressions, who knew because she always seem to be smiling. Well except for that time that Justin Timberlake revealed a little too much of her at the Super Bowl and her face showed shock.
BTW boys now that I have said that, look are her eyes…just try.
---
Don Rickles and La Toya Jackson paint the town red
September 17th, 2010 under The Jacksons. [ Comments:

none

]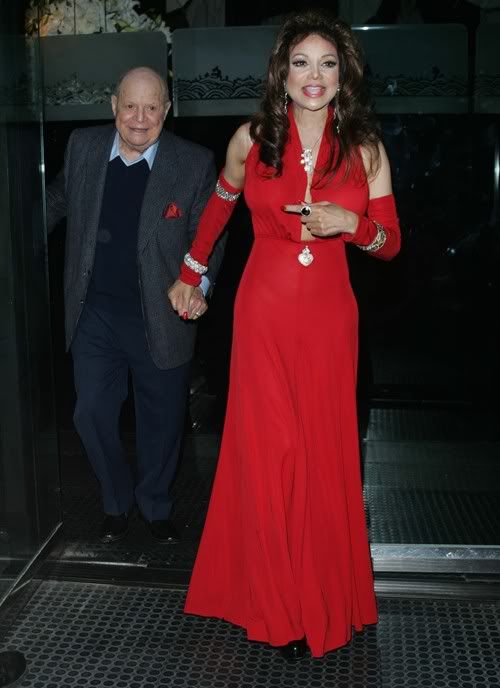 Fame Pictures
Legendary comedian Don Rickles was seen coming out Mr Chow with La Toya Jackson. Out of all the people I expected to see the 84 year old with, La Toya was no where on the list. I wonder how these two connected, even better I wonder what they talked about. She is such an easy target for him to insult, imagine the jokes he must have said about her that she didn't get…
---