Stop the presses The Paperboy trailer is out
August 1st, 2012 under Keith & Nicole Urban. [ Comments:

none

]

The trailer is out for The Paperboy and as much as I like the cast; I will treat like the daily newspaper and I will forget it exists. Instead of running to see the film when it comes out on October 5th, I will wait until it is on Netflix so I can watch Nicole Kidman pee on Zac Efron. Or better yet I will wait until someone uploads that clip, so I don't have to sit through John Cusack not looking his best.
---
The many faces of Nicole Kidman
May 29th, 2012 under Keith & Nicole Urban, The Many Faces of. [ Comments:

none

]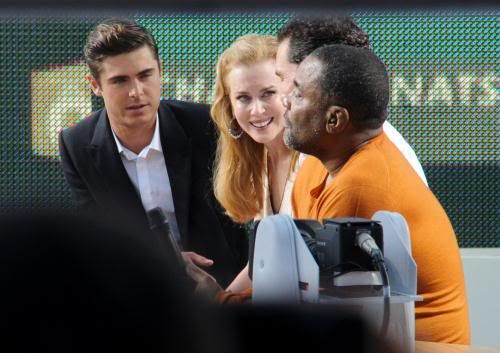 Fame Flynet Pictures
Nicole Kidman, Zac Efron, Matthew McConaughey and Lee Daniels were on Canal+'s Le Grand Journal to talk about their upcoming movie The Paperboy and by the looks of The Stepford Wife's face she is Bewitched by it. Either that or they are talking about filming the scene where she pees on Efron during sex. But then shouldn't The Lucky One be making those face then? Unless he is in to that sort of thing?
---
BTWF music videos: Nicole Kidman in Pat Wilson's Bop Girl
November 10th, 2011 under Before They Were Famous, Keith & Nicole Urban. [ Comments:

none

]

Before Nicole Kidman was married to country singer Keith Urban, she was in a music video for a pop song called Bop Girl by Pat Wilson. She looks the same now as she did when she was 15 in that 1983 music video.
---
Nicole Kidman has Faith in one hand and a Sunday in the other one!
June 28th, 2011 under Keith & Nicole Urban. [ Comments:

none

]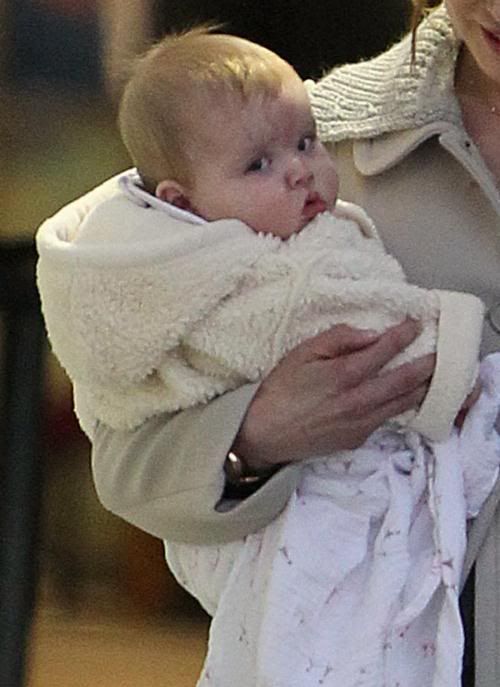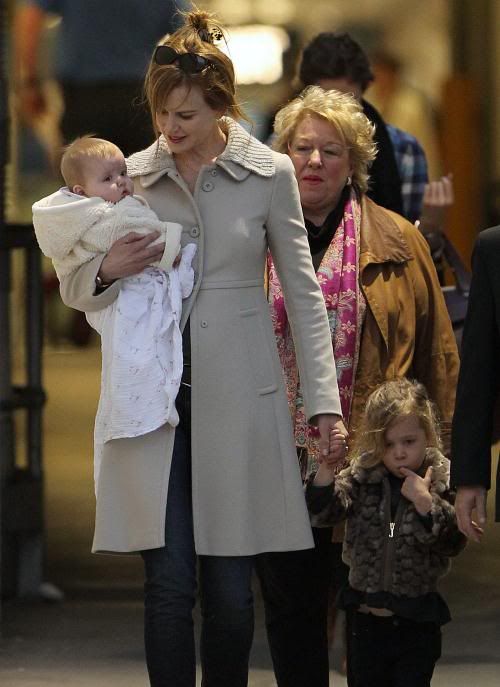 Fame Pictures
Nicole Kidman has returned to her homeland down under and brought her two little girls Sunday Rose and Faith with her. How proud does the 42 year old mom look holding her awwwdorable nearly three year old's hand as she carries her beautiful six month old (today) baby girl. The Oscar winner always looks more gorgeous whenever she is with her two daughters. Hopefully they will get her acting skills and their dad Keith Urban's singing ability.
---
Did they run out of fabric for Nicole Kidman's dress?
June 9th, 2011 under Keith & Nicole Urban. [ Comments:

1

]

WireImage
Nicole Kidman went to the CMT Awards with her husband Keith Urban and she wore a dress that doesn't look quite finished. The top part looks finished, but around the stomach area it starts to look like they ran out of the shiny green fabric and dark blue striped and then dress becomes an ugly see-thru black mesh bottom. But it doesn't stop there because she wore light blue shoes that didn't go with the unfinished gown. I know she is the mom of the two young daughters, but there is no explanation why she wore such an ugly dress to the country awards show.
---