Does Orlando Bloom have something to tell us?
March 18th, 2011 under Do they have something to tell us?, Kate Bosworth/Orlando Bloom. [ Comments:

none

]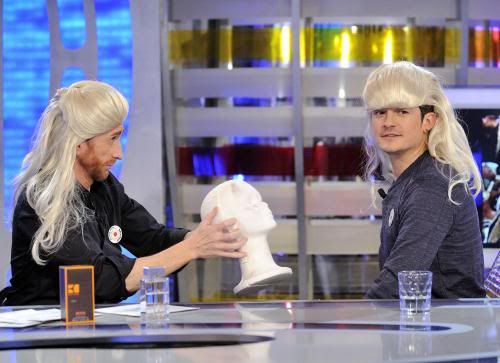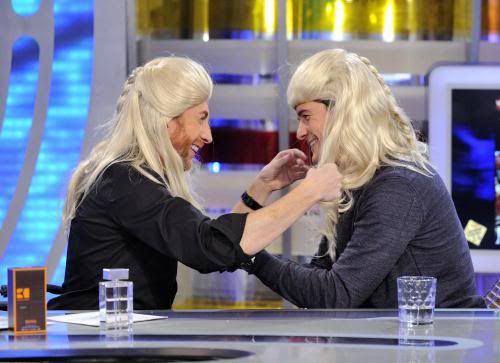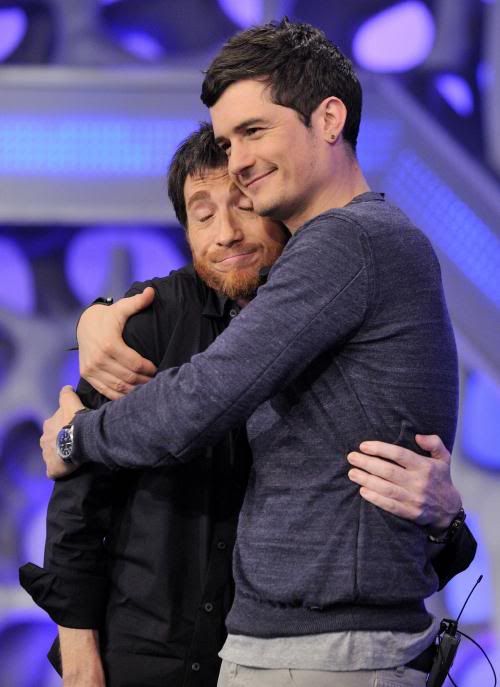 Fame Pictures
Orlando Bloom was promoting the new Boss Orange men's fragrance on the TV show El Hormiguero in Madrid and I wonder if he has something to tell us? The new daddy was seen wearing a blonde wig and kissing the male co-host so now only to I have to wonder not only about us, but also his new wife, Miranda Kerr. Oh wait he is married to her, I don't think there is anything here but an actor having fun on a game show!
---
Miranda Kerr is Orlando Bloom's model wife
July 22nd, 2010 under Kate Bosworth/Orlando Bloom. [ Comments:

none

]

(photo from WireImage)


Miranda Kerr and Orlando Bloom secretly got married after announcing their engagement a few weeks ago. According The Sydney Morning Herald, the two broke the news in an original way via a statement as to why David Jones's fashion ambassador would not be at his show in her native Australia.
"We have been trying to plan this for some time and unfortunately the only window of opportunity for our honeymoon fell at the same time as the David Jones fashion launch," Kerr said in the statement.
"David Jones very graciously released me during this period so we could celebrate an intimate ceremony and honeymoon together."
David Jones's senior buyer, Collette Garnsey, said: "Given the exciting news that Miranda and Orlando have recently wed and will be enjoying their honeymoon together, Miranda unfortunately will not be with us. David Jones is thrilled for Miranda, Orlando and their families. This is an exciting chapter in their lives and they will share a wonderful future together."
With things moving as fast as they seem for these two, I think they will be making another little announcement soon?
---
Zoe Saldana and Kate Bosworth are so juvenile
July 15th, 2010 under Kate Bosworth/Orlando Bloom, Zoe Saldana. [ Comments:

2

]

Sometimes I watch a FunnyOrDie video and I can't believe how stupid it is, this is one of those of those videos. So why post it? Even though it was so juvenile, I still found myself laughing a few times. I just think I would have liked it more if Janeane Garofalo wasn't it, she is just so repulsive to me.
Oh another reason to watch it is because of Jason Lewis and Victor Webster looking all sexy in it at the end of it. And for you boys Zoe Saldana and Kate Bosworth looking hot the whole way through.
---
BTWF roles: Orlando Bloom on Midsomer Murders
September 24th, 2009 under Before They Were Famous, Kate Bosworth/Orlando Bloom. [ Comments:

none

]

Before women all over the world wanted to be in bed with Orlando Bloom, there was one woman who was just so lucky in Midsomer Murders. How sexy did the 22 year old look in just in his underwear in that 2002 episode?
xoxo Anna!!!
---
Kate Bosworth explains these pictures
March 31st, 2008 under Jimmy Kimmel, Kate Bosworth/Orlando Bloom. [ Comments:

none

]


(photos from WireImage)


Kate Bosworth told Jimmy Kimmel why she was holding her hands over vagina (her word not mine) like that at the ShoWest Awards Ceremony. And what I got most from his interview with her that she is beyond blonde. Boy was that interview pain and ful.
Don't forget this Thursday Jimmy Kimmel Live! celebrates its 1,000th episode for 90 minutes (starting at 11:35p) with Eva Longoria, Kid Rock and Richard Simmons!!!
---