Cat Deeley f*cking loses it on live TV!!!
October 12th, 2010 under SYTYCD. [ Comments:

2

]

via LA Rag Mag
Cat Deeley was hosting Britain's Got the Pop Factor and Possibly a New Celebrity Jesus Christ Soapstar Superstar Strictly on Ice in the UK when she suddenly lost it because the studio wouldn't shut the f*ck up so she yelled at them to "F*cking Shut Up!!!" I wonder how many hosts wish they could have done what she just did, but never have! I know I would love to see Ryan Seacrest do that on American Idol or Tom Bergeron to scream that at Bruno Tonioli on Dancing with the Stars or better yet to have Cat repeat that phrase to all the judges on So You Think You Can Dance. Even though I want it to happen, it probably won't because the show she did it on is just a spoof of all the reality shows on British television. We need one of those here in The States!!!
---
Puparazzi
August 1st, 2010 under SYTYCD. [ Comments:

1

]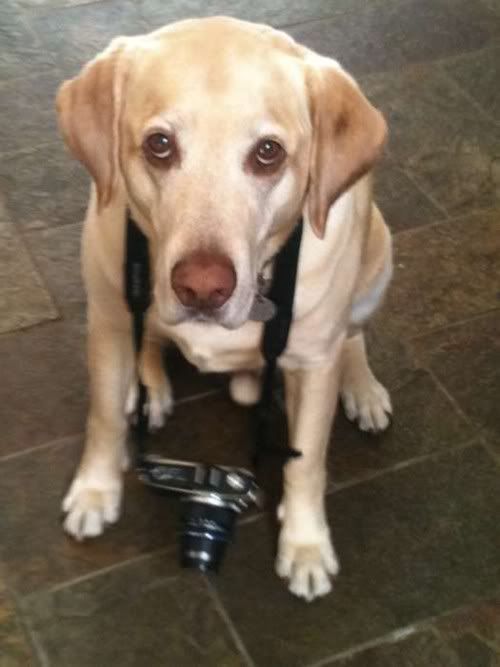 Adam Shankman Tweeted this picture of his puppy and said, "Jake has expressed an interest in photography. I'm encouraging him to pursue it." Hopefully Jake will because I would love to see the pictures he takes of the Hollywood bitches.
BTW this picture was too cute not to post!
---
SYTYCD turns into So You Think You Can Be Cruel
June 10th, 2010 under SYTYCD. [ Comments:

none

]

(starts at 6:51 in)


Yesterday's So You Think You Can Dance left a really bad taste in my mouth. This season is all about change and so far I am hating all of them. They rushed through auditions which was OK, then they rushed through Vegas so that the judges could go to the contestants' houses to tell them whether they made the Top 10 or not and that was not OK. All of the judges, but Nigel Lythgoe went and personally told them they were not going to be part of the show. I say except Nigel because Mr Capped Teeth did have the balls to personally tell them they were rejected, so instead he called them on speaker phone to tell them they did not make the show. Imagine getting that phone call, and to top it off they were hearing it on a speaker phone. That is just so cold. Nigel suddenly grew a pair when he had to tell them that they made the show, and karma bit him in the a$$ because he got lost trying to find Kent Boyd's house. Once he got there he opted to go to the bathroom before telling him his fate. As if he didn't wait long enough to find out. Earlier in the show Cat Deeley said that Nigel did not go door-to-door to all of the contestants because of scheduling conflicts, yet he told Kent "Do you really think I would have come all this way to say 'no'? Do you honestly think I would think I would get a ticket?" Nice one to lie to the rejected contestants and to us like that. Another lie is he said the show is about the dancers, yet in almost every audition, we saw the judges' reactions for a 1/3 of their performances. I don't care what the judges expressions were during the performance because they are going to tell us afterwards anyways. Nigel do you love being on the camera so much that you feel the need to show us your face all the time. The camera isn't in love with you as much as you think. So when you are in the editing room, can you remember that and let us see all of the dancers' performances since you told us the show is about them and not you.
OK enough about Mr Capped Teeth, let's continue how the show was cruel. Whenever the judges went to the dancers' homes whether they were in or out, they played as though they didn't make it. That got old fast and even stupider faster. Why plays games with their heads? It isn't funny and you guys are dancers not actors and it really showed as you tried to fake it. I get you like the drama, but we don't. And on the drama note Nigel, Adam Shankman and Mia Michaels stop being unnecessarily cruel during your critiques, it is a turn off to the show and to you. I find myself watching SYTYCD on my DVR just so I cast fast forward through the judges useless, cruel and self-indulgent critiques.
I will give SYTYCD another week but if things don't change with the judges, my love of dance might not be able to keep me watching the show. This show used to be the show I would look forward to, but Nigel has changed the show so much to accommodate his ego that I have lost my love for the show. I thought that Adam Shankman would be a good add to the judging table, but within a week of his new position I grew to not like him even more than I don't like Nigel. And now that Mia Michaels is joining them, I might find myself watch NCIS and NCIS: LA repeats instead.
OK I feel a little better now!
---
So You Think You Can Dance goes door-to-door!
May 12th, 2010 under SYTYCD. [ Comments:

none

]

So You Think You Can Dance is all about changes this season and they have (at least) one more. Nigel Lythgoe Tweeted the latest one today, "We're not telling the contestants if they made #SYTYCD in the studio. We're going out to the dancer's homes. I say "No" to someone tomorrow"
I don't know about you, but wouldn't it be fun if they went to one of the contestants' homes that they say no to and the rejected dancer shuts the door in their face, starts yelling at them to get off their property then calls the cops on the SYTYCD crew for trespassing and the cops come and tell them to leave? It would definitely make the news more exciting, don't you think? It is one thing when you are rejected on their turf, but they are coming to your personal space…anything goes! Let's hope it does because I think it is just another way for Nigel Lythgoe to be cruel to the contestants.
On that Nigel also Tweeted about that other change I am not happy with, you know Mia Michaels replacing Mary Murphy at the judging table. His Tweet read, "Mary is still on the show but don't make the same mistake as "Idol" this season. The show should be about the young talent not the judges." Sounds like he is still bitter from parting ways with American Idol. Nigel if it is all about the young talent, then maybe this season you will stop trying to get the boo and just give a much shorter response to the dancers dances and actually critique their moves?
You can begin watching all the changes start to take effect on May 27th on Fox!
---
Mia Michaels replaces Mary Murphy as a SYTYCD judge
May 10th, 2010 under SYTYCD. [ Comments:

none

]

(photo from Fox)


Mia Michaels took a season off from So You Think You Can Dance and when she returns to the Fox show she will be a full time judge. The Emmy winning choreographer is taking over for Mary Murphy, who has been a permanent fixture in that seat since season 2. So what happens to Miss Hot Tamale Train? A Fox source told me, "Mary was judging on the road and will also be choreographing this season." While I will miss her on the judging table, I am excited to see her do what she does best and choreograph the contestants.
Now back to Mia, I think Nigel Lythgoe and Fox made a big mistake by adding her to the judging panel. Whenever she was in that seat she would either say stuff that didn't make any sense, try to create a catch phrase or appear to hit on the dancers. I am sure by the second episode, I and other fans of the show will be sick of the nonsense she keeps telling the contestants. It is bad enough we are still stuck with Nigel Lythgoe trying to be Simon Cowell and Adam Shankman either kissing the choreographers' dances or telling the contestants how he wants to cast them in Step Up 27. I think they should have stayed with Mary for at least one more season because we are already having to accept all the changes that they are making to the show.
This season we will only have a Top 10 as compared to a Top 20 and instead of the dancers dancing with other contestants they will be dancing with previous contestants in their own style. With those major changes, Mr Capped Teeth should have kept the judging table consistent. I mean he should look at his old show, American Idol as an example that people don't like their judging line up to be messed with.
So am I the only one unhappy we are going to have to suffer through Mia's gibberish, or are you excited to see what she will add as a full time judge when the show comes back on May 27th.
You know it might just be me, but I kind of lost my feeling for the show last season. I am not sure if it is because of the really short turn around, but the show I used to look forward to every summer might be gone from my DVR. Too many changes and not all of them are for the better.
---