Picture proof he is Bono fide rocker!
June 21st, 2011 under Tom Cruise/Katie Holmes/Suri, U2. [ Comments:

1

]

WireImage
When I saw this picture of the U2 singer performing at Anaheim, I thought it proved his is Bono fide rocker. I think the picture just oozes coolness naturally. Seriously don't you just love that photograph?
They tried to capture the rocker look for Tom Cruise in this promo shot for Rock of Ages, but it looks faked. Maybe Bono can show him how it is done!
---
Christina Aguilera and U2 cancel their summer tours
May 25th, 2010 under Christina Aguilera, U2. [ Comments:

2

]

Christina Aguilera was suppose to tour this summer, but yesterday her people announced that she has cancelled it. According to Reuters they said that it was due to her working on her album that comes out next month and her upcoming movie Burlesque that is out in November and she felt she needed more time to rehearse. They concluded by saying that she will announce new dates later on this year. My personal translation of the cancellation, tickets weren't selling so that is why they cancelled the tour and that they are trying to find another name to add to the bill to help sales. I could be wrong.
While Christina needs more time to rehearse, Bono needs more time to recuperate after his emergency back surgery last week and U2 was forced to cancel their North American. U2's website says the dates will be rescheduled for 2011.
Personal note: To my friends Joele and Matt, I am so sorry U2 cancelled I know you guys were really looking forward to seeing them…:(
---
Bono's bad back
May 21st, 2010 under U2. [ Comments:

2

]

(photo from WireImage)


U2 announced on their site that Bono underwent emergency back surgery after suffering an injury while rehearsing for their upcoming tour dates.
Bono has today undergone emergency back surgery for an injury sustained during tour preparation training. He was admitted to a specialist neuro surgery unit in a Munich hospital, and is under the care of neuro surgeon Prof. Dr. Jorg Tonn and Dr Muller Wohlfahrt. Bono will spend the next few days there, before returning home to recuperate.
Once his condition has been assessed further, a statement will be made regarding the impact on forthcoming tour dates.
So far they announced that their June 3rd will be rescheduled.
No word how the 50 year old singer injured his back, but I am picturing he either did it bending over to pick something up or having sex with his wife. Chances are it wasn't either and it was something boring, but I will keep picturing my scenarios.
BTW I still can't believe Glee called U2's hit One that came out in 1991 Classic Rock. I am sorry, but songs under 20 years old are not Classic Rock.
xoxo Joele.
---
I wonder if Bono found what he was looking for?
April 8th, 2009 under U2. [ Comments:

5

]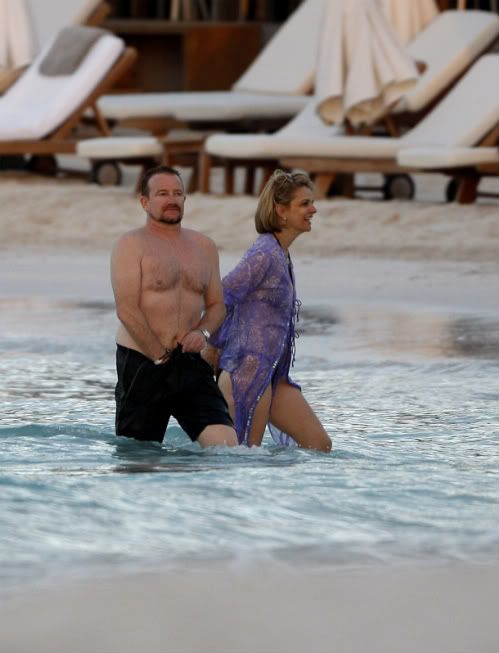 Bono was caught reaching for Where the Streets Have No Names while enjoying a Beautiful Day with his wife. I wonder if he once he is done scratching that itch he says Achtung Baby?
---
David Letterman puts U2 to work
March 2nd, 2009 under David Letterman, U2. [ Comments:

none

]

U2 is beginning a week of performances on CBS's David Letterman tonight, but before they even played their first note Letterman put them to work. NY was hit by a late snow storm yesterday and the late night host made them shovel his sidewalk. If I were U2, I tell him another 2 word phrase that has U in it…FU!
---