Celine Dion had her twin boys!
October 24th, 2010 under Celine Dion. [ Comments:

1

]

(photo from WireImage)


Celine Dion gave birth to twin boys yesterday at 11:11a and 11:12a in West Palm Beach. According to People unlike their father they both were born with a full head of hair.
The two boys whose names have yet to be released join big brother 9 year old René-Charles. Any guesses what French Canadian names she will give them?
---
Celine Dion is pregnant with twins!
May 30th, 2010 under Celine Dion. [ Comments:

none

]

(photo from WireImage)


Celine Dion is 14 weeks pregnant with twins according to People. Her husband told the magazine, "We're ecstatic! Celine is just hoping for a healthy pregnancy. She was hoping for one baby and the news that we are having two is a double blessing." After 5 in-vitro fertilization treatments, the 6th one finally took after the singer tried acupuncture to improve her chances. Looks like it worked because their 9 year old son Rene-Charles is going to be a big brother in about 6 months.
---
Celine Dion pregnant!
August 18th, 2009 under Celine Dion. [ Comments:

1

]
Celine Dion is reportedly pregnant with her second child according to
OK!
. Celine said that after her tour she was going to try via fertility treatments for a baby with her husband René Angélil, and looks like it worked. They already have an 8 year old son, René-Charles. No confirmation from her camp on the news, but I am sure as soon as it is with her voice we will know.
UPDATE: Access Hollywood confirmed the she is indeed breeding again.
---
A Celine Dion upskirt
December 10th, 2008 under Celine Dion. [ Comments:

5

]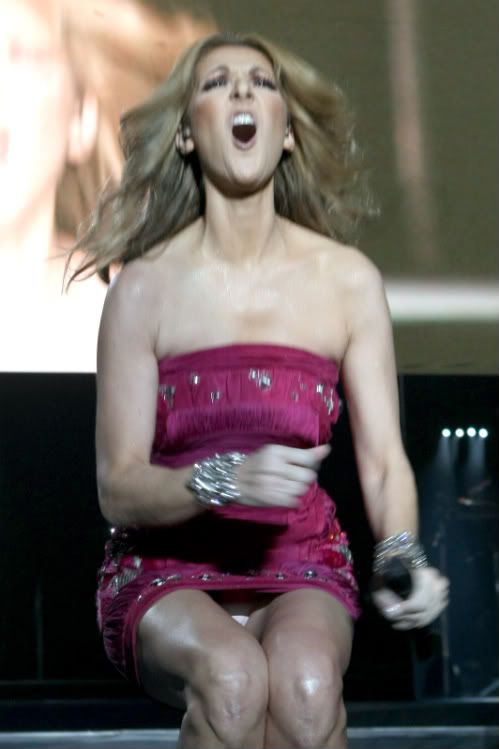 Celine Dion's face matched mine when I saw her upskirt. Something positive, thankfully she wears underwear.
---
Celine Dion is Taking Chances on CBS's Moonlight!
September 24th, 2007 under Celine Dion, Moonlight. [ Comments:

2

]

Celine Dion and CBS have teamed up to promote her upcoming album and CBS's Moonlight. Celine's album Taking Chances is out on November 13th (the same day as Britney Spears and Duran Duran) but before then you can hear her first single of the same name promoting Moonlight. Moonlight premieres on CBS this Friday at 9p after Ghost Whisperer and this show is one of my favorite new shows of the season!!!
---