Breaking news, the Breaking Bad has been shot and will debut on…
August 24th, 2019 under Aaron Paul, Netflix. [ Comments:

none

]

For those have you have been anxiously waiting for a Breaking Bad movie, your wait is nearly over. Netflix announced today that El Camino: A Breaking Bad Movie is premiering on the streaming service on October 11th. The film will focus on what happened to Jesse Pinkman.
Aaron Paul wrote, "Wait, I thought there was only Mezcal on the horizon? I'm so confused. Oh wait, got it. I understand now. It's about patience. I guess there is a movie happening after all? Didn't realize I could talk about it. I guess I can. Thanks New York Times for blowing up this 'secret'💎💰"
How high are you that the movie is really happening and it will debut in less than two months?
---
How do Jonas Brothers fans react to band ending before the encore?
August 24th, 2019 under Jonas Brothers. [ Comments:

none

]

The Jonas Brothers played a concert in Canada last night but they had to end it early. They explained the reason as, "Toronto we're so sorry we didn't get to play our last two songs. Unfortunately there was an unforeseen technical difficulty and our production team advised we end the show. Thank you all for coming out tonight! We love you all so much! #HappinessBeginsTour"
Since Canadians are such nice people, they were not upset about it. In fact, as they were leaving the arena, the fans sang Burnin' Up in unison since the band didn't. What can you say? They are suckers for their music and the brothers.
Hopefully, the technical is fixed before their concert their tonight. If not, the fans won't be singing Bunin' Up, they will be burning up.
---
Do you want to share a meatball with Lady and the Tramp?
August 24th, 2019 under Disney Kids. [ Comments:

none

]

Disney+ released the first trailer for the live-action version of Lady and the Tramp and I am in puppy love. I cannot wait to see the awwwdorable film on November 12th on the streaming site. Who doesn't love a talking dog film? I eat them all up like a strand of spaghetti with someone special?
---
Disney+ is reanimating Lizzie McGuire!
August 23rd, 2019 under Disney Kids, Hilary Duff. [ Comments:

none

]

Like OMG! Hilary Duff is going back to where it all started for her because Disney+ is doing a Lizzie McGuire revival for the streaming service. We don't know when it will air, who will be part of it or what it is about. However, we do know that show creator Terri Minsky and Hilary Duff are attached!
The series that was a mix of live-action and animation aired from 2001-2004 with a 2003 movie on the big screen.
If that is not enough exciting news for you Disney Channel fans, they also announced Phineas and Ferb The Movie: Candace Against the Universe.
How excited are you that that is happening? Netflix must be getting nervous or at least they should be.
Disney+ launches on November 12th.
---
Meat Loaf gives a health update on when he will be back on the road
August 23rd, 2019 under Meat Loaf/Jim Steinman. [ Comments:

none

]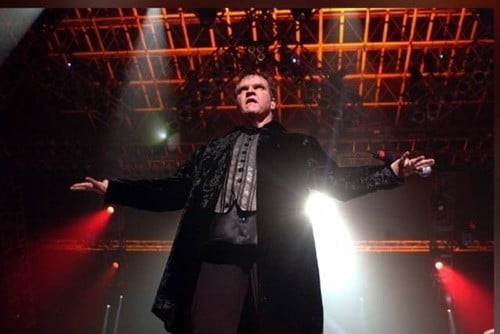 It has not been a good few years for Meat Loaf's health. The singer has had four surgeries to repair his back. Just when he was getting better, he fell off a stage in May and broke his collarbone and sternum (I broke both of those at different times and they take a while to heal. The latter never stops hurting). That fall was much worse than we knew and he revealed how bad it was in a lengthy Facebook post yesterday.
To all would who care and like to know . I am hoping that I will start doing some shows this year , some storytellers type shows not too many though . When I fell in Dallas on May 4th and Fractured my collarbone and my sternum that really sit my recovery from 4 back surgeries in a bad place . I spent 31 days in the hospital because of that fall . Why, a sternum injury I guess is very dangerous . I went to the "Bat Musical " the other night and came on stage for a couple of Minutes , and got the audience to sing " Took the words " . I sang a little . My back after 4 surgeries is getting better but not there yet . My voice is great getting all the music together for the next record…
I had dinner with Paul and Randy Twice last week . We will do shows again and we will record again . It would have been sooner but the fall in Dallas cost me 6 months with my recovery . So I have to come up with a theme for the album , now it requires coming up with the songs that fit the emotional theme for the album . I never just put together songs and record them , they have to fit the theme . So "13 Roads to Bat " has a theme and each road on the cover will represent them , like Forgiveness , Truth , Denial , Deception , Love , Hate and etc . So now if any of you would like to help name the roads that would be great . If you live in Australia all the better . The last album was just to complicated for people , and I never had the chance to tour it or do press about the Album . I am not kidding you Jim thought it was our best album we had ever done , now a lot you are scratching your head going… WHAT !!! that's ok ! All
the characters I developed for each song were 19 year old Serial Killers . Unlike all the records before the characters I developed used my voice to sing the songs . The last record I wanted them to use there voice to sing the songs , I know too extreme . Ok, sum up, give me some Road names , watch for Shows later this year , not very many , but we will be out there . Love you all and this proves why a tribal Leader in Oklahoma gave the tribal name of "Never shuts up "
Meat
PS How about giving me some likes all of you that read this all I am getting now is unlikes since the beginning of the year . I may paranoid but it fells like FACE BOOK is doing it on purpose ??????? !!!!!!! Love Ya !
So far I have seen some really great road names , I knew all brains could come up with great names .
Oh , one more thing I lost 70 pounds but gained ten back . So it's 60 pounds .
Meat is like a bat out of Hell and I am sure he will be on the road again before we know it. If you have never seen him live, make sure to get tickets. He puts on one of the best concerts I have ever seen. Now, that he is svelte, I am sure he will put on an even bigger show. I can't wait to see skinny Meat. You can say he lost the Loaf. That was bad!
---