Hot Links!
December 31st, 2012 under Hot Links!. [ Comments:

none

]
---
Les Misérables is a real tear jerker!
December 31st, 2012 under Movies. [ Comments:

none

]




I have said it before and I will say it again, I have no intention of seeing Les Misérables because it is depressing and I don't want to cry over a musical whose music is just OK. While I knew that, others do not and now their tears are being shared on YouTube. Remember the mom who phonecorded her two little boys who couldn't stop crying over the heartfelt The Odd Life of Timothy Green? Well now it is the children turning the phones on their parents bawling over a movie. And it isn't only kids doing it, it's friends doing it to friends. So before you go to see the movie, make sure you confiscate the smart phones of the people you are going with or be prepared to be on YouTube crying like a baby.
Seriously who wants to go see a movie that is going to make you weep uncontrollably in public? I know I don't and especially not for Les Misérables.
---
Psy is preparing for Gangnam Style's end!
December 31st, 2012 under Music. [ Comments:

none

]

If you are like me, then you are so sick of Gangnam Style. Well Psy told MTV News that he is ready to let the song gallop into the sunset. He said, "Being in Times Square on New Year's Eve is already special — it's the biggest stage in the universe — plus it's my birthday, so, with all that, it may be the ending of 'Gangnam Style,'" Then he added, "I mean, what better way to do it? It's my biggest and most meaningful birthday."
While it won't be the end of him performing the song completely, it is in its final lap so he can work on some more music. He doesn't want to be a one hit wonder like those other bands whose songs we dance to at weddings and Bar Mitzvahs like the Macarena, the Electric Slide and so on.
---
Christian Slater holds a 2012 Box Office (dis)honor!
December 31st, 2012 under Christian Slater. [ Comments:

none

]

Remember in the '80s when Christian Slater was a big movie star? Well in 2012 that is a completely different story. That's because his movie Playback holds the honor of being the year's Lowest Grossing Film. According to MovieLine it made a whopping $264.00. That's right it didn't even make three hundred dollars. That's gotta hurt.
BTW if you want to see the biggest dud of the year, it is available on Netflix to enjoy!
---
Jessica Simpson wants you to look at her lovely lady bumps
December 30th, 2012 under Jessica Simpson. [ Comments:

none

]

Jessica Simpson confirmed last week that she is pregnant with her second child and today she is showing off how far along she is with it. The singer Tweeted a picture from Hawaii in just a bikini and said, "Bumpin' and Proud!" I am not sure Weight Watchers feels the same way, but in less than 6 months they will be friends again when she tries to lose that bump she is so proud of.
---
Kim Kardashian found a way to get ever more press!
December 30th, 2012 under Kanye West, The Kardashians. [ Comments:

none

]

Kanye West will be in next year's Kardashian Kristmas Kard because Kim Kardashian is pregnant with his child. That's right the most over-publicized couple will be getting even more publicity. According to Eonline she is 12 weeks along which means we have 28 more weeks to know everything and more about her pregnancy.
BTW no word from E! when the fetus will be getting their own show on the network, but I am assuming it will debut in about 30 weeks.

UPDATE: Here is Kanye's klassy way of announcing that Kim is pregnant.
---
Michael Strahan says Alec Baldwin has a nice bleep!
December 30th, 2012 under Alec Baldwin, Live with Kelly and Michael. [ Comments:

none

]

Alec Baldwin was on Friday's Live with Kelly and Michael and the hosts asked him a few questions. We basically found out that Jack Donaghy is 30 Rock hard all the time with his wife. Then Baldwin turned the tables on the hosts and Michael Strahan confirmed that when he saw the actor in the dressing room. To which Kelly Ripa responded "once you go Baldwin, you don't go back."
BTW I know some people were hesitant about the former football player joining the show, but I think he has proven himself and then some. Don't you agree?
---
Matthew McConaughey's son is as big as Texas!
December 30th, 2012 under Matthew McConaughey. [ Comments:

none

]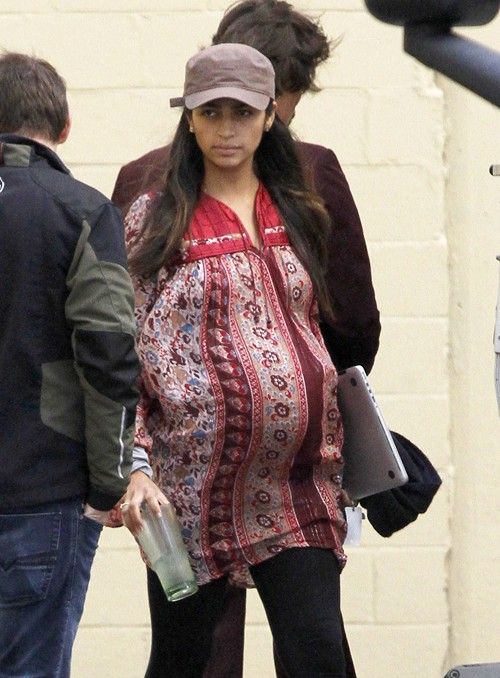 (photo from Fame Flynet)


Camila Alves gave birth to her third child with Matthew McConaughey on Friday and the little guy was a big one. McConaughey Tweeted, "Camila (@iamcamilaalves) gave birth to our third child yesterday morning. Our son, Livingston Alves McConaughey was born at 7:43am on 12.28.12. He greeted the world at 9lbs. and 21 inches. Bless up and thank you for your well wishes. Happy New year, and just keep livin, Camila and Matthew McConaughey." That is one big baby boy!
Livingston has a 4 year old brother Levi and almost 3 year old sister Vida and I am sure he will be as beautiful as them.
---
Angela Kinsey will do anything you want her to do on New Year's Eve!
December 29th, 2012 under NBC. [ Comments:

none

]

Ever wanted to make a celebrity do whatever you wanted them to do, well you can dare Angela Kinsey to do whatever you want during NBC's New Year's Eve with Carson Daly. All you have to do is Tweet what you want her to do with the hashtag #CarsonsNewYears. Although The Office star seems to have some limits, "@twittertv ok up for 'anything' might be pushing it a little. ;)" So leave the stripping for Kathy Griffin to do on CNN.
---
Richards Simmons is the nicest guy you ever want to hit with your car
December 28th, 2012 under Richard Simmons. [ Comments:

none

]

Richard Simmons was talking to some of his fans, who were on one of those Hollywood Tour Buses, when his neighbor accidentally ran over his foot. Instead of doing what someone who was run over by Lindsay Lohan would do, he told the driver he was OK and continued to talking to the people on the bus. Not only that, he took pictures with them even though he was in pain.
And according to TMZ he was in a so much pain today that he is currently being looked at at a hospital. Hopefully he will be OK soon.
BTW if more men were like him in a situation like that, then the world would be a much better place.
---