Danny Bonaduce and Barry Williams talk about Bigfoot
June 30th, 2012 under Syfy. [ Comments:

none

]

Tonight at 9p on Syfy Danny Partridge and Greg Brady, I mean Danny Bonaduce and Barry Williams, stop fighting each other long enough to fight the baddest Bigfoot you have ever seen. Bonaduce plays a radio DJ/concert promoter who is planning a huge '80s rock concert starring Alice Cooper in the woods, so he has been chopping down the trees to make room for it. Williams is his ex-friend and former singer who is trying to stop the concert. A freak snow storm in Seattle will bring Bigfoot out to the show and he is not happy to be woken up from his sleep. So the legendary creature will be going around killing everyone in his path. Will the former-friends, now rivals be able to stop him or will he kill everyone in the small town? You have to tune into this fun campy movie, that was directed by Bruce Davison, to see what happens to believe it. Be prepared to laugh the hardest you have ever laughed since you watched The Brady Bunch and The Partridge Family as a kid.
On that I spoke to your elementary school crushes on a conference call earlier this week and here is what they told me. When asked if it was to get the '70s stars in the movie Barry Williams said it was easy for him to do it as long as Danny Bonaduce was in it. But he did have one clause, "as long as I can beat him up I'll do the movie." I will give you a little spoiler, he got what he wanted. Now when it comes to the red head, he heard that he was cast in the movie two years before he really was. That part was never explained, but it definitely makes an interesting story.
So what are the two men doing now and where can you hear and see them today. Danny is a morning DJ in Seattle for KZOK 102.5 and you can listen to him online if you are not in Washington. Barry is in Branson, Mo doing a live show called A Brady Lunch with Greg Brady. He described it as "I have the new Brady Bunch kids with me. So they are all…in costume, original choreography. We're doing all the music. It's multimedia. It's, you know, I'm using support clips and graphics and photos and stories." So if you are in Branson, it is a must see. When I asked them if there is any chance that they would do a tour together like Debbie Gibson and Tiffany did after Mega Piranha vs Gatoroid, they didn't count it out they just don't know what they would do. So if some brilliant promoter could come up with something, they are ready for it and I am ready to see it.
---
The Star Wars I Used to Know
June 30th, 2012 under Star Wars. [ Comments:

none

]

Some Star Wars fans felt the force with Gotye and created a parody video to his chart topping song Somebody I Used to Know. Let's just say it so freaking brilliant that it would even make Darth Vader crack a smile.
Since I actually know people who camped out for the last three Star Wars movies on Hollywood Blvd, I had to post this for them and all you Star Wars fans.
Here are some other Star Wars tribute videos by Teddie Films:



---
BTWF jobs: Channing Tatum as a stripper
June 30th, 2012 under Before They Were Famous, Channing Tatum. [ Comments:

none

]

via Us Weekly
Before Channing Tatum played a stripper in Magic Mike, he really was one. How sexy was the 18 year old shaking his bon bon back in 1999.
---
CBS reopens Unforgettable's case!
June 29th, 2012 under CBS. [ Comments:

1

]

CBS announced today that they made a mistake by cancelling Unforgettable, so to make it up to the show they are bringing it back for second season next summer. Well they didn't exactly admit their mistake, but what they Tweeted was "Hey ‪#Unforgettable‬ fans. It's official, the series will return to ‪#CBS‬ for summer 2013." I am so happy that they didn't forget about this show because the procedural really found its footing as the season went on. Plus the season finale had a nice twist that would changed everything and now we get to see it play out.
It looks like thanks to success of shows like Rookie Blue and several of the cable channel hits like Dallas, Suits, Anger Management and so on that the networks are wiling to air scripted shows in the summer. I don't have a problem with that because at least it gives something to watch when it is too hot to go outside.
---
Howie Mandel is such a good father
June 29th, 2012 under Jimmy Kimmel. [ Comments:

none

]

Howie Mandel was on Jimmy Kimmel Live yesterday and he told the ABC late night host that he video taped his son after he came out of Propofol. Not only did he record his son admitting some embarrassing things about both of them, he allowed Alex to post it on YouTube. The poor kid hasn't had a date in five years, telling the world wide web he likes to look at butts might not help get one anytime soon. Or maybe it will.
BTW Howie's interview on JKL was so funny, that you have to watch the whole thing. I love the part where he talks about the theme planning for his youngest daughter's Bar Mitvah's. It was the most ingenious idea I have ever heard of for the Jewish ceremony.



---
Start Chasing UFOs tonight
June 29th, 2012 under National Geographic. [ Comments:

none

]

Maybe because UFO stands for unidentified flying objects, there is something about them that really interests me. So when I heard about Nat Geo's Chasing UFOs, I couldn't wait to watch this out of the world show that debuts tonight at 9p. Each episode a team of investigators will look into some of the most famous cases of UFO sightings and try to find out if they identify the unidentifiable. Ben McGee is Physical Scientist who is a skeptic, Erin Ryder does Tech and Recon and you don't want to mess with this brave woman and finally there is self-declared UFOligist James Fox. Together the three them will go all over the world to find out if there is something out there. I will tell you after watching the first two episodes of the show that air tonight, they changed my way of thinking about flying saucers. So tune in for a show that tackles a topic we have all seen before, but in a much different way.
---
Why did Mark Wahlberg give up pot?
June 29th, 2012 under Conan O'Brien, Marky Mark. [ Comments:

none

]

Mark Walhberg was on Conan O'Brien's TBS late night talk show and the host asked him if he has given up anything since he became a dad. Well Marky Mark told him that one day his daughter was driving in the car with his wife and the little girl asked what a smell was. Rhea Durham told her it was a skunk and she said daddy smells like that all the time. Once he heard that story, he stopped smoking weed. He then added that he was OK with it until he started shooting Ted.
And that wasn't the only bad influence the movie had on him. One day he decided to check out Seth MacFarlane's show Family Guy and because it is a cartoon he decided to watch it with his kids. Well you and I know what type of show it is but he didn't. So when his wife caught him watching the animated comedy, he got in trouble. In fact he told Conan he gets in more trouble than his kids. You know what that makes him sounds like a really cool dad.
---
Guess who needs a bra?
June 29th, 2012 under Guess who?. [ Comments:

none

]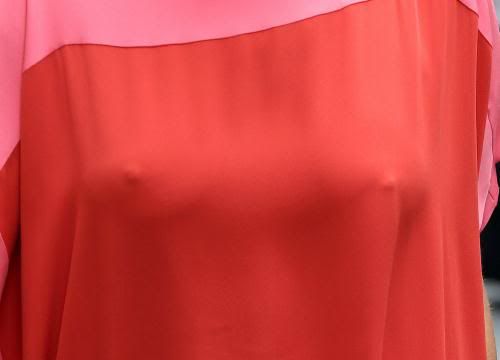 Want to see whose basic instinct was not to wear a bra then click here!
---
I thought that Adele wasn't going to share her home down there?
June 29th, 2012 under Adele. [ Comments:

none

]

Adele announced on her website that is she is expecting her first child. She said, "Im delighted to announce that Simon and I are expecting our first child together. I wanted you to hear the news direct from me, obviously we're over the moon and very excited but please respect our privacy at this precious time. Yours always, Adele xx" So now that she is over the moon, does that means she will sing some happy songs? Not that I don't like her gut-wrenching music but it would be nice to hear sing something cheerful for once or at least not as depressing.
---
TomKat is put to sleep
June 29th, 2012 under Tom Cruise/Katie Holmes/Suri. [ Comments:

none

]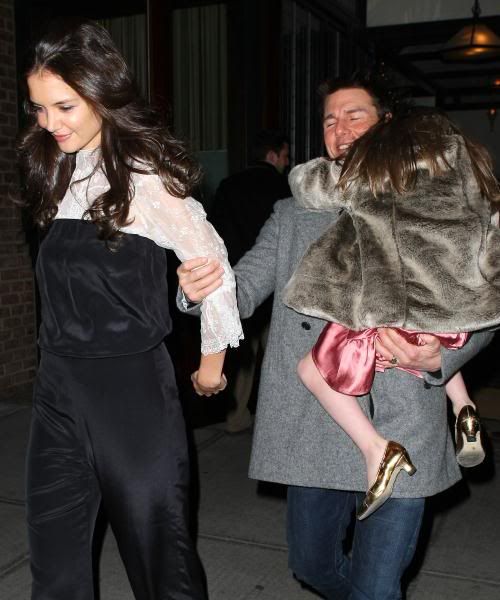 (photo from Fame Flynet)


Tom Cruise and Katie Homes are getting a divorce. Katie's attorney Jonathan Wolfe told People, "This is a personal and private matter for Katie and her family. Katie's primary concern remains, as it always has been, her daughter's best interest." No reason was given, but the two have been rumored to be splitting since they got married five years ago.
As shocking as the news is, it is not surprising because they have both been in NY as he films a movie and he has been staying at hotel while she stayed in their apartment. Plus they have been together for seven years and that is about how long a good contract lasts for, right?
BTW I know I am reading to much into the lawyer's statement, but I wonder why he says her daughter and not their daughter? Could our speculations that he is not the father have been confirmed in that statement??? Probably not, but…

UPDATE: Tom Cruise's publicist gave this statement to People, "Kate has filed for divorce and Tom is deeply saddened and is concentrating on his three children. Please allow them their privacy." Why did eh have to see his three children because it ruins my theory on Suri not being his.
---