Hot Links!
April 30th, 2012 under Hot Links!. [ Comments:

1

]
Who thought was a good look? –
Dlisted
Who filed for bankruptcy –
Yeeeah
ABC totally copies Big Brother –
Rickey
Channing Tatum was a cute kid –
ICYDK
---
Anthony Anderson makes it really difficult to date his daughter
April 30th, 2012 under Saved by the Bell/City Guys. [ Comments:

1

]

Anthony Anderson's daughter went on her first date yesterday and I don't think she will be going on a second one anytime soon.
The Hang Time star Tweeted, "Dropping my 16 year old daughter off on her first date at the movies. Not sure how I feel about this!" Then he posted the top picture and said, "I'm sitting in the parking lot Til the movies over or should I buy a ticket?" Not satisfied with the answers he was getting, he then reTweeted the photo again and said, "Anyone see these two at the theatre in woodland hills watch the tall one." Then he went silent for two hours before Tweeting, "My baby ain't answering her phone it's 933pm on Sunday, I'm headed to the theatre. Can't say if I'm packing but the inside of my car is hot!" Then he added, "I left the 9 at home for when comes to the house for his 'Bad Boys2' moment but I did bring my 9 iron!" No more was said, but then he posted the second picture.
If he wants his daughter to remain single for the rest of his life, I think he succeeded. I mean if I had a son, I would be afraid for him to date his daughter.
BTW I am sure this was all done in good fun, but I think there was some seriousness to his Tweets. Fathers want the best for their little girls, my dad would do the same. And my friend is digging holes in his backyard for when his daughter is old enough to date.
---
BTWF talk shows: Joey Lawrence on The Tonight Show
April 30th, 2012 under Before They Were Famous. [ Comments:

1

]

Before Joey Lawrence was able to stay up on his own to watch late night talk shows, he told Johnny Carson the only way he would be able to stay up and watch The Tonight Show. How absolutely awwwwdorable was the 5 year old actor during his first late night talk show appearance back in 1982. Seriously can he be any more precious?
---
Seriously is Dick Van Dyke really 86 years old?
April 30th, 2012 under Dick Van Dyke. [ Comments:

1

]




Dick Van Dyke is 86 years young and I really do mean young. The legendary actor is on The Doctors this Thursday and they asked him how he remains so youthful. He told them having younger friends helps, and I am assuming having a beautiful wife who is more than half his age is even more helpful. So much so he showed off his dancing moves and they are just as nimble as when starred in Mary Poppins almost 50 years ago. He also demonstrated his Rebounder skills and he was better at it than The Doctors. Crap if the mini-trampoline is keeping him so active, I will start using mine because I want to be that lively as him when I am his age.
Can I tell you guys a little secret? Out of all of the celebrities in Hollywood, he is one of the very very few left I would really love to meet and would be extremely delighted and grateful to interview.
He truly is a legend who I thinks needs to back on television. TV Land please take me up on that.
---
Charlie Harper returns to Two and a Half Men tonight
April 30th, 2012 under Chuck Lorre. [ Comments:

none

]

In the season premiere of Two of a Half Men, the show killed off Charlie Harper and we never thought we would see him again after what happened between him and show creator Chuck Lorre. Well tonight on CBS at 9p when his brother Alan (Jon Cryer) has a heart attack, he returns from hell to get his revenge on little bro. You have to see what he does to his old roommate because let's just say it is very good and very Charlie.
BTW Kathy Bates guest stars on the show tonight and Jon Cryer Tweeted the actress was a real trooper even though she was going through some misery of her own. He said, "New 2 1/2 Men tonight! W/ guest Kathy Bates!! Fun Fact: Kathy performed most of tonight's episode HAVING JUST BROKEN HER TOE!!!" He then added, "Seriously, after our run thru she broke her toe, got crutches and INSISTED ON DOING THE AUDIENCE SHOW ANYWAY!! #kathybatesishardcore" Very impressive and you can't even be able to tell she had a broken toe when you watch the episode tonight.
---
The Lawrence Boys shows their Brotherly Love
April 30th, 2012 under Freeform. [ Comments:

none

]

WENN.com
Joey Lawrence turned 36 on the 20th and to celebrate the big day, he went to Vegas with his brothers Matthew and Andrew. Seeing them together makes me really miss Brotherly Love. Seriously how much fun was their sitcom together?
---
Mariah Carey's Vision of Love spot
April 30th, 2012 under Mariah Carey. [ Comments:

none

]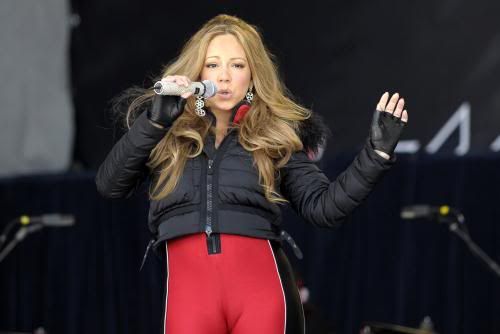 Fame Flynet Pictures
Mariah Carey lost a lot of her pregnancy weight by doing Jenny Craig, so she decided to show off her body in a skin-tight cat suit when she performed in Austria. But all we could see was her huge camel toe where Dem Babies came out of. Hopefully Mariah will not wear that outfit in the desert because the camels might think that she is their Dreamlove and try to hump her.
---
Lionel Richie is replaced by a Legend on Duets
April 30th, 2012 under ABC. [ Comments:

none

]

Duets is less than a month away from its launch on ABC and the singing competition has lost its biggest name, Lionel Richie. ABC sent out a press release announcing today that John Legend will be joining the show and no where was The Commodores singer's name to be seen. Why he left the show is a mystery, but I am assuming it has to do with how well his album is doing on the charts.
The show debuts on May 24th with Kelly Clarkson, Jennifer Nettles, Robin Thicke and Legend. Will you be watching? I know this sounds messed up, but without Richie on the show, I will be skipping it. I like Clarkson, but not enough to watch.
Actually I am not watching because that above commercial annoys the hell out of me on iPad whenever I watch ABC shows on it. Petty, I know but that is how I feel.

UPDATE: Lionel Richie posted this explanation why he dropped out of the show, "Due to a scheduling conflict, I am unable to take part in ABC's "Duets" show. I wish I could be two places at once!"
---
Why does E! hate us so much?
April 30th, 2012 under E!. [ Comments:

none

]

E! is the network that brought us four shows dedicated the Kardashians, gave Joan Rivers another show where she critiques celebrities clothes, let Ryan Seacrest have even more airtime than he already had and thought that Chelsea Handler was funny enough to have a daily talk show and now they are bringing us more shows with people who need more time off our TVs instead of on.
Today the network announced three more shows that are coming to their airwaves. Whitney Cummings, Chelsea Handler's protegee who is equally as unfunny, is getting a weekly talk show called Love You, Mean It with Whitney Cummings. Nigel Lythgoe is getting another reality show called Opening Act. I don't really understand what it is about, but I don't really care because I won't be watching. His arrogance bothers me so much that anything his name is attached to is immediately a turn off for me. The last new show coming to their lineup is following the married life of the Jonas Brother we don't care about. Kevin Jonas and wife Danielle are starring in their own reality show called Married to Jonas. I expect the this show will be as exciting as their biggest problem, Kevin's snoring.
So once again I ask, why does E! hate us so much and give these people more airtime.
---
Aaron Carter loves himself
April 30th, 2012 under Backstreet Boys /Aaron Carter. [ Comments:

none

]

Aaron Carter loves to post pictures of himself topless and yesterday he Tweeted another one of himself just in jeans. After he posted the snapshot he said, "My publicist HATES it when I post pics like that!! Haha @BradBMM" His publicist isn't the only one.
BTW doesn't the picture kind of have a creepy feel with his hand deep in his jeans pocket like that?
---